Supporters of a bill want to make it clearer that an order for protection means a perpetrator needs to stay away from the victim.
Sponsored by Rep. Debra Hilstrom (DFL-Brooklyn Center), HF199 would amend the state's first-degree burglary statute to include entering a building without consent in violation of an order for protection.
The bill was held over Wednesday by the House Public Safety and Crime Prevention Policy and Finance Committee for possible omnibus bill inclusion. A companion, SF240, sponsored by Sen. Chris Eaton (DFL-Brooklyn Center), awaits action by the Senate Judiciary Committee.
"Unless we get some stiff penalties for these people, it's going to continue," said Rep. Brian Johnson (R-Cambridge).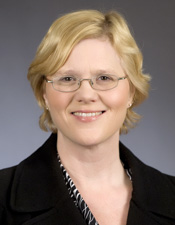 Rep. Debra Hilstrom
Hilstrom said the bill is in response to State v. Colvin, where the state Supreme Court in 2002 said a defendant's violation of a no-entry provision of an order for protection was insufficient to establish first-degree burglary without the intent or commission of a crime other than violating the protection order.
"First-degree burglary is the crime that people used to use in Minnesota, and in some places still do, when someone breaks into a residence when there's a no-contact order," Hilstrom said. "When someone is breaking into your home to say, 'I can still get you,' it was always previously charged as a burglary."
Paul Young, division chief for violent crime in the Anoka County Attorney's Office, spoke in support of the bill.
"It doesn't mean they all have to go to prison, but it gives us a lot more sentencing options and longer probationary period if they don't go to prison to try to manage the conduct and provide a longer period of safety for the victim."
Under the Colvin ruling, Young said a first-time OFP violator can only be charged with a misdemeanor. "That is not at all what we think can provide the most safety for a victim. … We know that if they assault the victim or steal something those are burglaries, and those are easier cases because case law is very clear, but sometimes just being there, just scaring the victim, just sending that message to the victim that 'I'm going to get in,' is horrifying."