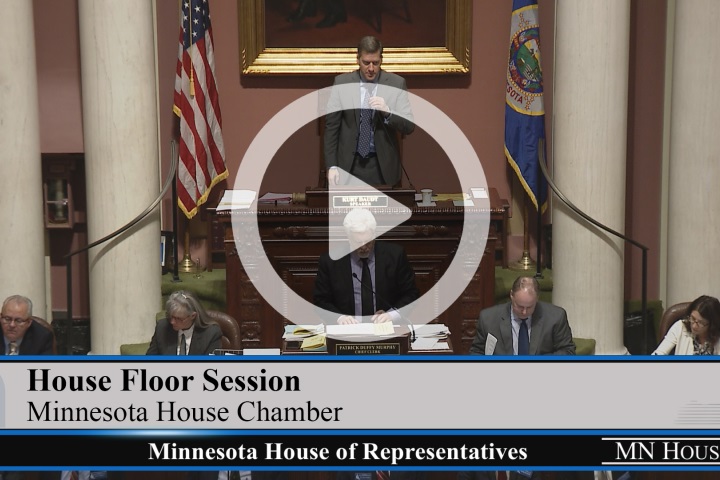 Event Schedule
TUESDAY: Session Daily Update
Tuesday, December 5 2023 12/5/2023 8:55 AM
Watch: Live Event
Updates from the House


TUESDAY: Subcommittee on Minnesota Water Policy
Tuesday, December 5 2023 12/5/2023 9:00 AM
Watch: Live Event
University of Minnesota fifty-year water plan.
Metropolitan Council metro area water supply planning process and timeline, outlook, and updates.
Reauthorization of Agricultural Fertilizer Research and Education Council.
Update on nitrates in groundwater in SE MN.
Discussion: bills for consideration by the Subcommittee.
Keep it Clean initiative-Winter Fishing.
Neonics in the environment.



DECEMBER 12: Session Daily Update
Tuesday, December 12 2023 12/12/2023 12:55 PM
Watch: Live Event
Updates from the House


DECEMBER 12: House Transportation Finance and Policy Committee
Tuesday, December 12 2023 12/12/2023 1:00 PM
Watch: Live Event
Implementation of the Transit Rider Activity, Transit Rider Investment Program and Intervention Project.


The Ninety-third Session of the the Minnesota Legislature is scheduled to reconvene Monday, February 12, 2024 at 12 Noon
Monday, February 12 2024 2/12/2024 12:00 PM
Watch: Live Event
The Ninety-third Session of the the Minnesota Legislature is scheduled to reconvene Monday, February 12, 2024 at 12 Noon