A wire-enclosed facility in the vast expanses of western Minnesota could provide an answer to the state's prison overcrowding situation.
Despite a favorable vote Tuesday, it likely won't.
Local residents and officials told the House Public Safety and Crime Prevention Policy and Finance Committee that reopening the privately owned 1,600-bed Prairie Correctional Facility in Appleton would help jumpstart the area's economy.
Those against the proposal — some of whose outbursts caused the committee to take a 45-minute recess and led to a call to clear the hearing room — spoke of racism, slavery, a lack of effort to help with the unemployment issues in North Minneapolis and the perceived immorality of for-profit prisons.
The committee ultimately approved HF3223 that would allow the Department of Corrections to house offenders in non-publicly owned facilities and referred it to the House Ways and Means Committee. The expected party-line vote was 10-7. Of the 23 representatives signed onto the bill as sponsors, zero are DFLers.
"I come today with a common-sense solution to a growing problem," said Rep. Tim Miller (R-Prinsburg), the bill's sponsor. "People and organizations who live, work and raise families in Western Minnesota cannot understand why we in St. Paul continue to ignore their needs, especially when they have such a no-brainer solution to a major state problem sitting in their backyard."
House Public Safety and Crime Prevention Policy and Finance Committee - part 1 3/22/16
Rep. Debra Hilstrom (DFL-Brooklyn Center) unsuccessfully offered an amendment to prohibit the department from contracting with privately owned and operated prisons to house Minnesota offenders.
WATCH Part 1 of Tuesday's hearing on YouTube
She noted that Corrections Corporation of America, who owns the Appleton facility, has a "horrible" track record of providing services the state requires, people who served time there had higher recidivism rates and former Gov. Tim Pawlenty, a Republican, made the decision to stop renting beds at the facility in 2010.
"I believe that private prison confinement is profiting from incarceration, and I do not believe that that is the right thing for Minnesota," Hilstrom said.   
The bill has no Senate companion, and is opposed by both department leaders and the state's top-elected official.
"Prison expansion, new building, is not on the Department of Corrections' plate whatsoever, nor is it on the governor's plate," said Corrections Commissioner Tom Roy.
No fiscal note is available, but has been requested.
Prison population problems
State prisons now hold about 560 inmates more than capacity. The gap is forecast to exceed 1,200 inmates by 2022 if everything stays the same in terms of statutes and sentencing. To help with the current situation, the Department of Corrections now leases 500 beds at county jails.
House Public Safety and Crime Prevention Policy and Finance Committee - part 2 3/22/16
In its preliminary bonding request last summer, the department sought $141.5 million for a 500-bed expansion at its Rush City facility "to accommodate projected growth of the prison population in Minnesota by 2020." That was not funded in Gov. Mark Dayton's $1.4 billion bonding proposal.
Rep. Jerry Hertaus (R-Greenfield) prefers that money be better spent on diversion programs.
WATCH Part 2 of Tuesday's hearing on YouTube
Rep. Raymond Dehn (DFL-Mpls) noted that if potential changes to drug sentencing guidelines are enacted, including the reduction of 5th-degree drug offenses to a gross misdemeanor, the number of beds needed could be reduced by 416 in four years. 
"Do you think it's OK to build an economy that's on the back of inmates? … We just see that that there's maybe a different way to address the issue rather than reopening the Appleton prison," he said.
Appleton offers an option
The Prairie Correctional Facility was closed in February 2010 following declining demand from Minnesota and other states. However, the prison has been maintained since its closure. A plan has been offered whereby CCA would own the facility, but unionized state employees would handle operations.
Jennifer Frost, executive director of the Swift County Rural Development Authority, said the area's 5.7 percent unemployment rate in December far exceeded the 3.6 percent state rate. She added that the average median wage in the five-county area is $3 below the state average.
"We have an asset and the state has a problem," she said. "We think they match up pretty well together."
Bill proponents spoke for about 30 minutes despite a handful of opponents trying to interrupt by reading off prepared statements, many directed at getting the state to reduce its prison population rather than adding beds. Rep. Tony Cornish (R-Vernon Center), the committee chair, asked them to stop before members of the House Sergeant-at-Arms Office had to intervene. Rep. Dan Schoen (DFL-St. Paul Park) also encouraged protesters to wait their turn, to no avail.
Black and white issue
After the recess, opponents spoke for nearly an hour. Oftentimes the end of a testifier's verbiage was met with applause.
With two young children at her side, Roxanne O'Brien of Minneapolis called the issue "slavery by another name."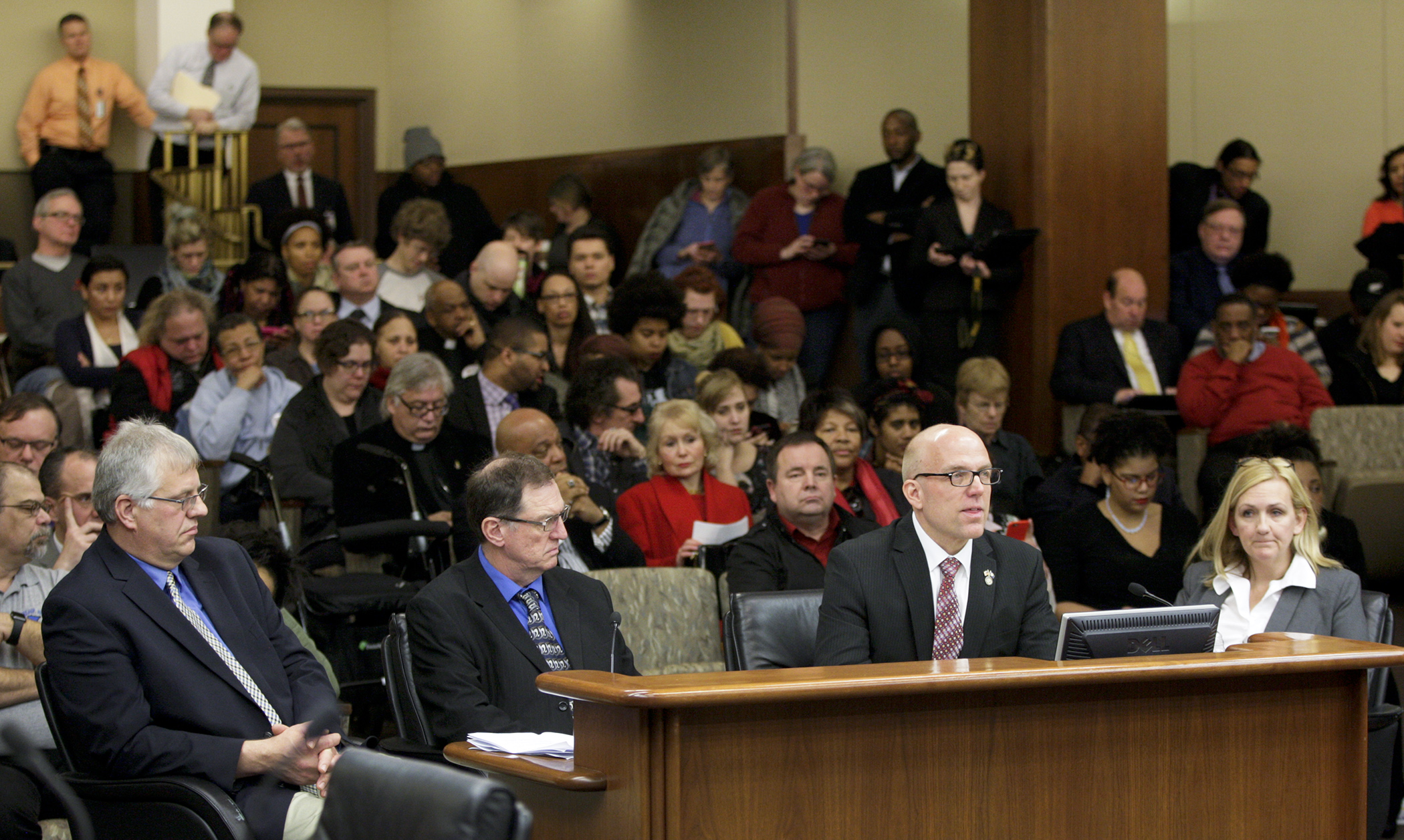 In a full committee room, Rep. Tim Miller, second from right, begins testimony March 22 before the House Public Safety and Crime Prevention Policy and Finance Committee on his bill, HF3223, which would permit housing prisoners in non-publicly owned facilities. Photo by Paul Battaglia
"We know this is about money, we know this is about your friends and how you want to help them make more money," she said. "We know this is about your ancestors who have forever profited off the backs of poor and people of color and indigenous people. … If you're going to build a prison, you guys should make a bed for yourself."
Nekima Levy-Pounds, president of the Minneapolis NAACP said, "Doing business with the CCA is like doing business with the devil because their practices are diabolical." Among her concerns, she said CCA has been known for falsifying records and has a terrible track record for taking care of prisoners.
While expressing empathy for Appleton's economic struggles, Levy-Pounds said "there is no comparison" to the unemployment rate of "a small white rural town" to people of color with higher rates of unemployment.
"I haven't heard much discussion about the high unemployment rates in the inner-city communities that are actually fueling our incarceration rate and we cannot continue to ignore those challenges," she said.
The Rev. Brian Herron of Zion Baptist Church in Minneapolis said the committee's priorities are wrong, but tried offering hope.
"There's no way you're going to open something and not find a way to fill it. So it's going to be filled with black and brown bodies," he said. "What we need to do is reason together how we get out of this morass and begin to move people's lives in a forward trajectory."