What started as a bill to establish trusts for the care of animals after death has evolved into a tool to take on a list of policy measures.
HF1372, sponsored by Rep. Dennis Smith (R-Maple Grove), would allow pet owners to establish a trust fund for the care of their pet after death.
Passed 123-0 as amended by the House Thursday, the bill now goes to the Senate where it is sponsored by Sen. Scott Dibble (DFL-Mpls).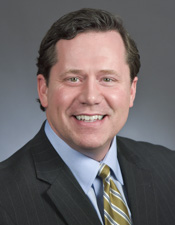 Rep. Dennis Smith
The trust would appoint a primary caregiver who would enforce the trust, but could also appoint another, or be removed in the best interest of the animal. Funds must be a reasonable amount and face normal state taxes – meaning it couldn't be used as a tax loophole. At the death of the animal, or after 90 years, the trust would be terminated and redistributed per a will's orders.
Minnesota is the only state that doesn't allow pet trusts. People can put provisions in a will to leave funds for a pet after their death, but a pet cannot legally inherit money, and a gift to a person for a pet is unenforceable. A will must also go through the probate process, which can potentially tie up needed funds for months.
Other additions
Throughout its legislative journey this session other sections have been added to further update, add to, or clarify existing statute.  
The bill would act as a probate law cleanup tool, updating monetary thresholds used throughout the probate code to reflect changes that are consistent with inflation, and making changes to adhere the probate code with the trust code passed in 2015. Most sections were last updated in 1994. Changes in language to clarify definitions already existing in statute are also added.
It would also make clarifying and conforming language changes related to receiverships, clarifying rights and payment requirements of mortgagors and creditors. The section would clarify that receiverships have the power to release rights, claims and causes of action with a court approval.
An amendment successfully offered by Rep. Debra Hilstrom (DFL-Brooklyn Center) would provide legal rights in regards to fiduciary access to digital assets. Provisions would make digital assets the same as that of any physical property, such as a chair or car. A court could enable someone to name an heir to their digital assets, including mobile phones, tablets, website and email passwords. Access could still be restricted, per a request in a will.
Finally, the bill would make clarifying and technical changes relating to the Minnesota Revised Uniform Limited Liability Company Act. Notable changes include clarifications to fees, and abilities of a board-managed and public benefit corporations.