House Republicans have finally released a bonding bill – sort of.
The House Ways and Means Committee Monday approved a vehicle bonding bill containing only placeholder appropriations for higher education projects. HF621, sponsored by Rep. Paul Torkelson (R-Hanska), will now go to the House Floor, where actual bonding proposals are expected to appear as amendments.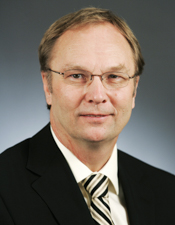 Rep. Paul Torkelson
The original version of the bill contained only blanks after dollar signs, which nonpartisan staff had recommended, Torkelson said. Rep. Lyndon Carlson Sr. (DFL-Crystal) called for "at least some placeholder numbers," but disagreed with the numbers – zeros – suggested by committee chair, Rep. Jim Knoblach (R-St. Cloud) that the amended bill includes.
"You're sending a very interesting message to the average citizen who doesn't understand the intricacies of what is going on now," Carlson said.
Knoblach said higher numbers could signal that the committee was drawing some kind of line.
"If we put in zero, everyone knows we're spending more than that," he said.
WATCH Committee discussion of the bill on YouTube
DFL leaders have been pressuring House Republicans to release their capital investment proposal so negotiations can begin. Gov. Mark Dayton has proposed a $1.4 billion bonding bill, calling for huge investments in rail-grade crossing safety and water quality infrastructure. Senate DFLers failed to pass a $1.8 billion bonding bill by a single vote May 5. The House capital investment proposal is expected to be in the ballpark of $600 million.
Several DFLers questioned the transparency of sending a blank bonding bill to the House Floor, which would not allow for any public comment. Torkelson defended the process, saying that members of the House Capital Investment Committee held hearings and toured many of the sites for which bonding proceeds have been requested.
"It's the nature of bonding," he said. "Sometimes it does not take a very public path."
"But shouldn't we want the public path?" asked Rep. Jean Wagenius (DFL-Mpls). "Shouldn't we want the public to know what we're up to?"
Tours of bonding projects are just "one piece of the puzzle," she said. "The biggest piece of the puzzle for the public is how is this integrated, how is this going to come together in a bill, what's in, what's out. … The public is now cut out."
Rep. Dean Urdahl (R-Grove City), who sits on the House Capital Investment Committee, said he has a file "a foot and a half high" on bonding requests and feels the process had been open and inclusive of the public.
"I don't know that there is a perfect way to do a bonding bill," he said.
Rep. Tim Mahoney (DFL-St. Paul) said he's been fielding cell phone calls all session about bonding requests in his district. He asked Torkelson whether he would share the cellphone number of House Speaker Kurt Daudt (R-Crown) to allow constituents to voice their needs.
"Yes, this is the way it's been done a couple times before: three old white guys back in the corner here or in some building in the complex," Mahoney said. "I know you've been working hard. … But at the end of the day, there's not a whole of transparency in this particular process."