Updated 6:39 p.m.
Dollars for higher education, local roads and water infrastructure projects represent the bulk of a bonding bill from House Republicans set to be heard Thursday on the House Floor.
The proposal would authorize roughly $800 million in general-obligation borrowing repaid by state tax revenues, and another $70 million in trunk highway bonding. It includes $227 million for local road and bridge projects, $137 million for the University of Minnesota and Minnesota State Colleges and Universities system, and $130 million for water and sewer projects.
HF622 was approved Wednesday by both the House Capital Investment and House Ways and Means committees.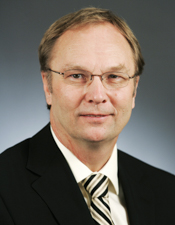 Rep. Paul Torkelson
For Thursday's Floor debate, the body's typical 24-hour pre-file rule for proposed amendments will not be in effect due to the waiver of House rules in order to expedite the bill's path, meaning members will be able to offer amendments on the fly.
The bill represents a larger borrowing package than the $600 million that House Republicans initially proposed. But it is still dwarfed by the $1.5 billion bill that failed in the Senate earlier this month and the $1.4 billion proposal put forward by Gov. Mark Dayton.
"It's easy to put large numbers in a large bill," said Rep. Paul Torkelson (R-Hanska), the bill sponsor and chair of the House bonding committee. "That's not the case here. We have a reasonably sized bill."
MORE View a spreadsheet detailing projects included in the bill
Whether the bill has enough votes to pass the House, however, appears to be in question. Bonding bills require a 60 percent supermajority to pass either legislative body, and while Torkelson said Wednesday that the $800 million figure represented "true compromise," the proposal drew no DFL support on the House Capital Investment Committee and further criticism from members on the ways and means committee.
House Capital Investment Committee 5/18/16
"The disappointments in the bill are huge for us," said Rep. Alice Hausman (DFL-St. Paul).
House Democrats criticized the Republican plan as regionally- and politically-biased, focusing on Republican and rural districts at the expense of the metro area.
DFL lawmakers also said the bill doesn't offer enough support to the state's universities and colleges for their capital needs, underfunds asset preservation projects across the state, and neglects borrowing for badly-needed housing initiatives.
Bonding bills are "immensely challenging" to assemble, Torkelson said in defending the bill. Nearly $5.3 billion in capital investment requests were submitted by state agencies and local governments. Including them all was clearly not an option, he said.
"It is not surprising we had to leave some things out of the bill," he said.