They held a hearing on a bill about protesters, and a protest broke out.
Following Tuesday's 9-6 party-line approval of HF322 by the House Civil Law and Data Practices Policy Committee, about 50 people in the capacity crowd began shouting against the committee's action and refusing to leave quietly. The loud protest continued in the hearing room for 15 minutes.
Sponsored by Rep. Nick Zerwas (R-Elk River), the bill would let units of government recoup public safety costs by suing individuals convicted under unlawful assembly or public nuisance laws.
The bill goes next to the House Public Safety and Security Policy and Finance Committee. There is no Senate companion.
Public interest in HF322 was high.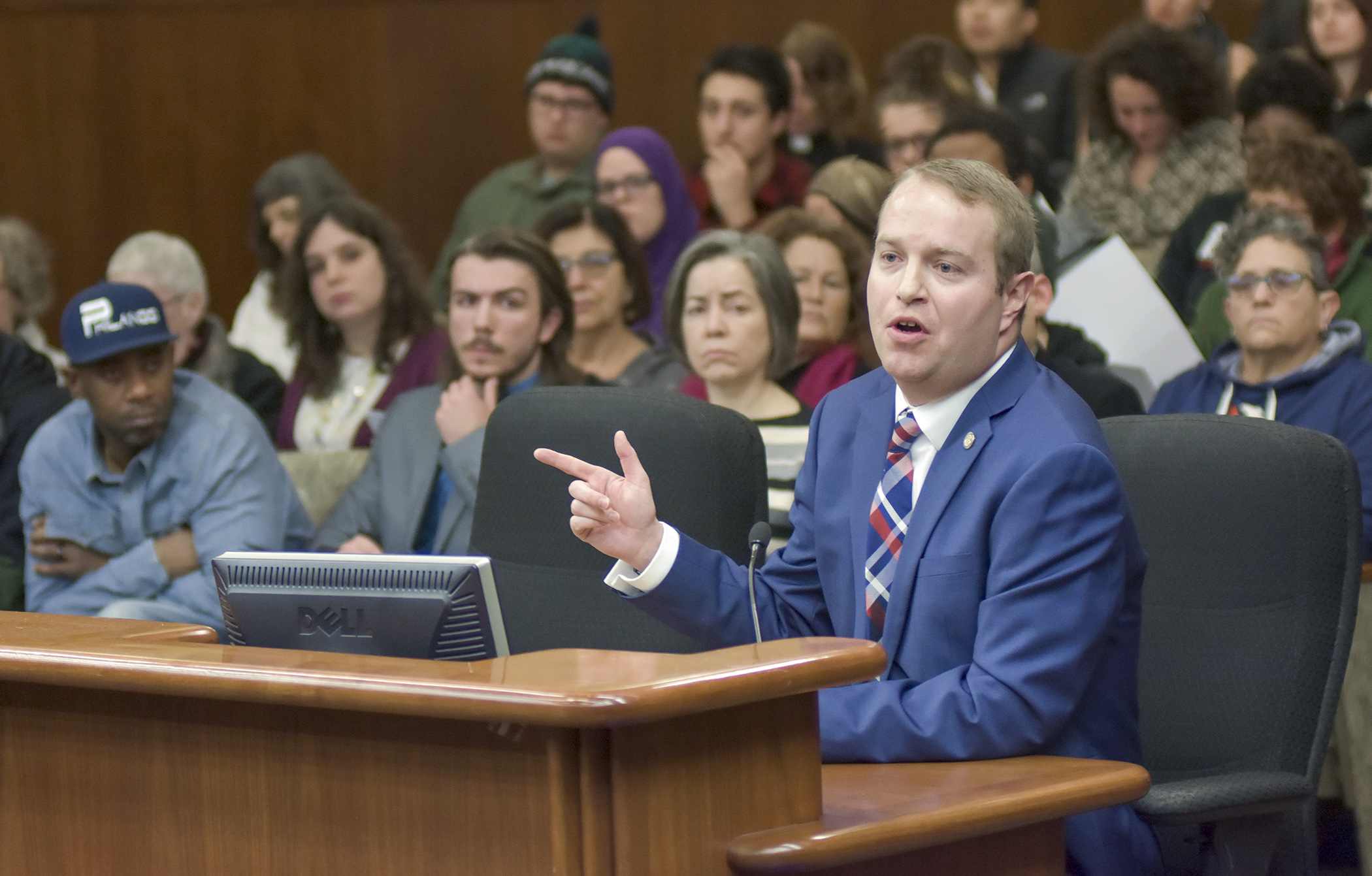 In a hearing room filled to capacity largely with opponents, Rep. Nick Zerwas testifies Jan. 24 before the House Civil Law and Data Practices Policy Committee in support of a bill that would allow governmental units to sue to recover costs related to unlawful assemblies and public nuisances. Photo by Andrew VonBank
Eighteen people gave testimony, all opposed to the bill. Boisterous at times, the audience forced Rep. Peggy Scott (R-Andover), the committee chair, to pound her gavel at least a half-dozen times in response to applause, laughter and other outbursts.
"If you're convicted of a crime where you intentionally inflict as much expense and cost upon a community as possible, you ought to get a bill," Zerwas said. "It should not be a property taxpayer's responsibility to cover for your behavior."
Recent events prompted the proposed legislation, he said, citing $2.5 million in government costs over 18 months from law enforcement responses to illegal activity at demonstrations on freeways and other sites in the Twin Cities metropolitan area. He asserted it's not a new idea, comparing HF322 to existing state law on restitution by wildfire arsonists. 
Teresa Nelson, legal director at the American Civil Liberties Union of Minnesota, said the bill would have a "chilling effect" on free speech and is likely unconstitutional because it allows government to choose who to punish based on their views, what they say and who they are.
Cathy Jones, vice president at the Minneapolis NAACP, said HF322 would unfairly target free speech and assembly.
WATCH Full video of Tuesday's meeting of the House Civil Law and Data Practices Policy Committee 
"We don't sue sports fans for extra policing costs associated with events," Jones said. "We don't charge bar patrons an extra fee at closing time for increased police presence. Protecting the right to protest is part of the role of law enforcement, not something for which citizens are expected to pay extra."
Citing state law defining public nuisance as activity that "unreasonably annoys," Brad Lehto, chief of staff at the Minnesota AFL-CIO, said Mahatma Gandhi and Rev. Martin Luther King, Jr. sought positive change by annoying and disrupting people.
Several speakers said the bill targeted the Black Lives Matter movement.
"My people are coming for their freedom," said Patience Zalanga of St. Paul. "No vote, no bill can extinguish the people's hunger for freedom and humanity."
Rep. Ilhan Omar (DFL-Mpls) read the First Amendment aloud. She expressed hope that Zerwas would join her in writing a bill to make police officers, rather than the public, pay for excessive force judgements against them.