A bill that would stop cities from enacting local labor laws was approved by the House Job Growth and Energy Affordability Policy and Finance Committee late Thursday on a 13-9 party-line, roll-call vote. 
Sponsored by Rep. Pat Garofalo (R-Farmington), the committee chair, HF600, as amended, would prohibit local units of government from regulating private businesses by enacting:
a minimum wage higher than the state minimum wage;
a requirement for paid or unpaid leave;
a work hours or scheduling requirement; and
mandates on benefits, working conditions or terms of employment.
Cities, towns, counties and the Metropolitan Council would still be able to set labor standards for their employees or for private businesses they contract with or as contract terms for projects that include local government financial assistance.
"It's unrealistic to have 854 different labor policies," Garofalo said, referring to a roster of Minnesota cities. "This bill does one thing and one thing only: It simply conforms Minnesota to [statewide standards]."
The bill next goes to the House Government Operations and Elections Policy Committee. Sen. Jeremy Miller (R-Winona) sponsors SF580, a companion that awaits action by the Senate Jobs and Economic Growth Finance and Policy Committee.
"This is not the end of a conversation; this is a beginning," Garofalo said.
The bill would retroactively prohibit local ordinances enacted on or after Jan. 1, 2016. That would apply to Minneapolis and St. Paul. City councils in each city enacted sick leave requirements last year that are set to take effect next summer.
WATCH Rep. Garofalo introduces his bill before the committee
"I don't understand why we are trying to take away rights of local governments to make decisions," said Rep. Rena Moran (DFL-St. Paul).
The prospect of the state, in the name of uniformity, preempting local government from adopting employment ordinances drew an overflow crowd to the committee hearing room, with more than two dozen testifiers pro and con before a break was taken.
The byword for proponents was "patchwork," as in the hodgepodge of rules they said would result if officials in every Minnesota city write their own employment regulations.
"Imagine even just a fraction of that," said Brian Carr, government relations director for the Minnesota Retailers Association. "It would be extremely difficult."
Testifiers representing restaurants, bowling alleys, contractors, truckers, grocers and bar owners said they'd be overburdened without uniform statewide labor laws.
They all want one thing, said Cam Winton, director of labor policy at the Minnesota Chamber of Commerce: a "united Minnesota" with "one set of rules to play by." He cited existing statewide codes such as criminal, building, consumer protection, banking and insurance as examples.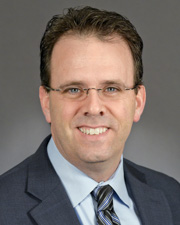 Rep. Pat Garofalo
Deepak Nath, owner and operator of the Pour House in Minneapolis, said he feels "under assault" by the "go it alone mentality" in Minneapolis. "I can't afford rogue actions like this."
Several bill opponents said they felt local control was "under attack."
Rose Roach, executive director of the Minnesota Nurses Association, said cities' labor rules are "democracy in its purest sense" and preemption efforts amounted to "outside corporate interests doing an end run around the will of the people."
Minneapolis business owner Daniel Swenson Klatt said he helped creating the ordinance in the state's largest city. He said employers in other cities, such as Grand Marais, have very different concerns and should be able to help craft ordinances that suit their communities.
Minneapolis City Councilmember Lisa Bender said her city wants a statewide minimum wage and other labor policies, but without it cities would act.
Others said workers without benefits like paid sick leave need to make changes where they can. "It's not right to have to choose between getting better and getting by," said Gaye Sorenson, a St. Paul resident who is active with the ISAIAH advocacy organization.
A state where 150,000 workers go without sick and safe leave "doesn't sound to me like a unified Minnesota," said Arline Datu, who serves on the ISAIAH Board of Directors.