Before Sept. 11, 2011, Marco Milosevic was a 17-year-old airborne trainee in the Army. After the terrorist attacks that day, he became a Ranger who served in 12 combat deployments in the longest-running military campaign in U.S. history.
Milosevic came back home a veteran suffering from psychological conditions who turned to alcohol, drugs and "one tool in my toolbox … that tool was violence."
Milosevic is one of 2.6 million American soldiers who have fought in Afghanistan or Iraq and joins the ranks of 66,000 Minnesota veterans discharged since the so-called "War on Terror" began. He is also one of an estimated 500,000 veterans in the U.S. suffering from post-traumatic stress disorder, grappling with life back home after witnessing traumatic experiences, often struggling with alcohol or drug use – or committing acts of violence.
HF505, as amended, sponsored by Rep. Bob Dettmer (R-Forest Lake), would establish a two-year, $700,000 grant for the Veterans Defense Project, a nonprofit organization designed to educate, advocate and provide legal assistance for veterans in the criminal justice system. Administered by the Department of Veterans Affairs, the funding would be a one-time appropriation for an organization hoping to expand its reach throughout the state.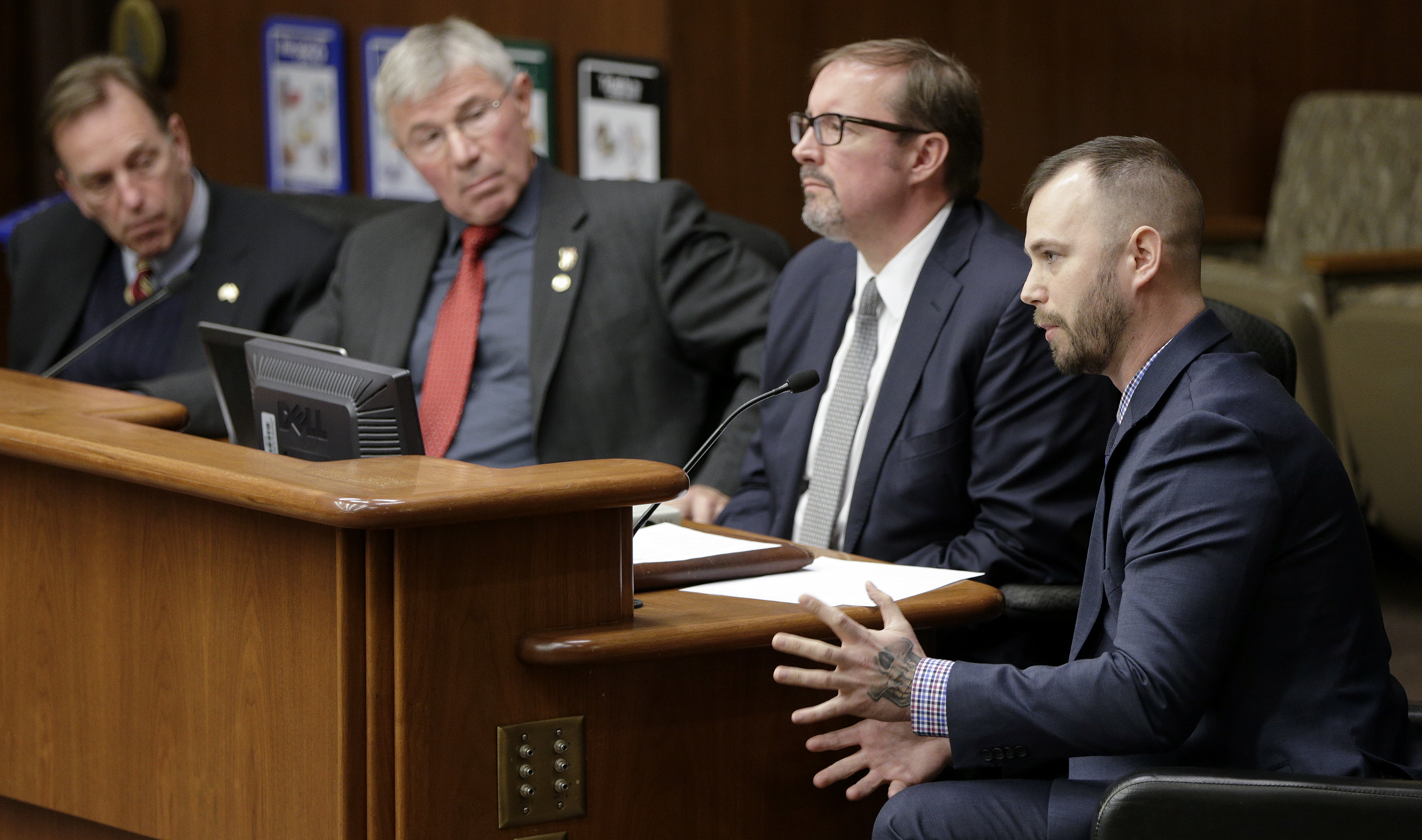 Marco Milosevic, a combat veteran with 12 deployments, relates his experiences after leaving the service during Feb. 6 discussion by the House Veterans Affairs Division about HF505. Sponsored by Rep. Bob Dettmer, second from left, the bill would provide funds for a veterans defense fund grant. Photo by Paul Battaglia
The House Veterans Affairs Division approved the bipartisan bill Monday, and sent it to the House State Government Finance Committee. Its companion, SF394, sponsored by Sen. Roger Chamberlain (R-Lino Lakes), awaits action by the Senate Veterans and Military Affairs Finance and Policy Committee.
Brockton Hunter, a Minneapolis-based criminal defense attorney, founded the Veterans Defense Project to provide law enforcement and judicial authorities with a better understanding of veterans returning home from war and psychological issues they might face – and why those issues sometimes lead to criminal activity. The veterans don't speak up about their problems, Hunter asserts, and the first time anyone gets to meet them is in the back of a squad car.
WATCH House Veterans Affairs Division discussion of the bill
"By the age of 31, having existed my entire adult life in war – or training to go to war – I was released into the world with a handshake and an 'attaboy' and an American flag from the military," Milosevic told lawmakers. "I was pretty disillusioned."
Then Milosevic got into trouble, landing in a county jail and facing a third-degree felony.
It was upon meeting Hunter as his attorney, however, that Milosevic had "an opportunity to turn it all around."
Through some help within the corrections staff and an empathetic judge, Milosevic had a second chance. He's since attended Bemidji State University and is currently attending Metropolitan State University. One day, Milosevic hopes to try his hand at law school.
"If it wasn't for these intervention opportunities, I would have had the book thrown at me," he said.
Hunter likened his organization asking the state for funding to a veteran asking for help. Before, Hunter said, they didn't ask for the help because they didn't think they needed it. Now, hoping to stretch the Veterans Defense Project past the current seven of 87 counties, Hunter believes the grant would help authorities do more.
The funding would go to programs for police, prosecutors, judges and more. It wouldn't foot criminal defense bills for veterans.
Washington County Attorney Pete Orput said if it wasn't for the nonprofit, the veterans court in Washington County wouldn't have gained any traction. Orput said he's screened 72 veterans, including two women, who entered the criminal justice system because of military-related physical or psychological issues.
"It's all about doing the right thing to the right person," Orput said.