The Minnesota Sports Facilities Authority could see big changes.
Among the changes called for in a bill approved 17-1 Tuesday by the House Government Operations and Elections Policy Committee is an expansion of the authority board from five to seven members.
Current members are appointed by the governor and mayor of Minneapolis. Under HF778, the governor and mayor would each appoint one member, each legislative caucus leader would appoint a member and the legislative auditor or a designee would serve as a non-voting member.
Sponsored by Rep. Sarah Anderson (R-Plymouth), the bill would also modify the statute that created the authority in nearly a dozen other areas. Other changes proposed include:
the authority board chair, now named by the governor, would be selected by the board;
the authority board chair's compensation, currently set by the board, would have to be the same as other board members, including a per diem of $55 but no salary;
the authority would negotiate to return its stadium suites to the Minnesota Vikings or sell the seats, except for limited use for marketing; and
the authority would have to try to recover costs of food, parking, tickets, and suite use before Jan. 1, 2017.
"It's time for us to clean house and say that we're not going to tolerate this anymore. It's not the good-old boys club," Anderson said. "This is about fixing it so that people know that their tax dollars are being used prudently and wisely, and that [there is] integrity in the process."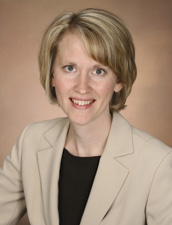 Rep. Sarah Anderson
The proposal arises from recent revelations that seats in U.S. Bank Stadium suites that the authority controls went to board members' friends and family and other public officials, with no apparent marketing purpose. An Office of the Legislative Auditor report released last week called the suite usage an ethical lapse.
LISTEN Complete audio of the meeting 
"We heard over and over that this is how it's always been done," Anderson said. "That screams that … we need to drastically change it."
The bill goes next to the House State Government Finance Committee, which Anderson chairs. A companion, SF626, sponsored by Sen. Julie Rosen (R-Vernon Center), awaits action by the Senate State Government Finance and Policy and Elections Committee.
There was bipartisan feeling that the authority's handling of stadium suites is more than a mere headline-grabbing controversy of the season. Rep. Cheryl Youakim (DFL-Hopkins) called it a "pretty weighty issue." Anderson said "this in fact impacts every single Minnesotan."
The lone vote against the bill was from Rep. Michael Nelson (DFL-Brooklyn Park), who earlier offered two amendments. Each failed on party-line, roll-call votes.
One contained provisions that Nelson said hewed more closely to the legislative auditor's recommendations. The other took its language from HF1033, sponsored by Rep. John Lesch (DFL-St. Paul), which would ban preferential admission to public officials at all publicly owned facilities. Anderson said she supports Lesch's effort, but not as an amendment to her bill.