Skies could get friendlier for Minnesotans seeking to board future flights on commercial aircraft.
The House passed HF3 Thursday, a bill that would let the state comply with the federal Real ID Act of 2005, 72-58.
That federal law sets standards for identification needed to access certain federal facilities and federally regulated commercial aircraft.
Only people with enhanced driver's licenses or other IDs, such as passports, will be able to access those flights starting in January 2018. Already, some have found Minnesota driver's licenses inadequate for admission to military bases, nuclear power plants and other federal facilities.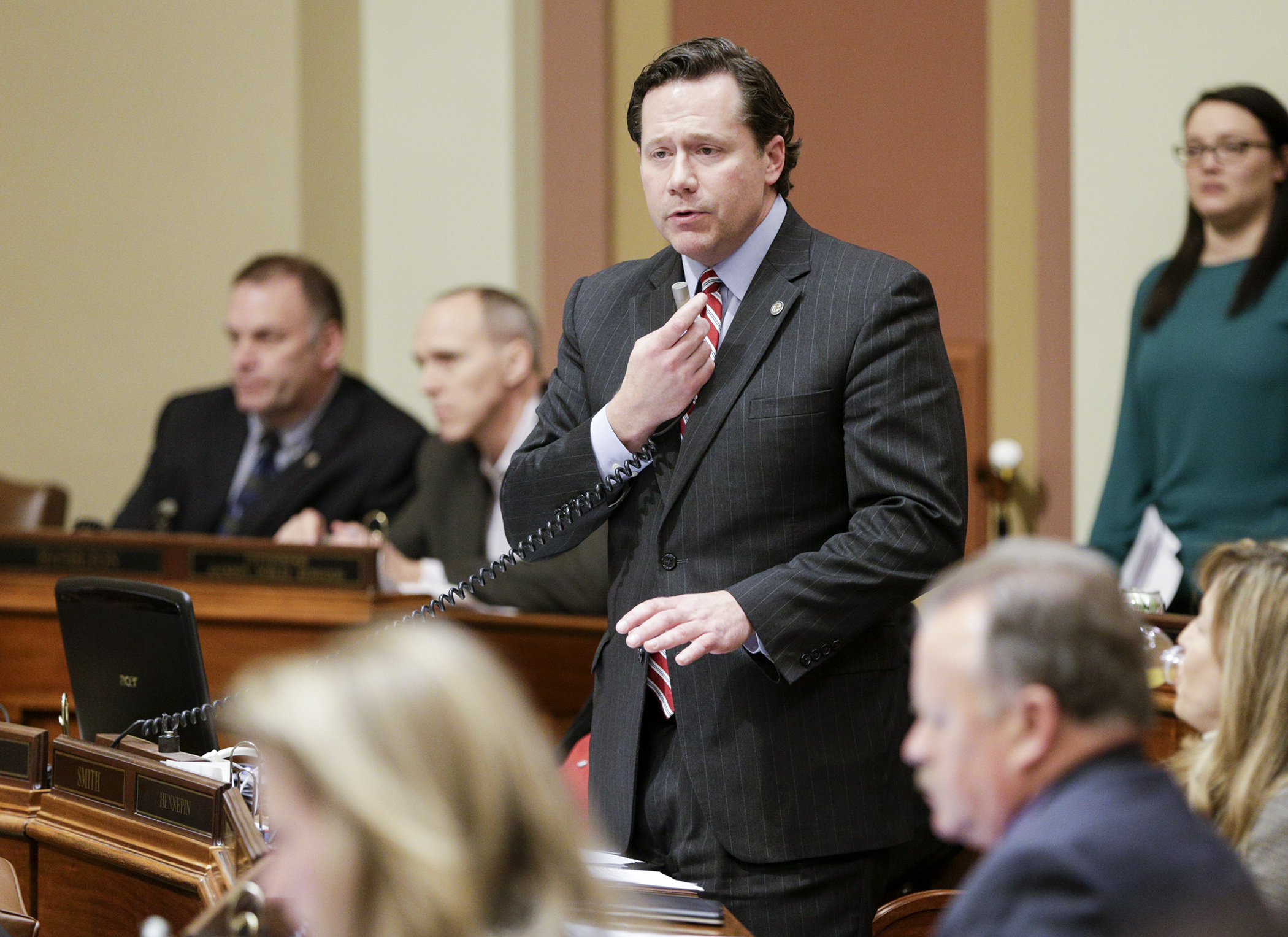 Rep. Dennis Smith answers a question during debate on his bill, HF3, on the House Floor Feb. 23. Passed by the House, the bill would authorize the implementation of requirements of the federal Real ID Act. Photo by Paul Battaglia
HF3 would complete a legislative U-turn on Real ID that began last year with a new law allowing state agencies to start planning for future Real ID compliance. In 2009, the House voted 133-0 not to comply with the Real ID Act amid fears about data privacy, federal overreach and mission creep. About a third of the members who voted in favor of not complying with Real ID in 2009 are in the House today.
The bill now goes to the Senate, where Sen. Eric Pratt (R-Prior Lake) is the sponsor.
Rep. Dennis Smith (R-Maple Grove), the bill's sponsor, said it would provide a two-tier system under which Minnesotans could opt for a Real ID-compliant driver's license or a non-compliant ID – like the "current license you have today."
Two DFLs amendments were unsuccessful.
Rep. Rick Hansen (DFL-South St. Paul) withdrew his amendment that would have paid for program costs from the General Fund.
Rep. Carlos Mariani (DFL-St. Paul), who sponsored the 2009 Real ID compliance ban, praised the noncompliant ID option in HF3. But he said his delete-all amendment offered members a "clean" vote on Real ID compliance – not "cluttered up" with provisions putting into statute an existing rule against driver's licenses going to undocumented immigrants.
The House did adopt an amendment offered by Rep. Jim Nash (R-Waconia) that would prohibit the state from sharing data on firearms permits, purchases or transfers under the Real ID system.