What would you do with $1.65 billion? That's the question facing Minnesota's lawmakers and governor as they grapple over the state's spending priorities for the next two fiscal years.
Minnesota Management and Budget officials on Tuesday released the February Budget and Economic Forecast, a projection of the state's finances, as lawmakers start to piece together a two-year budget they have to approve before June 30. The announcement was $250 million more than predicted in November, due largely in part to higher-than-expected individual income, general sales and corporate franchise tax collections.
Everyone agrees: The $1.65 billion budget surplus is good news. It means the state's economy is strong and is expected to remain strong. But the disagreement begins with what to do with the extra cushion – and that's where the budgeting begins.
"It firms up here," Gov. Mark Dayton said, adding later, "It gets more real."
Five weeks ago, Dayton released his 2018-19 biennial budget recommendations, which took into account a November surplus projection of $1.4 billion and included pre-forecast spending items, like an insurance premium bailout that cost $326 million. Dayton highlighted his budget priorities as increasing spending in education, health care and transportation infrastructure.
The Dayton administration will announce additional budget suggestions in coming weeks, but for the time being, the governor remains steadfast in increasing spending in education, transportation and health care. Republicans contend that, while they will shape spending in those three categories, the money needs to go back into the hands of taxpayers – but whether it's through tax breaks, incentives or select services remains unclear.
"We need to put forward a state budget that puts Minnesotans first," House Speaker Kurt Daudt (R-Crown) said, adding that the legislative committee process will help finalize details.
State economists take into account a number of factors in establishing the budget forecast. They review state and national economic trends – like perceived rising wages statewide and expecting consumers to increase spending – along with assuming tax policy changes in Washington, D.C.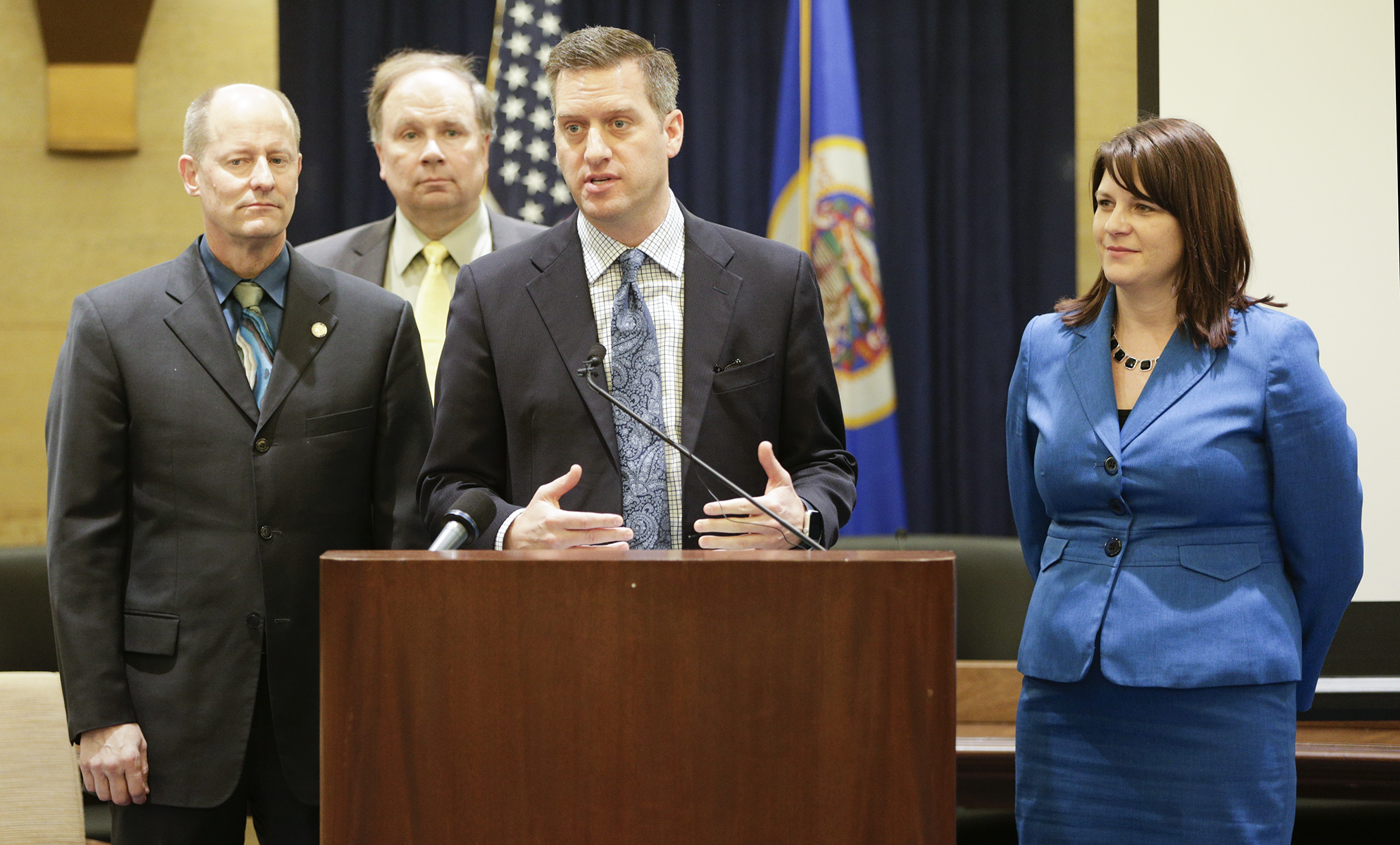 House Speaker Kurt Daudt responds to a question after the February Budget and Economic Forecast was released showing a projected $1.65 billion surplus for the 2018-19 biennium. With him are, from left, Senate Majority Leader Paul Gazelka, House Ways and Means Committee Chair Jim Knoblach and House Majority Leader Joyce Peppin. Photo by Paul Battaglia
Tuesday's announcement came with a caution, too. Officials said there are significant risks in assuming the surplus is safe: international trade policy, inflation and a slow-growing economy makes the forecast vulnerable to what the Dayton administration calls "shocks."
Both parties said they will be keeping their eyes on changes happening at the federal level. Shifting health care costs could greatly disrupt Minnesota's finances, along with trade policies that might affect local manufacturers or mining industries.
"An extra surplus doesn't fix everything," said Senate Majority Leader Paul Gazelka (R-Nisswa).
DFLers, who are in the minority in both chambers, credited themselves and Dayton for the strong fiscal situation, saying four years ago that a one-party government turned around the state's finances after inheriting deficits.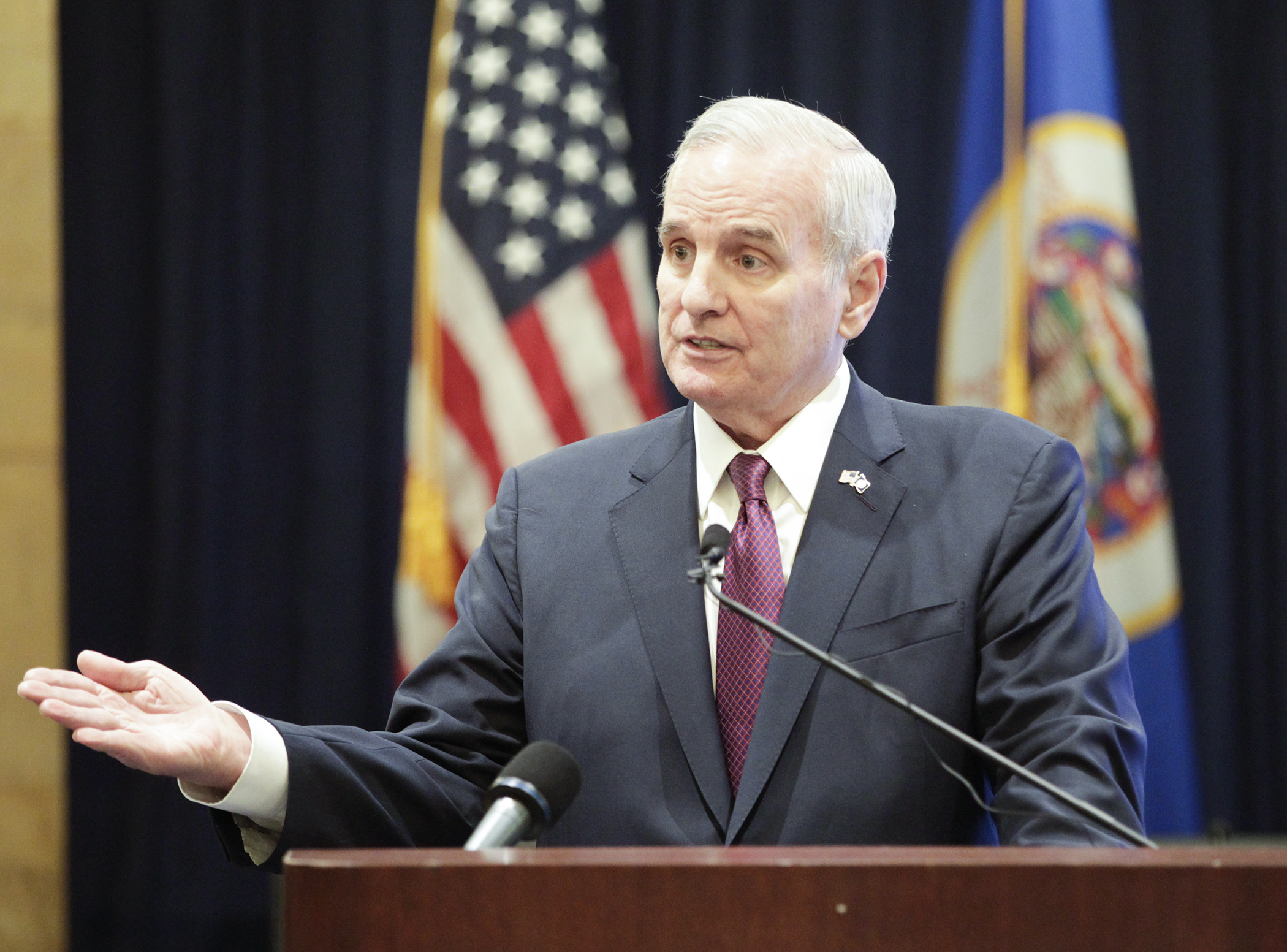 Gov. Mark Dayton responds to a question during a press conference after the February Budget and Economic Forecast was released showing a projected $1.65 billion surplus for the 2018-19 biennium. Photo by Paul Battaglia
"We worked closely with the governor and we raised some revenue on the top percent of wage-earners," along with increased taxes on items like cigarettes, Senate Minority Leader Tom Bakk (DFL-Cook) said. "And we stabilized the state budget."
Bakk and House Minority Leader Melissa Hortman (DFL-Brooklyn Park) said one option is shifting some of the surplus into the state's budget reserve, the so-called "rainy day" fund, currently hovering around $2 billion.
Dayton and MMB Commissioner Myron Frans touted this as the eighth budget surplus in a row for the administration.
"We have worked hard to achieve these budget surpluses. They must be preserved," Dayton said. He added later, "We've done a lot of things right."
The last forecast, released in November, claimed Minnesota was on track to have a $1.4 billion surplus for the upcoming two-year budget cycle and a balance of $678 million for the current biennium, which ends June 30. At the time, however, economists said the country's economic outlook has weakened and consumer spending is lower than previous forecast reports.