Jamie Taylor is deafblind, but she could still tell that members of the House Health and Human Services Reform Committee were smiling at her as she testified. That's because of a support service conveying visual information using Pro-Tactile, she said.
"Imagine just talking into a void, a blank void. That was what it was like before … I wish I had this growing up." said Taylor, a member of the Commission of Deaf, Deafblind, and Hard of Hearing Minnesotans.
HF774 would modernize Minnesota's Deaf and Hard of Hearing Services Act and appropriate $3 million over the 2018-19 biennium.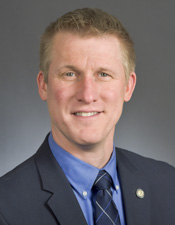 Rep. Nels Pierson
The bill, sponsored by Rep. Nels Pierson (R-Rochester), was approved as amended Wednesday and referred to the House Health and Human Services Finance Committee.
Its companion, SF1183, sponsored by Sen. Jim Abeler (R-Anoka), awaits action by the Senate Health and Human Services Finance and Policy Committee.
Each fiscal year, $800,000 would go to the Department of Human Services to strengthen the Deaf and Hard of Hearing Services Division and $700,000 would be used to provide grants to those who are deaf, deafblind, or hard of hearing. The bill would also require grant funding to provide mentors to the parents of children and infants with hearing loss.
Mentors who are deaf not only inform hearing parents about communication strategies but also provide support, connect them with other resources and teach them about deaf culture, said Michelle Paulson, a mother three young children, two of whom have hearing loss.
WATCH Full video of Wednesday's committee hearing 
HF774 would allow mileage reimbursement for people who travel more than 50 miles to access services. It would also change a cap on regional service centers to a minimum, said Beth Fraser, the council's government relations director.
This would allow for both virtual and brick-and-mortar satellite offices for DHS's Deaf and Hard of Hearing Services Division, making them more accessible for people across the state, Taylor said.