A mini-donut booth at the Minnesota State Fair could have to let customers know that money they spend there could end up in political coffers.
HF2196, sponsored by Rep. Randy Jessup (R-Shoreview), would require that political committees selling goods and services disclose they may use the proceeds for political purposes.
While the bill would apply to any political committee, Jessup highlighted that it would apply to the Grandstand Mini-Donut booth operated by a political committee listed by the Campaign Finance and Public Disclosure Board as 10th Ward & Rural Ramsey County (formerly known as DFL Donut Booth).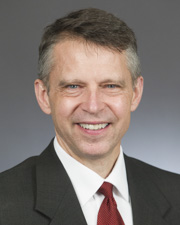 Rep. Randy Jessup
The House Government Operations and Elections Policy Committee laid over HF2196 Friday for possible inclusion in an omnibus bill. The companion, SF1954, sponsored by Sen. Roger Chamberlain (R-Lino Lakes), awaits action by the Senate State Government Finance and Policy and Elections Committee.
Jessup showed photos of the booth, noting he saw no signs disclosing that it was a political committee operation. The bill, he said, would "eliminate a black stain allowed to operate at our state fair."
HF2196 would also require that political committees report proceeds from sales of goods or services as a contribution, and prohibit them from using such proceeds "to make a contribution to a principal campaign committee, a party unity, or a political committee or political fund," except for contributions to an independent expenditure political committee of fund.
Several DFLers agreed with the transparency sought in the bill, but Rep. Michael Nelson (DFL-Brooklyn Park), said he found the bill "self-serving" since the political committee directed money to DFL campaigns in Jessup's district.
Jessup conceded that most of the donut booth's money impacts his community, but said his objection was to political committees conducting such operations without disclosure.
"This type of operation, as it is today, is wrong," Jessup said. "It is deceptive."