Since 2010, a privately owned prison has sat vacant in Appleton.
Owned and maintained by CoreCivic, formerly Corrections Corporation of America, the potential state use or operation of the 1,600-bed facility continues to pit local officials who see an economic boost for a depressed area of west-central Minnesota against those who believe, in part, businesses should not profit from incarceration and the state should instead focus on ways to reduce its prison population.
Sponsored by Rep. Tim Miller (R-Prinsburg), HF1510, as amended, would allow the Corrections Department to house offenders in non-publicly owned facilities. It also states that the department shall enter into a contract to either purchase and operate or enter into a lease-to-own agreement to operate the facility when "the department has an insufficient number of prison beds to house the current or projected prison population and needs to expand an existing facility or build a new facility." Department officials would be directed to conclude such negotiations within one year of determining a need for additional beds.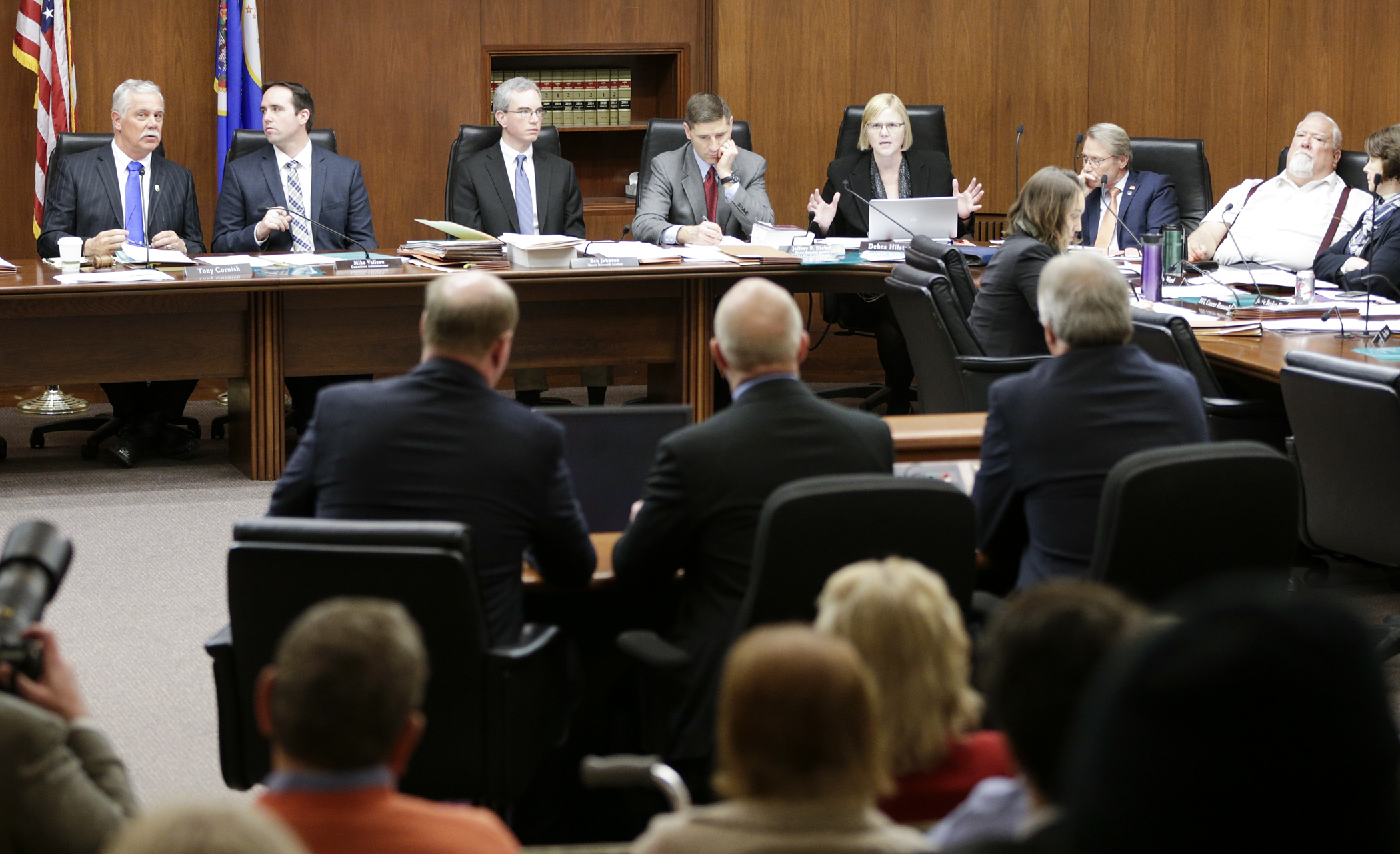 Members of the House Public Safety and Security Policy and Finance Committee listen to testimony on HF1510 sponsored by Rep. Tim Miller during a hearing March 21. Photo by Paul Battaglia
After a hearing that wasn't as contentious as last year, the bill was held over Tuesday by the House Public Safety and Security Policy and Finance Committee for possible omnibus bill inclusion. That bill is scheduled to be unveiled Thursday.
A companion, SF1322, sponsored by Sen. Andrew Lang (R-Olivia), awaits action by the Senate Judiciary and Public Safety Finance and Policy Committee.
An amendment unsuccessfully offered by Rep. Debra Hilstrom (DFL-Brooklyn Center) would require inmates be housed in public facilities and prohibit state contracts with private prisons. It failed on a 10-6 party-line, roll-call vote.
Gov. Mark Dayton previously indicated an unwillingness to reopen the facility on the state's dime.
What would it solve?
Miller said "a simple fact" is addressed by the bill.
"By the department's own recognition there are not enough beds for current state offenders, those numbers are going to increase and there's a fully functional, adequate facility in Appleton, Minnesota to address those needs. … Last year, the Department of Corrections referred to prison overcrowding in Minnesota as a crisis."
Department officials did not dispute that; however, they note sentencing reforms enacted last year, largely for drug crimes, are expected to decrease the number of Minnesotans behind bars.
According to documents presented to the committee Jan. 18, the department projects its inmate population in 2023 to exceed bed capacity by 822. That projected gap was more than 1,600 a year ago.
Corrections Commissioner Tom Roy admits capacity is a concern, but said this proposal suggests there is only one solution. He said the department has undertaken other cost-effective strategies to deal with its population, including working with community partners to establish alternatives for parole violators.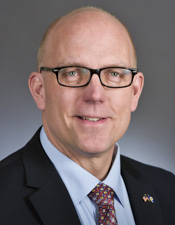 Rep. Tim Miller
The department contracted with county jails to house 341 inmates in January 2017, 131 fewer than one year prior.
However, bill supporters note those inmates do not receive treatment or programming that is available at a state prison.
"That can cause a huge increase in the recidivism rate," said Rep. Brian Johnson (R-Cambridge). "I don't think that's good for the public or the inmates."
Minnesota's 2015 rank of 196 sentenced prisoners per 100,000 population is the third-lowest in the country, behind Maine (132) and Massachusetts (179). By comparison, Wisconsin's 2015 state population was about 259,000 higher than Minnesota, yet it had more than twice as many inmates.
Swift County Commissioner Gary Hendrickx stressed people in his area are not advocating for more people to be locked up, rather he called the bill "the best solution for a serious and persistent problem."
University of Minnesota student Meghan Hill is co-chair of the Minnesota Public Interest Research Group.
Speaking against the bill, her arguments included the increased distance many inmates would be from their families — Appleton is about a three-hour drive from the Twin Cities — it is wrong for companies to profit off the backs of inmates without addressing the root cause of their issue and to stop pitting economically distressed communities against one another.
"It's time we do better for communities of color that for so long have been devastated by mass incarceration and countless other forms of institutional racism," she said.
Critical of the prison owner
Hilstrom noted that CoreCivic has a track record of poorly providing services the state requires, has poor staffing levels, people who served time there had higher recidivism rates and former Gov. Tim Pawlenty, a Republican, made the decision to stop renting beds at the facility in 2010.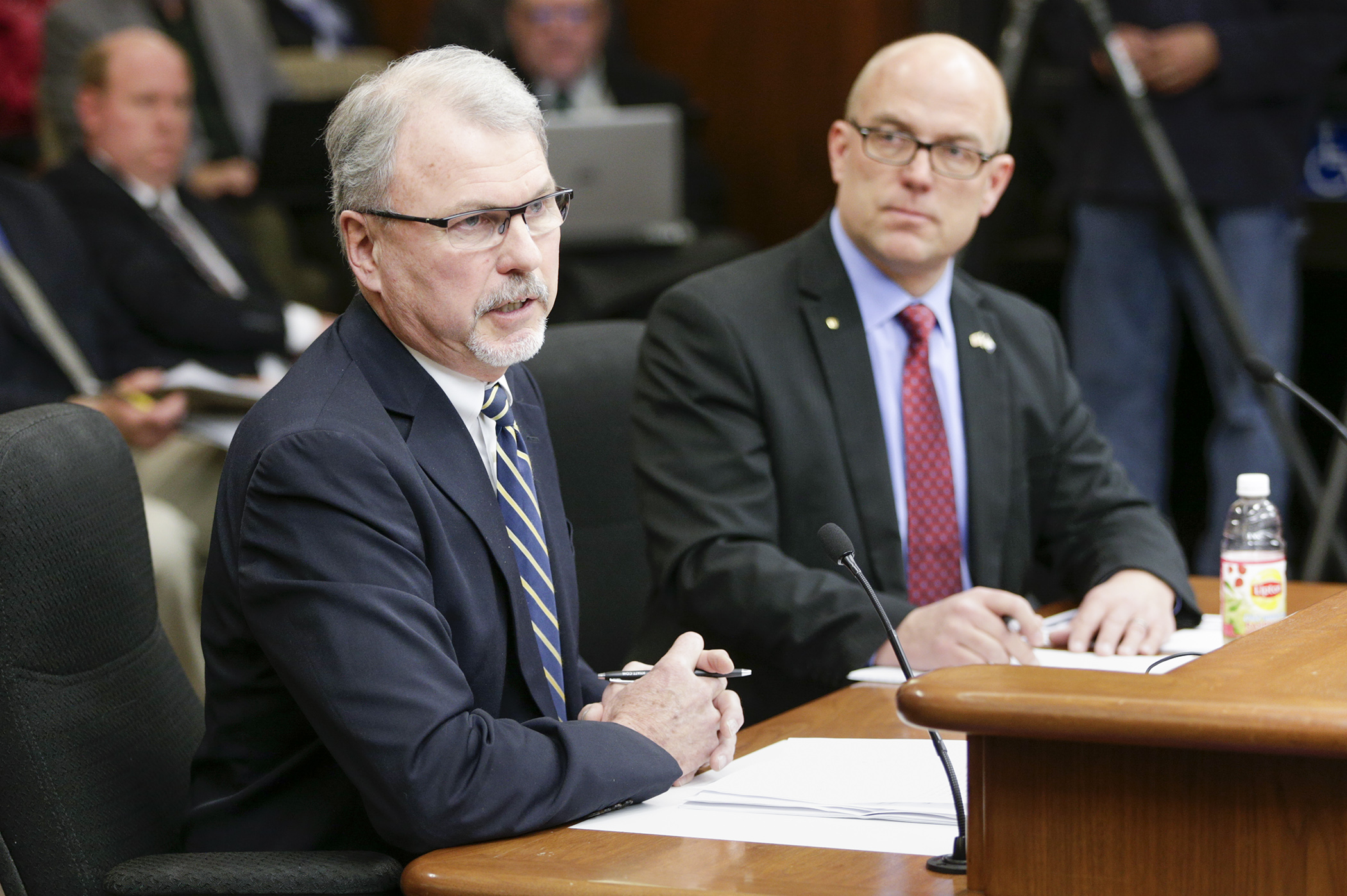 Corrections Commissioner Tom Roy speaks in opposition to HF1510 sponsored by Rep. Tim Miller, right, during the March 21 House Public Safety and Security Policy and Finance Committee hearing. The bill would instruct the Corrections Department to either purchase and operate or lease-to-own and operate an existing prison facility located in Appleton when it has unmet bed needs. Photo by Paul Battaglia
"We do not belong leasing this facility; we do not belong buying this facility," she said. "We don't currently have a need for it and we do not want to be in business with a company like [CoreCivic]."
Hilstrom said that CoreCivic sought approximately $100 million for the facility last year, when its assessed value was $14 million. "If the collaborative or the local units of government think this is such a great deal for the state, why don't they consider purchasing the facility and attempt to lease the beds to the state? … This was once owned by a local unit of government."
Miller said the price tag was a hypothetical starting point and it was emphasized that "vigorous and good conversations" would be had as to the real value and potential lease costs. He noted the assessed value was based on an empty facility.
"As far as the City of Appleton, there hasn't been any discussion with us to buy the facility," said Mayor Chad Syltie. "The facility as a whole right now would probably be more than what the Appleton community could handle as far as a financial obligation. If we could look at buying and then have a solid lease set up so that we could handle the bond payments that might be open for discussion."
If the state were to run the facility as an owner or lessee, Roy said it would come with annual operating costs in the $30 million to $40 million range.
"The long-term impact of a budget strategy like that is not necessarily a thoughtful way to approach prison capacity," he said.