The House passed its omnibus health and human services finance bill, as amended, on a 75-53 vote Friday after emotional discussion.
Supporters hailed the legislation as a financially responsible way to support some of the most vulnerable members of Minnesota's population. Opponents hold that the bill fails to address many issues and that cost-saving measures are unsubstantiated.
Those concerns have persisted since bill sponsor Rep. Matt Dean (R-Dellwood) introduced HF945/SF800* last month. It calls for a $622.37 million cut from current spending, for $14.32 billion in spending during the 2018-19 biennium and would eliminate MNsure, the state's health insurance marketplace.
In a morning news conference, Rep. Tina Liebling (DFL-Rochester) compared the Republican plan to "Taking a tricycle … and making it into a bicycle by just ripping off one of its wheels."
"It doesn't work," she said. "This is a very troubling bill and we're gonna fight like heck against it."
The budget contains much-needed reforms that will reign in costs without requiring broad budget cuts, though the extent of those savings are difficult to predict, Dean said in an afternoon news conference.
"We have a lot of difficult choices to make," he said. "You have to make priority decisions."
The bill now returns to the Senate, where Sen. Michelle Benson (R-Ham Lake) is the sponsor. The Senate passed its version 36-30 April 3. A conference committee will likely be convened to work out the differences.
Among the House bill's funding provisions are:
While many provisions received bipartisan support during committee hearings, DFLers criticized the bill for its omissions, including investments in affordable child care, wage increases for home health care workers, changes to spenddown requirements and funding to improve staffing ratios at the Minnesota Security Hospital in St. Peter.
"When did we give up on the people we said we were going to fight for?" Rep. Liz Olson (DFL-Duluth) asked on the House Floor. "This should be our come-together bill."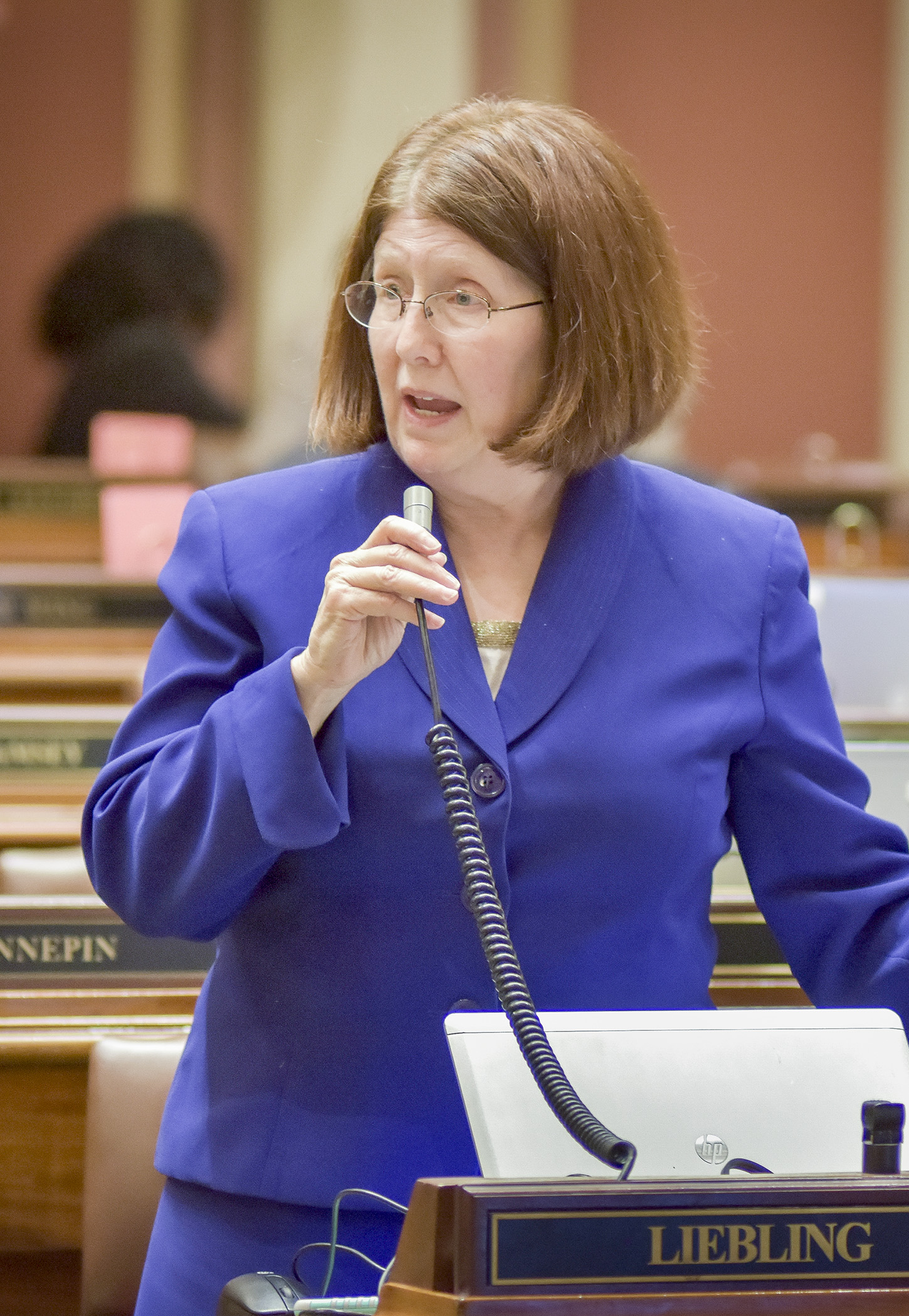 Rep. Tina Liebling speaks to the omnibus health and human services finance bill on the House Floor April 7. Photo by Andrew VonBank
Other items left out of the bill are vitally important to the function of the Department of Human Services and the Department of Health – including an operating adjustment for the departments, and an adjustment for inflation in the Medical Assistance program, DFL members of the House Health and Human Services Finance Committee have said.
The absence of an inflation adjustment in the budget means that those projected funds won't be automatically allocated to programs, giving the state greater flexibility in where to direct the funding for the greatest impact, Dean said.
Other points of contention include measures that would eliminate MNsure and opt into the federal marketplace, and end more than $40 million in appropriations to MNsure that fund technology platforms used by counties to make eligibility determinations, Liebling said.
"There are real consequences to this proposal. It's not a very good proposal, and it is because this Legislature, the Republicans, have favored tax cuts for the wealthy," Rep. Erin Murphy (St. Paul) said. "Because of that, the people who are doing the work across the state of Minnesota … are sacrificed, left high and dry."
Sixteen amendments to the bill were offered on the House Floor. Eight were adopted, six were withdrawn, one was ruled as out-of-order, and one was voted down.
Adopted amendments include provisions that would:
create an open enrollment period meant to assist small employers trying to help their employees secure individual insurance;
expand the information collected in an outcomes-based payment program for hospitals; and
suspend the registration of medical cannabis manufacturers and levy a $1 million fine if they are found guilty of illegally transferring cannabis to another person or outside the state.
Amendments that were not included in the bill sought to:
allow registered nurses in hospitals to respond to patient loads and staffing levels by pausing admissions into their units as needed;
dedicate some of the tax revenue from Sunday alcohol sales to support chemical dependency treatment and prevention programs; and
pull back the recently approved reinsurance program and use that funding to relieve Minnesotans directly through discounts, as a way of making sure they see cost reductions in health care.
A bipartisan amendment offered by Liebling, but withdrawn, is included in the Senate version of the bill and expected to receive a committee hearing in the House. The measure is intended to block insurance companies from changing which medications are covered on their plans and require more transparency about what will be included, Liebling said.