The House voted 82-52 Thursday to pass a bill that would appropriate nearly $60 million in lottery proceeds for the state's environment and natural resources, despite objections it does not include a number of projects recommended by the commission that helps oversee those funds.   
Sponsored by Rep. Josh Heintzeman (R-Nisswa) and Sen. Torrey Westrom (R-Elbow Lake), HF1265/SF550*, as amended to include the House language, would appropriate $59.26 million based on recommendations made by the Legislative-Citizen Commission on Minnesota Resources.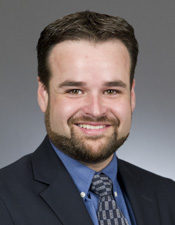 Rep. Josh Heintzeman
The LCCMR was created to help guide expenditures from the Environment and Natural Resources Trust Fund, which was established through a constitutional amendment in 1988 to direct proceeds from the state lottery and investment income to benefit those resources.
The bill now returns to the Senate for concurrence.
"I know there are differences of opinion as to what should or shouldn't be in the bill," Heintzeman said. "I think there are a lot of things here that people will be able to support, and I think it's good for the state of Minnesota."
The bill, as amended, would appropriate $8.43 million during Fiscal Year 2017 and $50.83 million during Fiscal Year 2018. Those appropriations include:
Methods to Protect or Restore Land, Water and Habitat - $28.67 million
Foundational Natural Resource Data and Information - $10.56 million
Land Acquisition, Habitat and Recreation - $6.86 million
Invasive Species - $4.72 million
Environmental Education - $2.82 million
Water Resources - $2.58 million
Air Quality, Climate Change and Renewable Energy - $1.7 million
Administration and Contract Agreement Reimbursement - $1.34 million
CREP funds and LCCMR projects
During its March meeting on the bill, House Environment and Natural Resources Policy and Finance Committee eliminated more than 20 of the projects that had been recommended by the LCCMR. They included projects focused on climate change, solar power, environmental education and land acquisitions. Much of that money was instead earmarked for the Conservation Reserve Enhancement Program.
During Thursday's Floor debate, DFLers offered several amendments to restore some, or all, of those projects, saying money to fund CREP should come from other sources and not at the expense of projects recommended by the LCCMR.
Rep. Rick Hansen (DFL-South St. Paul) said appropriations from the environment trust fund "always seem to get tinkered with" and that projects involving solar power, climate change or prohibitions on lead, "always come out of the package" when Republicans have the majority. He asked fellow lawmakers to vote against the bill so sponsors could "start over."
But Heintzeman said the LCCMR had already made its recommendations when the need for additional CREP funding arose.
"We are doing our very best to find two priorities here," he said. "Those that were recommended by the LCCMR board and CREP."
Gov. Mark Dayton signed an agreement with the United States Department of Agriculture in January to secure $350 million in federal funding for the program, which pays landowners to retire environmentally sensitive land to protect and improve water quality and other natural resources.
As part of that agreement, the state must commit $150 million. More than $54 million has been appropriated in past legislative sessions, and the bill would appropriate just more than $1 million in Fiscal Year 2017, and $17.38 million in Fiscal Year 2018. Another $6 million would be appropriated to the Board of Water and Soil Resources to assist landowners participating in the program.
Other provisions in the House bill include:
allowing counties, either partially or completely north of Highway 2, to file no-net-gain policies with the DNR;
giving recipients of environment trust fund appropriations the option of submitting annual progress reports rather than semi-annual reports; and
requiring environment trust fund appropriations be spent only on activities specified in the work plan approved by the LCCMR and prohibiting appropriations from being spent on indirect costs or other institutional overhead charges not directly related or necessary, including overhead costs such as rent and utilities.