The omnibus health and human services finance bill isn't perfect, but many members of the House Health and Human Services Finance Division expressed their pride in it before it was approved 11-7 late Friday night.
"It is a large bill," said Rep. Tina Liebling (DFL-Rochester), the division chair and bill sponsor. "It's not about the size, the number of the pages, it's about what's in the bill. And this bill … does an amazing amount of work."
As amended, HF2414 is scheduled to be before the House Ways and Means Committee Tuesday.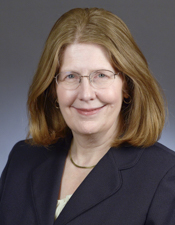 Rep. Tina Liebling
Before the vote, members reflected on the many issues addressed by the division over the past few months, shared their pride in the result – or their continued concerns – and expressed a shared commitment to continuing discussions.
"We have to bring everybody to the table to come up with innovative, creative solutions. Because our health, our care depends on us doing this better every single year," said Rep. Barb Haley (R-Red Wing).
The bill, introduced Tuesday, largely draws on the health and human services proposals in Gov. Tim Walz's budget recommendations and includes provisions from the House Early Childhood Finance and Policy Division, as well as many issues "left on the table from the last session," Liebling said.
Amendments approved by the committee cover a range of technical fixes, clarifications, corrections, and fiscal adjustments as well as proposed legislation approved on the full House, but didn't receive Senate hearings.
These additions include language from:
An author's amendment from Liebling would provide funding for a public awareness campaign to focus on the dangers of mercury in skin-lightening products commonly used in minority communities.
Part 1: House Health and Human Services Finance Division 4/5/19
An amendment successfully offered by Halverson would add a provision ordering the Department of Human Services to provide recommendations on giving homeless youth access to their own records – like birth certificates – which are needed to apply for jobs and access housing and services.
The overall spending outlined during a walkthrough earlier this week was not significantly changed, and remains a $128.57 million increase from the General Fund, totaling about $15 billion in overall spending.
"When the bill passes out of this committee, it has to be in balance," Liebling told the division before members began hearing amendments Friday morning.
Any bills that called for additional funding but did not clarify where that funding would come from within the bill, would be deemed out of order, she said.
Several unsuccessfully offered amendments made funding requests for programs which were not included in the omnibus bill by proposing reductions to the state's sex offender's rehabilitation program and the Department of Human Services' central office.
The office is responsible for licensing, investigations of abuse allegations regarding vulnerable adults, background checks, and other activities including IT, said Dave Greeman, the department's budget director.
The sex offender program would receive a funding increase tied to the funding needed to provide court-ordered community preparation services, he said.
Amendments offered without success by division Republicans included attempts to adjust or remove a benefit and cost analysis of a unified health care financing system, to be completed by the University of Minnesota School of Public Health by Jan. 15, 2021.
Rep. Jeremy Munson (R-Lake Crystal) offered, then withdrew, an amendment that would establish a "Patient Right to Shop" that would split savings between individuals – as an incentive – and the broader insurance pool – to keep costs down for everyone. He expressed his hope for an informational hearing to discuss the concept further as a division.