Some young Minnesotans may be forced to choose between remaining in school and financially supporting themselves or their families due to a Minnesota law that makes high school students ineligible for unemployment benefits.
That law "assumes that the secondary students are coming from a place of privilege and that they are dependents," Ajalon Peterson, a 17-year-old Minneapolis resident, told the House Jobs and Economic Development Finance Division during a remote informational hearing Wednesday.
Peterson said she has been financially independent since age 16, but doesn't qualify for unemployment benefits purely because of her status as a high-school student – despite effectively being a college student due to her participation in the state's Postsecondary Enrollment Options program.
Now, she said she's being forced to consider the painful question: "Do I drop out of school and sacrifice my long-term future for my immediate well-being?"
Rep. Dave Lislegard (DFL-Aurora) sponsors a yet-to-be introduced bill that would make high school students 18 years old and older temporarily eligible for unemployment benefits. The bill would be tied directly to the COVID-19 pandemic, dating retroactively to March 16, 2020 and running through the end of the calendar year.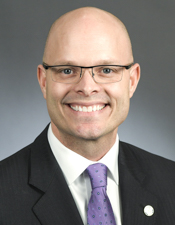 Rep. Dave Lislegard
If an agreement with the Senate is reached, the bill may be considered during a special session this summer, said Rep. Tim Mahoney (DFL-St. Paul), the division chair.
Cole Stevens, an 18-year-old from Bloomington, has been helping his family pay for rent and utilities since 2018. So, when he lost his job and was encouraged to apply for unemployment benefits, he did so. He was initially rejected, then accepted, and paid retroactively for five weeks of lost income.
He immediately put that money towards outstanding bills and rent, but, three days later, received a letter saying that his status as a high school student made him ineligible after all, and ordered him to pay the money back, Stevens said.
Now, he's "worse than broke" and in debt to the state. He said he knows several other young people who are in similar situations after paying for core family and personal expenses.
This is "really, really urgent," and an issue that disproportionally affects people of color, Stevens said.
The same thing happened to the sister of 20-year-old DeAnthoney Acon – himself a high-school PSEO student who is also ineligible for unemployment benefits after going back to finish his degree.
He has been helping to financially support his family since age 13, and his sister has a child of her own that she is trying to provide for, he said.
"We want individuals to work, pay taxes, contribute to society, and do all of these things, and they do … then, to be denied, just to me, it wasn't right," Lislegard said.
When Lincoln Bacal, a 17-year-old from Minneapolis, lost her job due to COVID-19, she was the only person in her household working. She now intends to take a gap year before going to college to make up for the financial loss after being denied unemployment benefits.
A major problem with the proposal, testifiers said, is it leaves out students younger than 18.
Before testimony started, Mahoney acknowledged that there are "more reasons" to expand the bill to include younger high school students.
However, there had been a request to leave the issue of younger students' inclusion for consideration by the Unemployment Advisory Council, with the intention it be brought before the Legislature for further review and possible adjustment next year, Mahoney said.
"Many of us can't wait until next year," Bacal said. "High school students have the same needs and struggles right now that other Minnesotan workers do … it would only widen existing disparities and harm low-income, working youth."
Rep. Barb Haley (R-Red Wing) asked if employers were currently paying into the state's unemployment insurance program for workers who would be made eligible for that program through this bill, and whether high school students would have to be working full time in order to qualify.
"I think your bill has a little work to do," Mahoney said.