It was an opening to the Minnesota legislative session unlike any before it.
A mere 20 representatives were in the House Chamber Tuesday as the session was called to order at noon. But, before the hour was out, 113 other House members would join them via Zoom to take the oath of office. They appeared on a large screen in front of the dais, mostly nine at a time, their configuration reminiscent of the opening credits of TV's "The Brady Bunch."
The new procedures were informed by the specter of COVID-19, which has altered all manner of how people gathered in 2020, and now in 2021. Inspired by Centers for Disease Control and Prevention recommendations about sizes of gatherings and social distancing, the chamber remained sparsely populated throughout the day as members elected House officers.
House DFL Media Availability 1/5/21
The first such position was Speaker of the House, for which DFLers were united in their support of returning Rep. Melissa Hortman (DFL-Brooklyn Park) to a post she's held since 2019. Republicans nominated her predecessor, Rep. Kurt Daudt (R-Crown), but Hortman prevailed, 70-57, and was sworn into the position by another former speaker, Minnesota Supreme Court Associate Justice Paul Thissen.
After the unanimous election of Chief Clerk Patrick Murphy and other House officers, one of the body's 23 newest members, Rep. Erik Mortensen (R-Shakopee), unsuccessfully offered a resolution to end the peacetime emergency powers that allow Gov. Tim Walz to issue executive orders in response to the pandemic. It was ruled out of order.
Similar attempts during each of last year's seven special sessions also failed. It could be taken up again at Thursday's floor session.
This online session
Unlike the Senate, which plans to employ a hybrid of in-person and virtual attendance at committee meetings, the House intends to conduct committee business remotely through the session's constitutionally mandated May 17 conclusion.
During a morning news conference, Hortman said online legislating could make the legislative process more accessible for some Minnesotans, including people with disabilities and those in Greater Minnesota.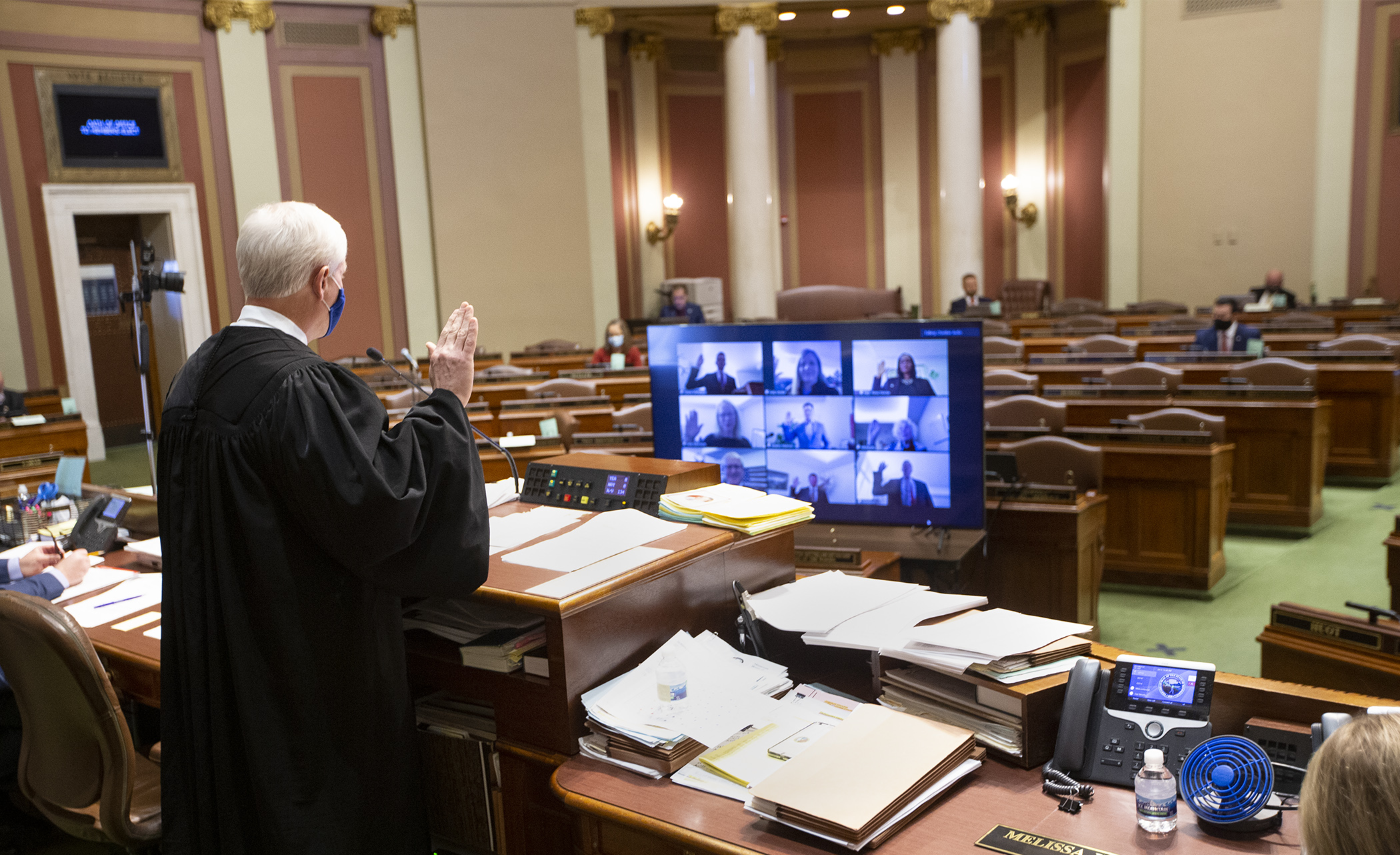 Minnesota Supreme Court Associate Justice Paul Thissen gives the oath of office remotely to a group of House members on the opening day of the 2021-22 legislative session, Jan. 5. Photo by Paul Battaglia
"For Minnesotans who used to have to hop in the car and spend hours upon hours to drive to the State Capitol, try to find a place to park, sit around and wait to testify, I think it's much more convenient to be able to testify via Zoom," she said. Once the pandemic is over, "I think we still will be using this type of technology to reach more people."
In comparison to the regular and special sessions of 2020, the voting process is expected to speed up due to technology designed to allow representatives to vote via their computers using a fingerprint authentication system, as opposed to each member registering their votes one by one in a roll call. 
"I'm not the biggest fan of switching from the roll call," Hortman said. "Because the roll call has operated in some ways as an 'adult time out.' … There'll be all sorts of fighting and people kind of get all wound up. … But (during a roll call), people calm down. They take a deep breath. They cool off. They say, 'Do I want to continue to engage in this fashion?'"
House leadership outlines its priorities
Hortman said the DFL's chief focus during the session will be the state's budget, which is projected to run a $1.27 billion deficit in the 2022-23 biennium. Calling the budget "a moral document," Hortman said DFL members would seek to address "opportunity gaps" in the state's education system, improve access to health care, and ensure the economic security of families.
Referencing the state's response to the pandemic, House Majority Leader Ryan Winkler (DFL-Golden Valley) said that, in addition to unemployment and aid to small businesses, areas of need could also include child care, housing and rental assistance. 
House Republican Media Availability 1/5/21
"I think it's pretty callous to think that we can just step back and do nothing because we think that our budget deficit will get in the way," Winkler said. "We have to help people when they need it, otherwise there's no point in having a state government."
In another pre-session news conference, Daudt said House Republican priorities are centered on the pandemic and economic recovery.
"We want to make sure we get our kids back in school, that we get our businesses open safely, and get the vaccine distributed quickly and in orderly fashion so that we get things opened up as quickly as possible and back to normal," Daudt said.
"In some ways, you've seen this movie before," Hortman said. "My hope is the ending of the 2021 session will be relatively similar to the end of the 2019 session," when a bipartisan budget compromise was reached between the governor and the DFL-controlled House and Republican-controlled Senate.
"We will fight like hell for the principles that we stand for, and, no doubt, Senate Republicans will do the same," Hortman said. "But, in the end, I believe that we will compromise and we will enact a budget that's in the best interest of Minnesotans."
Murphy sets a record
Rep. Mary Murphy (DFL-Hermantown) became the longest tenured female legislator in Minnesota history. First elected in 1976, she has been in office for 16,073 days. That makes her the second-longest serving legislator behind the recently retired Lyndon Carlson Sr. On Tuesday, Murphy passed Carl Iverson, Phyllis Kahn and Anton Rockne on the longevity list. Each of them served 16,072 days.
Session Daily writers Victoria Cooney and Rachel Kats contributed to this story.