Nearly six years ago, teachers, students and families living in the northern Minnesota town of Blackduck took a chance on a new way of life – a four-day school week. The impetus for such an endeavor? The district of about 700 students calculated it would save as much as $100,000 a year by consolidating its weekly operations into four days instead of five.
That goal has been realized, school officials have said. But, more importantly, they add, the students have thrived academically as their families have adapted, and even come to embrace, the new schedule.
"When I ask my parents, 'How are you liking the four-day week?'" said Leslie Frosaker, a third-grade teacher at Blackduck Elementary, "They say 'We don't just like it – we love it.'"
Frosaker was one of several teachers, students, school administrators and parents who traveled from communities across the state this week to plead with legislators in the House Education Innovation Policy Committee to support HF197, sponsored by Rep. Tim Miller (R-Prinsburg).
The bill would allow districts to continue the four-day learning programs without having to seek approval from the Department of Education. Earlier this year, Commissioner Brenda Cassellius communicated to those schools on four-day weeks that they must return to five-day school weeks by the 2015-16 academic calendar. Three districts returned to a five-day week last fall after their application to renew their four-day schedule was denied by the department.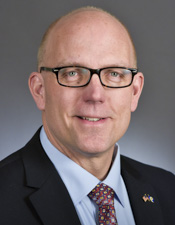 Rep. Tim Miller
The committee delayed any action on the bill. Its companion, SF162, is sponsored by Sen. Lyle Koenen (DFL-Clara City), and awaits action by the Senate Education Committee.
Currently eight public school districts – all in Greater Minnesota – have schools that operate on four-day-a-week class schedules. According to data from the National Conference of State Legislatures, more than 120 public school districts in 21 states currently have school districts operate on a four-day week. Most of these programs are in small, rural districts.
Cassellius, according to school officials, informed several districts remaining on the four-day schedule that there has not been enough academic improvement among their students in statewide assessment tests to justify keeping the schedule. Teachers and administrators who testified before committee members on Tuesday denied that claim, and said the opposite is true.
Debra Sandvig, a teacher at Blackduck High School, said statistical trends the Department of Education has cited in its instructions for the schools to return to a five-day week was related to a dip in reading proficiency scores in 2012 that were felt statewide when the Minnesota Comprehensive Assessment test format was changed.
"Yes, the overall statewide averages did go down," Sandvig said, "but Blackduck stayed above the average even then."
[MORE: Listen to a full audio archive of the Feb. 3 House Education Innovation Policy Committee hearing]
Blackduck High School Principal Joshua Grover said the four-day week has resulted in increased achievement in learning proficiencies, a decrease in suspensions and an increase in graduation rates. He supports state oversight to help hold local school districts accountable, but believes teachers, administrators and families know what works best for their children when it comes to scheduling class time.
"We have a culture that has been shaped around this particular schedule," Grover said. "And as a result our students are gaining in achievement. The consequences of going back from something that we know is working will be felt."
Local versus state control over schedule
Some committee members expressed hesitancy to vote on propose legislation that would strip the Department of Education of its authority to hold districts accountable for classroom schedules and their impact on student achievement.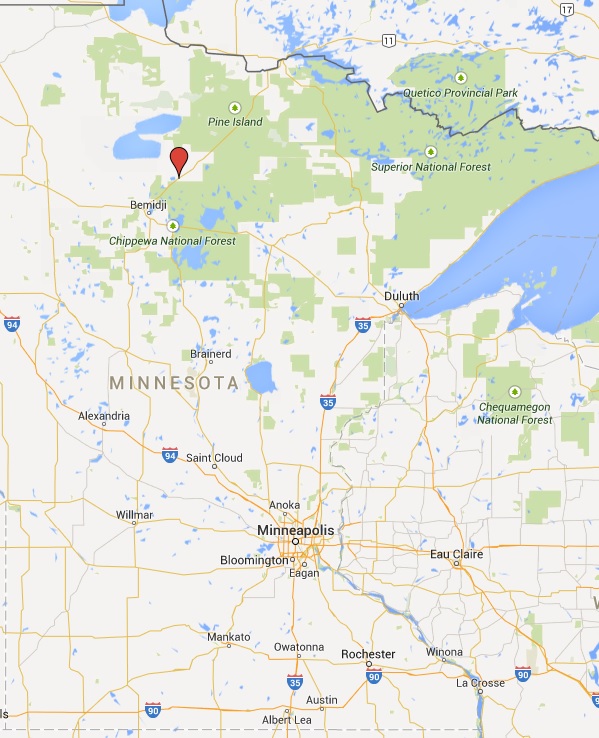 Location of Blackduck, MN
"I think further discussion with committee members might produce something here that isn't quite what I would consider a blanket bill," said Rep. Carlos Mariani (DFL-St. Paul), "But it's one that takes away the kind of authority we want to make sure that we continue to exhibit in terms of maintaining high expectations at all these schools."
Miller said his bill would leave the important decisions related to how schools schedule class time to elected district board officials, who know their community needs best.
"I believe the state through the Minnesota Department of Education should govern what time is deemed necessary to educate a child in a school year and the school district should have the authority of how to implement these hours," Miller said.
Many benefits, supporters say
Testifiers on Tuesday ticked off numerous examples for committee members of how the four-day weekly class schedule works for their rural communities.
The rural nature of the school districts that have implemented the four-day school week lends to the ability of students and their families to thrive on a schedule that might not work for more urban communities, said Laura Houser, a senior at MACCRAY High School.
"We come from a very large farming community, and many farm kids get to stay home that extra day on Monday, and they are not being pulled away from school to help out," Houser said.
But the four-day week does not mean less class time, just longer school days.
At MACCRAY High School, the four-day week with longer days has resulted in student-to-teacher face time actually exceeding the state-mandated minimum by 29 percent, said Melissa Sparks, a MACCRAY guidance counselor.
The Monday that students have no scheduled classes allows teachers more collaborative planning time and offer enrichment opportunities and remedial help to students, she added.
The benefits are felt outside of the classroom as well, supporters say.