Many waiters making minimum wage would get a dollar per hour less than workers who don't work for tips, under a bill heard Monday at the House Job Growth and Energy Affordability Policy and Finance Committee.
Restaurant servers and other tipped workers would be guaranteed a minimum wage of $8 during pay periods in which they earn $12 or more an hour in tips and wages.
Approved on a 10-6 party-line vote Monday night, HF1027 now heads to the House Floor. Rep. Pat Garofalo (R-Farmington), who chairs the panel, is the sponsor.
The proposed $8 an hour minimum-wage tier in Garofalo's bill would be a dollar less than the new $9 an hour minimum wage that goes into effect Aug. 1, 2015, under a law enacted last year that stipulates a series of wage increases.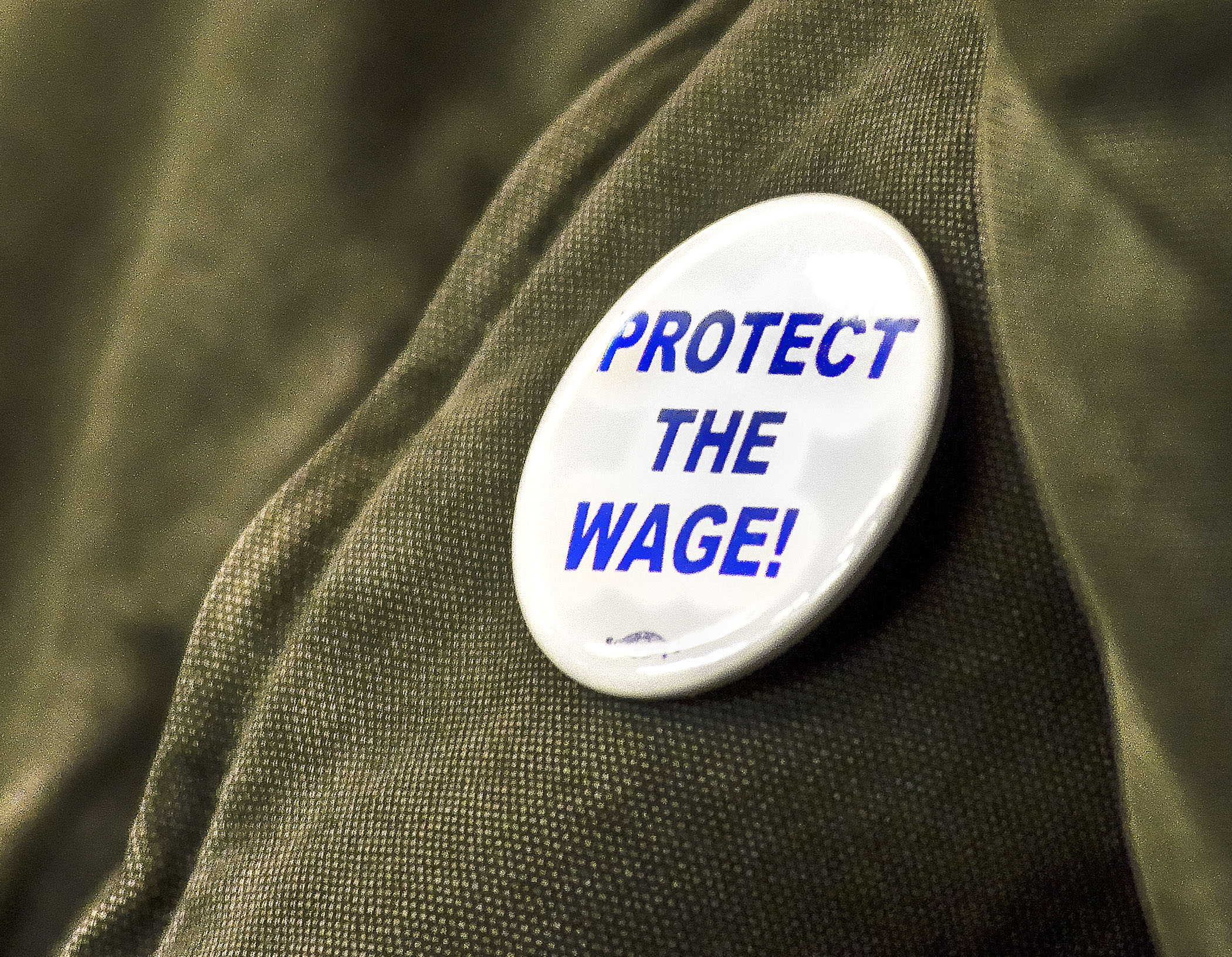 "Protect the Wage" buttons were passed out and worn by nearly half of the audience attending the Feb. 23 meeting of the House Job Growth and Energy Affordability Policy and Finance Committee where a bill that would modify the minimum wage for employees receiving gratuities was heard. Photo by Andrew VonBank
Restaurant owners and managers testified that Minnesota's rising minimum wage is forcing them to hike prices they charge customers. Another unintended consequence, they said: exacerbating an earnings gap between front-of-house employees (such as servers) and back-of-house employees (such as cooks).
Lucas Dean, front-of-house supervisor at Grandma's restaurant in Duluth, said he supported the bill as providing a "solid base" for servers when they can't make $12 an hour.
Keith Olson, owner of Keith's Kettle restaurant in Clearwater, said: "When Aug. 1 comes around, when [the minimum wage] goes up another dollar, frankly I don't know what we're going to do." Twelve of his 32 employees are servers who now earn $8 an hour, but he estimates they make $12 to $20 an hour with tips.
Opponents said the bill would leave low-wage workers with less income, wouldn't guarantee back-of-house employees higher pay, and would undermine the customer-server relationship.
"When customers leave money on the table to reward good service, they don't think for a minute that that money is diverted to the owner," said Brain Rusche, executive director of the Joint Religious Legislative Coalition, who said "a cliff effect" in the bill was a serious flaw. "I could be the customer that leaves a $5 tip on the table that pushes them just barely over the $12 threshold. ... It's possible for me to leave a tip that results in less income for the server."
Rep. Jason Metsa (DFL-Virginia) asked if the House Commerce and Regulatory Reform Committee and House Taxes Committee should hear the bill. Garofalo said no because the job growth committee, rather than the commerce committee, now handles Department of Labor and Industry policy and finance matters and the taxes committee chair, Rep. Greg Davids (R-Preston), has so far has not said his committee needed to hear the bill.