(Updated with video) 
You could order a Bloody Mary at 8 a.m. on Sunday and whiskey at a small distiller, but despite an attempt on the House Floor to allow the off-sale purchase of liquor on Sundays, it's only growlers that made it into the omnibus liquor bill.
Rep. Tim Sanders (R-Blaine) and Sen. James Metzen (DFL-South St. Paul) sponsor HF1090/SF1238* that was passed as amended by the House 127-4 on Tuesday. The Senate passed the bill 51-11 April 16. The bill now returns to the Senate for concurrence.
"This is a fairly noncontroversial bill," with little difference between the House and Senate language, Sanders said.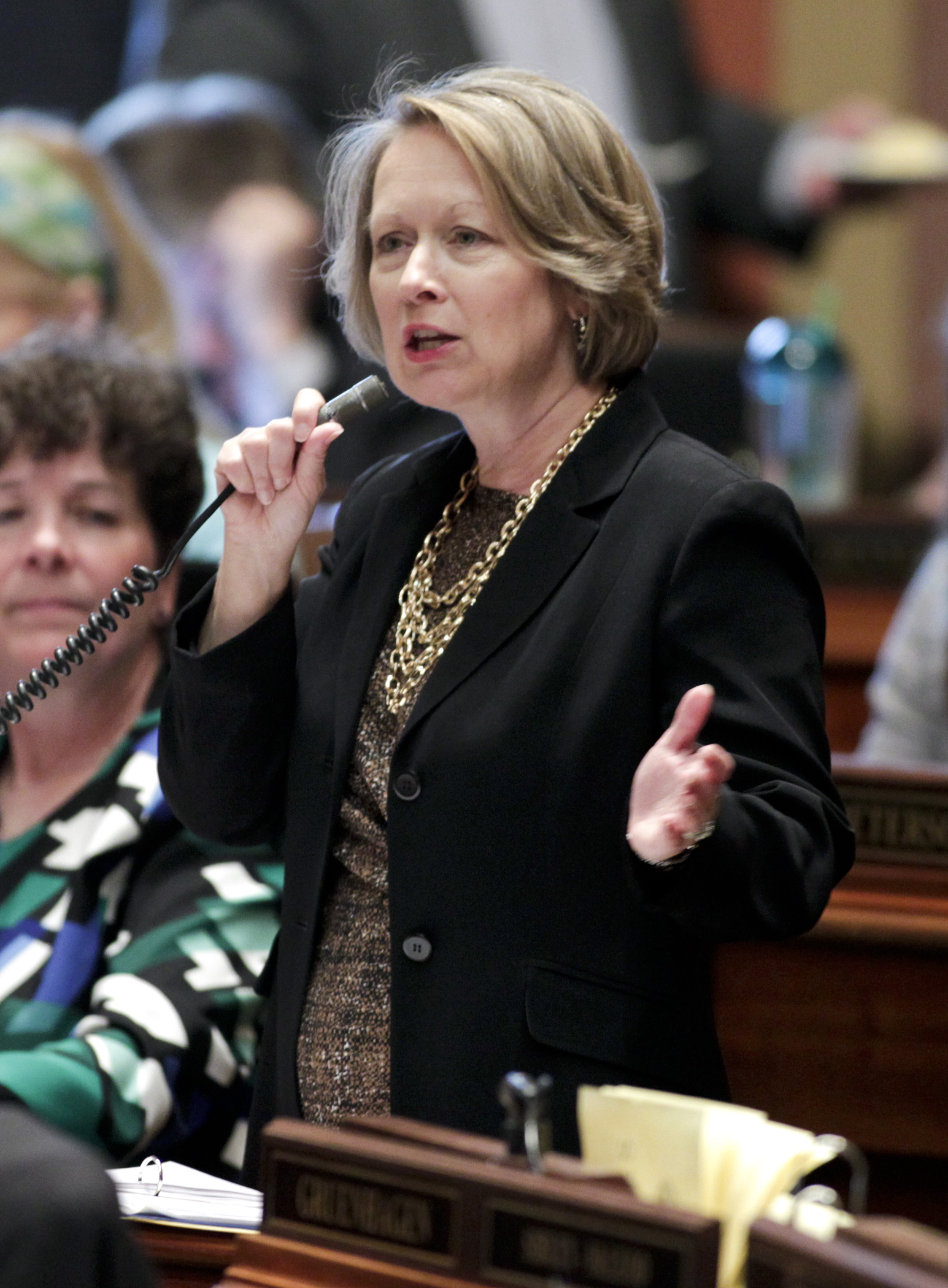 Rep. Jenifer Loon offers an amendment during April 28 debate on the House Floor to the "omnibus liquor bill" that would let local governments decide if they want to allow Sunday liquor off-sales. Photo by Paul Battaglia
Advocates for repealing the ban on Sunday off-sale liquor purchases cross party lines. With the support of Rep. Jenifer Loon (R-Eden Prairie), they made a strong push this session to have the prohibition-era law lifted. However, on a 75-57 vote, with the House rejected her amendment that would have opened the door to off-sale Sunday liquor.
The issue should be a local decision, she argued. Municipalities decide a myriad of issues around the sale of alcohol – hours of operation, where a store can be located and advertisement, she said.
"I think we have to ask ourselves whether the state is the appropriate body to make the decision. … This is about free markets and local governments making decisions that affect their communities. … It's time," Loon said. "There are only 12 states that decide there should be no liquor on Sunday."
Rep. Joe Atkins (DFL-Inver Grove Heights), who opposed the Loon amendment, was unsuccessful in his attempt to attach a provision that would allow municipalities to authorize the sale of fireworks by a liquor store. He said his amendment was an attempt to make the point that a proposal to allow Sunday sales should not be "done on the fly." He said there are some issues that go beyond local control. "My point is control of sales at the local level."
Help for craft brewers, distillers
The bill bows to increased pressure from the burgeoning craft brewery, distillery and wine businesses, with provisions making several changes to state law that supporters say will help the growing industries.
House Floor debate on SF1238, Omnibus Liquor bill
A brew pub holding a license from a municipality would be allowed to sell intoxicating liquor or 3.2 beer at a restaurant operated in the place of manufacture. It would also have the ability to sell malt liquor produced and packaged on the licensed premises.
However, a brew pub's total retail sales at on- or off-sale could not exceed 3,500 barrels a year, provided that off-sales not total more than 500 barrels. The House language would have required brewers to report quarterly to the commerce commissioner the total amount of growlers and bottles sold at off-sale. This not included in the approved language.
While the House and Senate bills are similar in most provisions, the Senate is not nearly as restrictive as the House had intended when it comes to treatment of microdistilleries. The House had laid out several requirements that would need to be met for a microdistillery to sell their spirits and liquors on site. However, under the bill, micro distillers could be issued a license by the local licensing authority, and they could sell one 375-milliliter bottle per customer, per day of the product manufactured on-site.
Other provisions in the bill:
Minneapolis would be allowed to issue a liquor license for the Norway House, and liquor licenses would be allowed at Inver Wood Golf Course in Inver Grove Heights, Lester Park Golf Course in Duluth and Pebble Creek Golf Club in Becker;
a valid instructional permit that includes a person's photograph and date of birthcould be used as proof of legal age to purchase alcohol; and,
a microbrewer would be allowed to sell kegs of malt liquor to licensed wholesalers for distribution exclusively to retail licenses of the State Agricultural Society during the Minnesota State Fair.
Atkins was successful with his amendment for a ban on the manufacture or sale of powdered alcohol until June 1, 2016. The amendment calls for the director of the Public Safety Department's Division of Alcohol and Gambling Enforcement to research current laws to learn if the product could be adequately enforced. Additionally, the commissioner would need to address whether there is a potential for greater abuse of, and addiction to, powdered alcohol as compared to malt liquor, wine and distilled spirits. Testimony with the findings would be required to the Legislature by Dec. 7, 2015.