The House replaced Senate health care provisions in HF1638/SF1458* with its own unique proposals before passing it 72-60 as amended early Wednesday after more than seven hours of debate.
Rep. Matt Dean (R-Dellwood) and Sen. Tony Lourey (DFL-Kerrick) sponsor the omnibus health and human services finance bill, which now goes back to the Senate for concurrence. The Senate passed its version 38-22 April 24.
Rep. Jim Knoblach (R-St. Cloud), chair of the House Ways and Means Committee, said the bill would spend $635 million more than the previous biennium. Though the bill would increase funds in programs with bipartisan support, he said the state is on an unsustainable path for paying for increased health care costs.
[View the spreadsheet as it came to the floor]
Dean acknowledged there are major differences between the two legislative bodies. A conference committee is expected to try and work out the differences.
"There is nothing that the health and human services committee does that is bad stuff; it is all good stuff. We have two different ways of getting there. We understand that, but we are going to debate the differences," Dean said.
One of those differences led House Minority Leader Paul Thissen (DFL-Mpls) to unsuccessfully request a re-referral to the House Ways and Means Committee.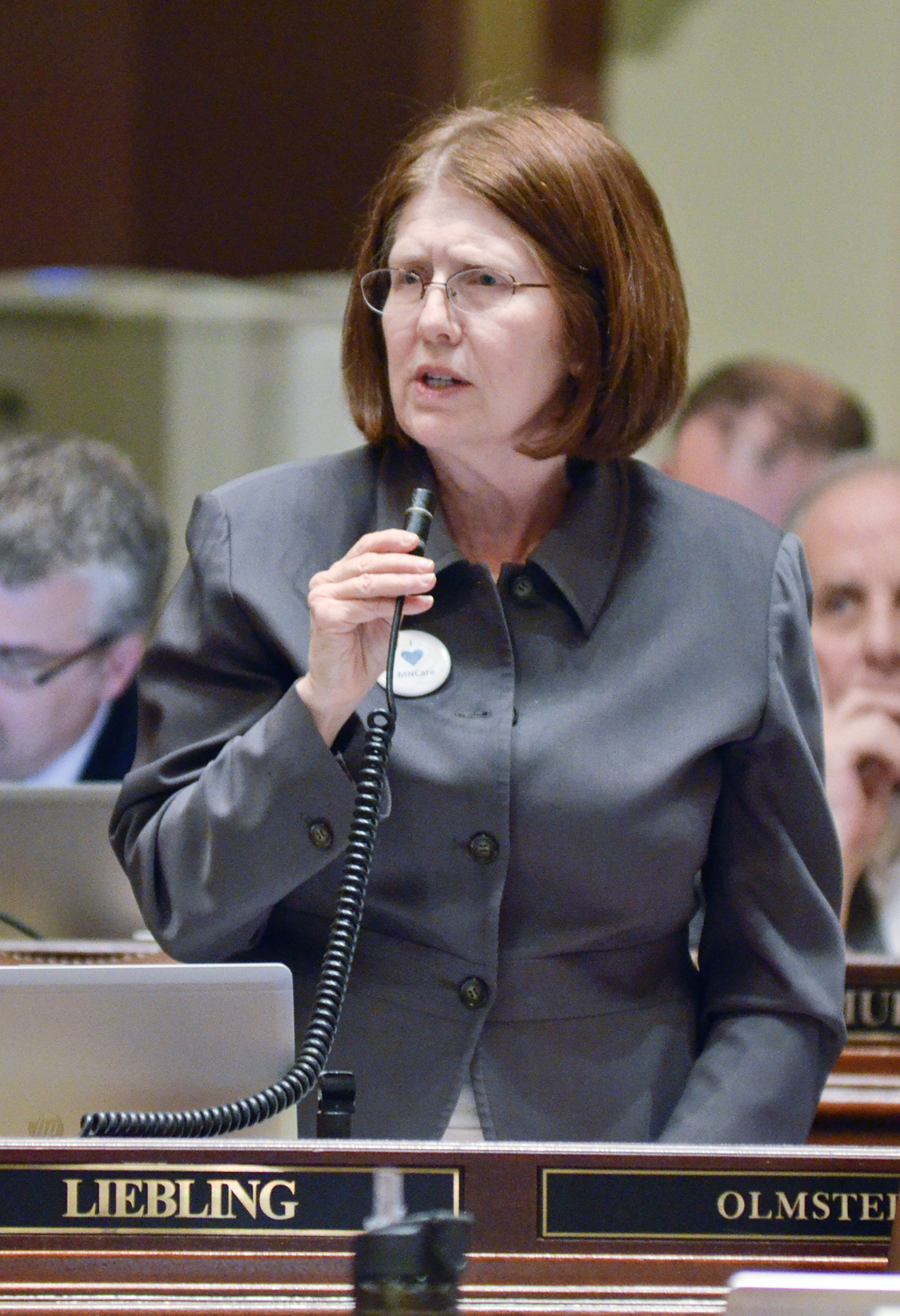 Rep. Tina Liebling speaks to the omnibus health and human services finance bill during debate on the House floor April 28. Photo by Andrew VonBank
Thissen rejected Dean's theory that capturing welfare waste, fraud and abuse at the Department of Human Services would result in $300 million in savings. However, a department fiscal note put that number closer to $16.5 million. The bill creates a "$280 million hole in the spreadsheet," Thissen said, but his motion failed 72-62.
Dean defended the larger projected savings based on a legislative auditor's sampling of Minnesota programs. He also cited experiences in other states. "Medicaid is eating our budgets. We can't have this kind of waste, fraud and abuse in the system."
MinnesotaCare and MNsure repeals
Much of the debate on the 407-page amendment focused on House-only provisions to transition people off MinnesotaCare by designing a new program that offers more health insurance choices.
Instead, state income tax credits would be provided to those who purchase qualified health plans through MNsure, the state's version of the federal health insurance exchange. Dean, who chairs the House Health and Human Services Finance Committee, supports the plan.
A sister-proposal from Rep. Tara Mack (R-Apple Valley) would request a federal waiver to allow people to purchase insurance outside of MNsure, yet still qualify them for federal subsidies.
"No matter which direction we go, many of these reforms need to happen," said Mack, chair of the House Health and Human Services Reform Committee.
She was referring to administrative reforms to change MNsure to a state agency, eliminate its data privacy exemptions, provide more oversight and remove its active purchaser power to bring it more in line with other state agencies.
Health care workforce
Major nursing home payment reforms, 30 years in the making, were viewed as a hallmark of the bill.
New formulas would change the way facilities are paid and would require 90 percent of the rate increase to trickle down to their low-wage employees.
"I look forward to convincing the other bodies to get on board with what we're doing with long-term reform," said Rep. Joe Schomacker (R-Luverne), chair of the House Aging and Long-Term Care Policy Committee.
Apprentice programs and other measures aim to turn a nursing home job into a career where workers can grow in their field, Schomacker said.
More providers would be eligible for Medical Assistance reimbursement or higher amounts. Several professions would be added to the student debt loan forgiveness program to entice people to go into health-related fields. Methods for determining and increasing reimbursements to critical access hospitals would be reformed as well.
To help pay for the rate increases, the bill would require the human services commissioner to achieve $100 million in savings derived from competitive bidding in the next biennium. The Senate version assumes $20 million in similar savings from competing managed care contracts.
New opportunities for telemedicine are designed to alleviate workforce shortages in rural areas of the state.
Providing care continuums
Besides addressing industry needs, people on public programs also could see some relief. Those who are aged, blind or disabled also would be able to keep more of their income before triggering a spend-down of their assets.
A proposal carried in both legislative bodies would establish the ABLE program, allowing people with disabilities to save up to $100,000 without losing government benefits, and enable them to make withdrawals for expenses such as housing, health care and employment training.
Employed adults with disabilities could see reduced premiums and parents of children with disabilities who pay a fee for services would realize a 10 percent fee reduction. 
There's also funding proposed to promote early diagnosis of dementia and Alzheimer's disease, which is projected to affect more residents as the baby boomers age.
Protection of children
Child protection task force recommendations, including assembling a review team to look at cases due to child maltreatment or deaths not due to natural causes, are recent additions to the bill that the Senate and governor also support.
"We have an opportunity to do some very good work," said Rep. Ron Kresha (R-Little Falls), who served on the task force.
Children at risk of experiencing anaphylaxis due to severe food allergies would have more opportunities to be treated with non-patient specific epinephrine while at camp, day care, school and other places that opt to carry the life-saving pens.
There is funding to expand services for homeless youth, runaways and sexually exploited children.
An amendment successfully offered by Rep. Glenn Gruenhagen (R-Glencoe) would require background checks on child protection workers or social services staff having responsibility for child protective duties. The cost would be covered by a $20 fee.
There were amendments pertaining to the unborn, as well.
Offered by Rep. Debra Kiel (R-Crookston), one would require licensure of clinics that perform 10 or more abortions per month. It passed 76-57.
Rep. Carolyn Laine (DFL-Columbia Heights) called the amendment a "red herring" that seeks to restrict abortions by causing clinics to go out of business due to expensive licensing requirements.
Rep. Tama Theis (R-St. Cloud) successfully offered an amendment to prohibit state-funded abortions. Called "unconstitutional" by minority-party members, it also passed 76-57.
Mental health advances
Preventing suicides and building treatment alternatives in lieu of jail for people with mental illness are proffered in the bill.
A statewide mental health crisis phone line would be established and additional services for children are proposed, such as intensive treatment for young adults up to age 26. There are funds to train people who work with youth in recognizing suicidal behavior and up to six new regional facilities for treating children with mental illness.
As part of a pilot project, Beltrami County would receive funding to divert people with mental illnesses to treatment rather than holding them in jail, which is what they're doing now.
Other amendments approved would:
require hospital waiting rooms to offer closed captioning television; and
appropriate $34,000 to the Red Lake Nation for system operations.