Lawmakers leading the push to bring Minnesota in compliance with strengthened federal identification card requirements introduced proposed bill language on Friday that would have the state issuing the enhanced IDs by October.
But a number of members of the joint House and Senate Legislative Working Group on Real ID Compliance continued to express misgivings with moving forward on a fix early in the legislative session that begins next week, saying more public input and further privacy protections are needed.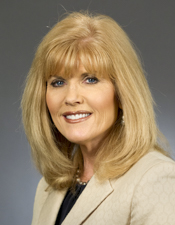 Rep. Peggy Scott
The bill, put forward by Rep. Peggy Scott (R-Andover), would repeal the state's prohibition on planning for how to comply with federal Real ID rules passed in 2008, and direct the Department of Public Safety to undertake necessary actions to begin issuing compliant IDs no later than Oct. 31, 2016, or a date authorized by the Legislature.
It would also require the department to report back to the Legislature on planning for implementation by March 31, less than four weeks after lawmakers reconvene on March 8.
The Real ID act, passed by Congress in 2005, set tougher standards for issuing licenses in response to terrorism-related security concerns. Minnesota is one of the few states that has not complied with the law, nor been granted a waiver.
With the federal government pushing states to conform to the new rules, and a looming 2018 deadline after which Minnesotans would no longer be able to board domestic commercial flights using only their non-compliant Minnesota IDs, Scott said the intention is to take up the language early in session and use an expedited state rulemaking process to put the Real ID-compliant requirements in effect by autumn.
"We're kind of under a timeline here," Scott said, saying she doesn't feel an expedited track is ideal, but is necessary.
Sen. Warren Limmer (R-Maple Grove) questioned why the working group would consider legislation that moved so quickly to institute Real ID requirements, saying the federal government just recently pushed a compliance extension out until January 2018.
"This is not something that should be done so quickly," he said. "We have the time. We have until 2018."
While Minnesotans can still board airlines with their current state-issued IDs, and will be able to until 2018, some are already feeling the effects of the state's non-compliance with the law. Non-enhanced Minnesota IDs alone aren't enough to grant access to high-security federal, military and nuclear facilities, and for some that is causing problems, Rep. Rick Hansen (DFL-South St. Paul) said.
To pass only legislation allowing state officials to plan for Real ID compliance, and not for quick implementation, wouldn't be enough, Hansen said.
"If we punt I think we have failed," he said.