A decades-long effort to constitutionally enshrine gender equality took another step Thursday with legislation approved by the House Government Operations Committee.
Members approved two bills, both are meant to provide a broader legal standing for equal rights.
One calls for Congress to take action that would allow the Equal Rights Amendment to be added to the U.S. Constitution.
The other, HF13, is sponsored by Rep. Mary Kunesh-Podein (DFL-New Brighton), and would give voters in Minnesota's 2020 general election the option of amending the state constitution to add a provision on gender equality.
The bill would place the following yes-or-no question on the 2020 ballot: "Shall the Minnesota Constitution be amended to provide that equality under the law must not be abridged or denied on account of gender?"
Kunesh-Podein said her goal is to ensure equal protection for women and men is guaranteed under the law in Minnesota. She said more than 20 states already have similar amendments in their state constitutions.
"I can't tell you how surprised I was when I found out that Minnesota does not, or has not been a leader in this effort," Kunesh-Podein said.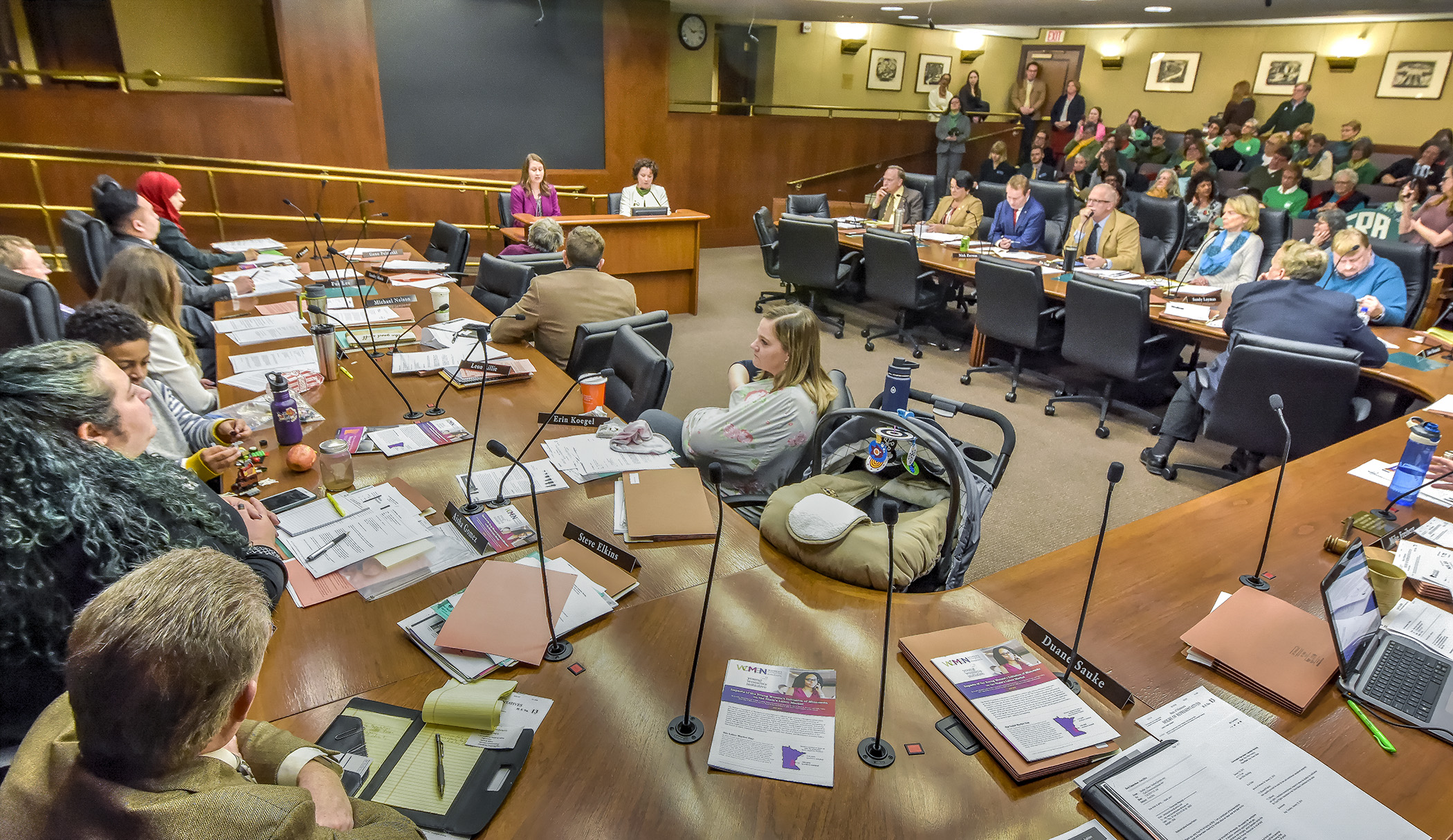 The House Government Operations Committee listens to testimony Jan. 24 on a bill that would provide gender equality under the law. Photo by Andrew VonBank
Lisa Stratton, a graduate and former faculty member of the University of Minnesota Law School with a background in litigating gender discrimination cases, said the only explicit right to gender equality currently in the state or federal constitutions is a woman's right to vote. She says this creates a situation where judges can, and have recently, asked where the constitution prohibits discrimination on the basis of sex.
"It doesn't," Stratton said, adding that enshrining the principle of gender equality in the state constitution would make clear to the courts that Minnesotans expect "a very high level of scrutiny to laws that create or enforce gender disparities."
Stratton was one of several testifiers who spoke in favor of the bill. The only testifier who voiced concern about HF13 was Andrea Rau, the legislative director of Minnesota Citizens Concerned for Life. 
Rau said that while her organization supports equal rights, constitutional amendments such as the one proposed by the bill have been used in other states to rule pro-life laws unconstitutional.
"Equal rights amendments have a history of discriminating against less developed humans, those yet to be born, and we do object to this," Rau said.
Rep. Nick Zerwas (R-Elk River) echoed her concerns and asked Kunesh-Podein whether HF13 was meant for that purpose. After she replied that is was not, Zerwas asked if she would support an amendment adding language to the bill saying, in part, it "does not grant, secure, or deny any right related to the accessibility or provision of abortion services or state funding for those services."
Kunesh-Podein said she would not support the amendment, preferring a bill with no "agendas" attached, and Zerwas chose not to offer it. But he did promise there would be a further debate on the issue if the bill reaches the House Floor.
"My concern is, someone who is devoutly Catholic and pro-life, I don't want to end up supporting something that, down the road, is used as justification to expand abortion access in the state of Minnesota," Zerwas said.
The committee did make one technical change to the bill, approving an oral amendment to move the legislation's effective date back one year to Jan. 1, 2021.
HF13 was approved, as amended, on a voice vote and referred to the House Ways and Means Committee. The companion, SF200, is sponsored by Sen. Richard Cohen (DFL-St. Paul) and awaits action by the Senate Judiciary and Public Safety Finance and Policy Committee.
ERA resolution
The second bill approved by the committee received less debate.
Sponsored by Rep. Rena Moran (DFL-St. Paul), HF71 contains a resolution that calls on Congress to remove the deadline for the ratifying of the Equal Rights Amendment to the U.S. Constitution.
Congress approved the amendment in 1972, but 38 states – three-quarters of state legislatures – then had to ratify it for the amendment to be added to the constitution. Thirty-five states initially did so, including Minnesota where it was ratified on Feb. 8, 1973. But the effort then stalled for decades until gaining new momentum in the last few years when the Nevada and Illinois bodies approved ratification in 2017 and 2018 respectively.
Last week, the Virginia Senate voted to approve the amendment and it may soon be ratified in that state, finally achieving the two-thirds goal. However, the ratification deadlines Congress had set have long since passed, so it will need to pass a new resolution to remove or retroactively extend the deadline.
Moran said the lack of an equal rights amendment is especially harmful to women of color who are discriminated against on multiple fronts.
"Now is the time to finally ensure all citizens have equal access to justice across Minnesota and across the country," Moran said.
The bill next goes to the House Floor. Its companion, SF208, is sponsored by Sen. Sandy Pappas (DFL-St. Paul) and awaits action by the Senate Judiciary and Public Safety Finance and Policy Committee.