A historically cold and snowy winter led many school districts to call off class on several occasions, and now they're scrambling to make up those missed instructional days.
In an effort to alleviate that burden, the House passed snow day forgiveness legislation 105-21 late Monday.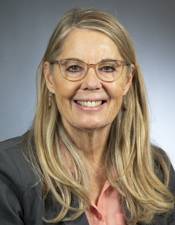 Rep. Shelly Christensen
Sponsored by Rep. Shelly Christensen (DFL-Stillwater), HF1982/SF1743*, as amended to include the House language, would allow school districts to count three canceled days in late January during the 2018-19 school year as regular school days.
The bill now heads back to the Senate, which passed its version 61-2 March 7. 
Students and staff are currently making up days, planning to convene on holidays or extending classes later into June. Even with that, district officials have said it may not be enough, and they could face potential funding cuts for not meeting the state requirement of 165 instructional days.
The bill would also require that hourly school district staff, including food service workers, paraprofessionals, custodians, bus drivers and pre-kindergarten teachers either be compensated for the missed hours, or allowed to make up the time.
An amendment successfully offered by Rep. Tony Jurgens (R-Cottage Grove) would ensure companies that contract with districts, such as private bus companies, compensate their employees for missed time.