Minnesota's roads are falling apart and its transit systems are falling behind — and state lawmakers need to green-light big investment.
That was the message delivered Thursday by state transportation and Metropolitan Council officials as they presented Gov. Tim Walz's proposed spending plan on roads, bridges and mass transit to the House Transportation Finance and Policy Division.
Walz's proposed $49 billion 2020-21 budget includes a 20-cent hike in the state's fuel tax over two years. It would also increase sales taxes and vehicle license tab fees in an effort to raise the $18 million over 20 years the state's top transportation official says is needed to maintain and improve Minnesota's transportation infrastructure.
"Our future is a bit imperiled in transportation if we don't take action this year," said former House Speaker Margaret Anderson-Kelliher, the state's new transportation commissioner.
Walz's transportation budget is being carried as HF2403, sponsored by Rep. Frank Hornstein (DFL-Mpls) and was laid over for possible inclusion in an omnibus bill. A companion, SF2360, sponsored by Sen. D. Scott Dibble (DFL-Mpls), awaits action by the Senate Transportation Finance and Policy Committee.
Agreement on need to fund, disagreement on how
The governor's proposal sets up a likely battle between legislative DFLers and Republicans over how to pay for a boost in transportation spending that lawmakers on both sides have said they agree is needed.
DFLers have in recent years pushed for an increase in the gas tax, saying it is the most sustainable and reliable funding source for additional road and bridge dollars. The state's current gas tax is the 24th highest in the country, at 28.6 cents-per-gallon. After the proposed increase, Minnesota's 48.6-cent gas tax would rank among the highest in the nation.
Walz's proposal would also index the tax to inflation, raising it automatically each year thereafter.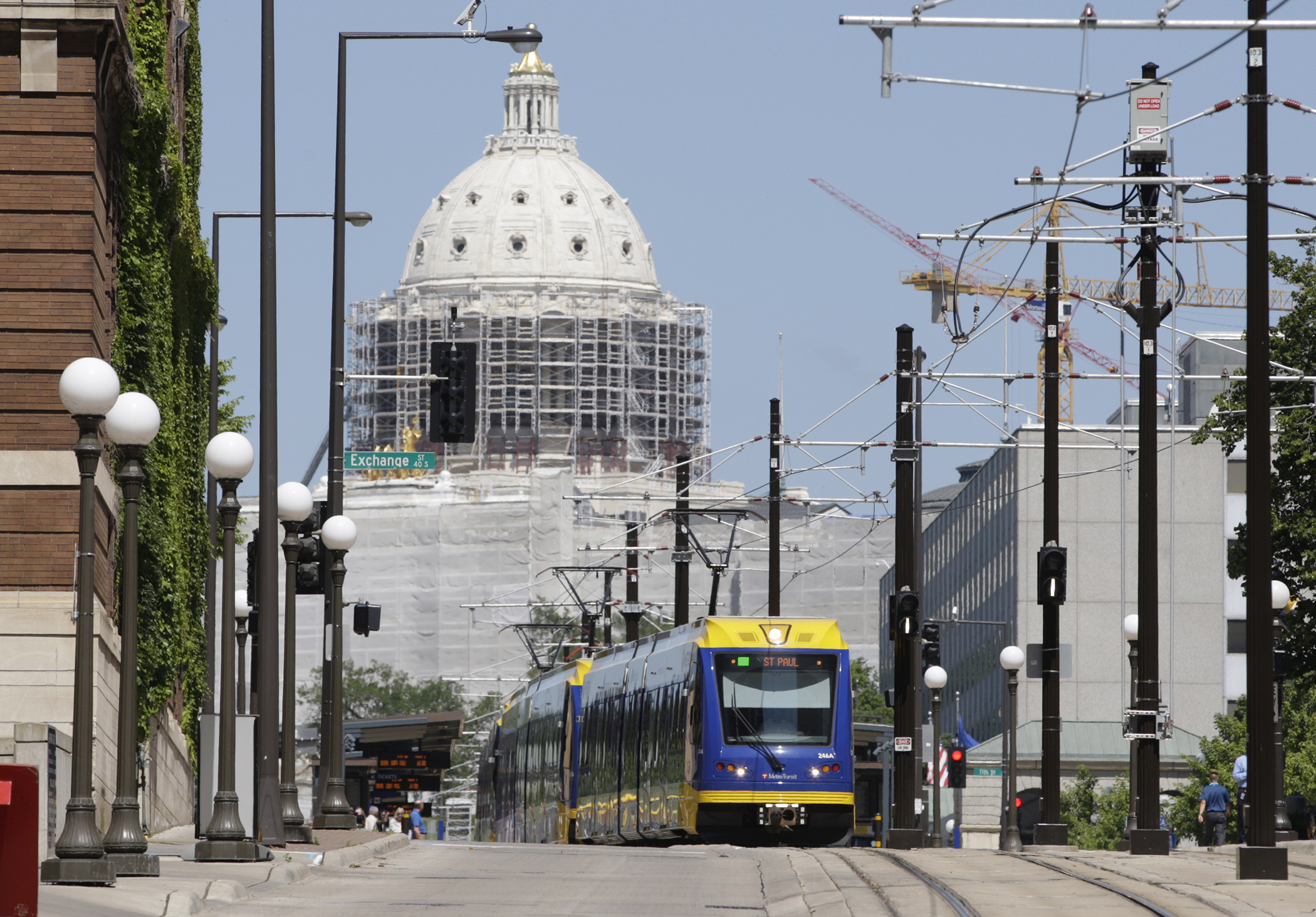 The governor's transportation budget proposal would also raise the sales tax in the seven-county metropolitan area by one-eighth of a cent to help fund investments in bus and rail service. House Photography file photo
Anderson-Kelliher told lawmakers that the proposed increase — which would occur in 5-cent increments in October and April of 2020 and '21 — would cost the average Minnesota driver between $185 and $298 per year. For comparison, she said, the current condition of the state's roads cost the average Minnesotan more than $1,000 per year in car repairs, gas costs and lost time while stuck in congestion.
Walz, elsewhere in his budget, has called for an increase in the state's Working Family Tax Credit of up to $200 in an effort to help offset the increase in the state gas tax on Minnesotans' wallets.
Recent transportation funding bills passed by Republican-controlled Legislatures, however, have favored shifting motor vehicle-related tax revenues from the state's General Fund into transportation infrastructure spending.
While DFLers praised Walz's approach, House Republicans criticized his proposal for its reliance on a gas tax increase and said it would hurt the lowest-income Minnesotans. 
Both sides of the aisle realize there are needed investments in the state's roads and bridges, said Rep. Paul Torkelson (R-Hanska), the minority lead on the division. "The differences we have, really, are what resource should be utilized to make that investment."
Big investment in transit
The governor's plan would also increase by 1/8-cent the seven-county metropolitan area sales tax to raise an estimated $770 million for regional bus and rail projects over 10 years.
That's needed, his administration has said, to make significant investments in new transit projects as well as existing local bus service.
In addition to the sales tax increase, Walz's plan would increase the Motor Vehicle Sales Tax rate to generate $205 million over 10 years for transit, and includes $230 million over 10 years in general-obligation bonding for bus rapid transit expansion.
The proposal would also separate funding for Metro Mobility — the Metropolitan Council's shared-ride public transportation service for those unable to ride fixed-route buses due to disability or health issues — from the council's general transit appropriation, and would provide more than $240 million over 10 years for increased service demand.