[UPDATE: Gov. Tim Walz signed HF4531 into law March 28]
An additional $330.6 million to address the impact of the COVID-19 pandemic in Minnesota is a signature away from helping many Minnesotans.
"This is just the beginning, but it is an important first step," said House Majority Leader Ryan Winkler (DFL-Golden Valley). "… It will be our job to help Minnesota recover, revive, and move on."
Sponsored by Winkler and Senate Majority Leader Paul Gazelka (R-East Gull Lake), HF4531*/SF4451 was passed 99-4 by the House and 67-0 by the Senate Thursday. It awaits action by Gov. Tim Walz.
The Legislature has already appropriated about $221 million to support the Department of Health's response and to help health care providers.
This new bill covers a much larger range of efforts, most notably a $200 million General Fund appropriation to create a COVID-19 Fund that Minnesota Management and Budget would draw upon to help state agencies respond to the outbreak.
A COVID-19 Response Commission, made up of legislative leaders and chairs of the House and Senate finance committees, would be created to review expenditures from the fund greater than $1 million. 
Other budget items proposed in the bill include:
$30 million to create an account for small business emergency loans at the Department of Employment and Economic Development, codifying provisions in an existing executive order;
$29.96 million for a grant program to support licensed child care providers, who, in part, agree to care for the children of health care and other emergency workers;
$26.54 million in emergency services grants, of which $15.21 million is intended to provide additional shelter space, $5 million is to purchase hygiene, sanitation, and cleaning supplies, and $6.33 million is for staffing;
$11 million to help Minnesota's 11 tribal nations address the crisis;
$10 million to the small business emergency loan account to guarantee loans from private banks to small employers;
$9 million in one-time funding for the state's food shelf program, at least $3 million of which must be used to help regional food banks make specialized responses to community needs;
$6.2 million to provide financial assistance to veterans and surviving spouses in need of assistance as a result of COVID-19;
$5.53 million to provide housing support relief by increasing limits and rates for room and board and supplementary services; and
$2.4 million to streamline Real ID applications.
[MORE: View the spreadsheet]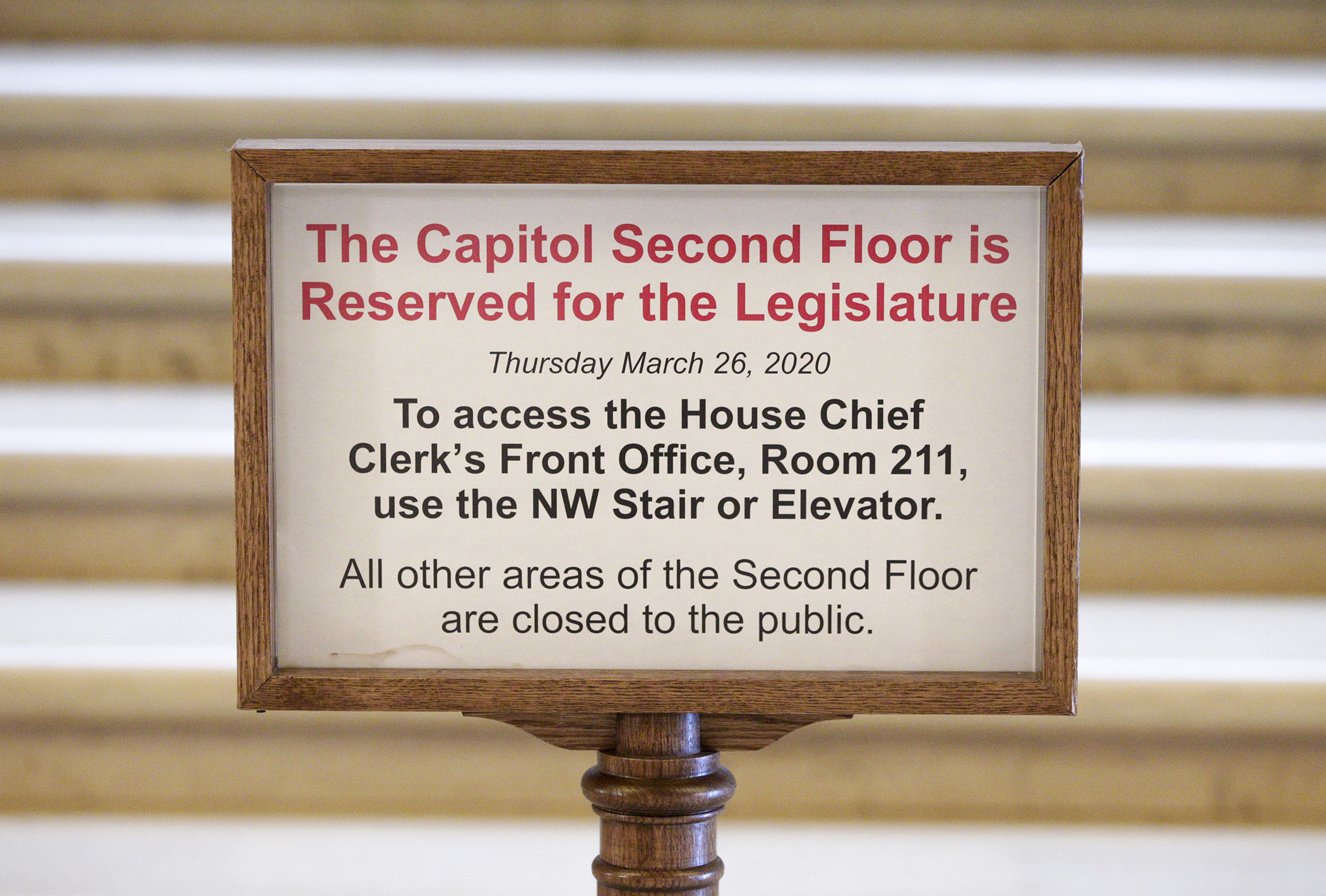 A sign at the bottom of one of the Capitol's grand staircases announces part of the safety plan for Thursday's House Floor session. Photo by Paul Battaglia
House Republicans, including House Minority Leader Rep. Kurt Daudt (R-Crown), urged careful consideration of expenditures, stressing that the economic impact of the pandemic would almost surely consume the state's projected $1.5 billion surplus.
Winkler said federal relief funding is expected to cover most of the costs associated with the measures included in HF4531.
And, despite the expenditures, Daudt did offer his support for the bill.
"Minnesotans can rest assured that because of this bill we are going to put much-needed help out across the state and give resources to people who are fighting this emergency on the front lines," he said.
Rep. Steve Drazkowski (R-Mazeppa) urged the House to send money directly to the people and businesses of Minnesota because they could identify their needs more clearly than the government.
Policy measures in the bill would:
codify the March 16 Executive Order on Unemployment Insurance that provides protections for workers who are quarantined, told not to come into work, or are impacted by school and child care closures;
authorize the Department of Commerce to make licensing exemptions, such as extending registration or licensing renewal deadlines;
provide driver's license expiration forgiveness;
provide exemptions to the state's standard purchasing process, allowing Minnesota to more quickly buy supplies and services from companies around the country that may not have previously done business in the state;
include diapers and toilet paper as items eligible for purchase under the state's Supplemental Nutrition Assistance Program;
align state and federal work-study guidelines to help students receive payments;
temporarily suspend Student Educational Loan Fund rules to allow the Office of Higher Education flexibility in providing payment relief and allow students to complete coursework;
hold state grant recipients harmless from changes due to COVID-19, temporarily suspending Office of Higher Education rules about repayment of aid;
modify the state's Disaster Recovery Loan Program to provide more flexibility; and
require the Department of Public Safety to report to the Legislature about the department's use of temporary powers during the COVID-19 emergency.
Transparency concerns and emergency operations
While the bill was put together over the previous 10 days, Winkler acknowledged there was limited opportunity for the public to review the actual language, which was released about 10 minutes before the House convened.
"We have done this work together in adverse conditions and we have not, unfortunately, been able to provide the kind of public engagement … that is characteristic of this body," Winkler said.
On March 17, the House and Senate agreed to recess until April 14, with the understanding they would return as needed to take additional action. Since then, House members have been meeting via informal working groups, and trying to develop a "virtual committee hearing process" that could be open to the public.
"These are discussions that should have happened in committee and did not. … It definitely requires more thought, more discussion, that it certainly hasn't had," said Drazkowski, citing the opacity of the process as part of his reason for voting against the bill and suggesting that the House adjourn and meet remotely before voting
That will be possible after the Thursday floor session, during which the House amended its rules to allow "distance voting," including remote electronic voting, to continue legislative operations while adhering to Health Department recommendations.
COVID-19 response fund bill discussed 3/26/20
"This is a practice that should not be used except in the most extreme cases," Winkler said, clarifying that the rule is specific to the COVID-19 pandemic while stressing the House's commitment "to a public process" despite the logistical difficulties.
A few members are already quarantined after having contact with infected people, and the House needs to make sure it can still function if the number of affected representatives continues to grow, Daudt said.
"Regardless of what's going on in the state, we need to be able to continue to function," he said.
Distance voting could only be allowed at the direction of the speaker, after consultation with the minority and majority leaders.
The resolution also clarifies that committee meetings held "by alternate means" must provide the public with an opportunity to testify. The bill did not include any details about how this, or remote voting, would be done.
On Wednesday, Gov. Tim Walz announced an executive order directing Minnesotans to stay at home for two weeks, starting March 27, to buy valuable time for the state to increase its capacity to help people in need of intensive care due to the COVID-19 virus.
— House of Representatives Public Information Services' writers Rob Hubbard, Rachel Kats, and Tim Walker contributed to this story.