— UPDATED at 10:43 p.m. with Senate vote
Providers who care for low-income children could see a boost in how much they are paid through the state's Child Care Assistance Program, which provides subsidies that allow these children to access early childhood opportunities while their parents are working or in school.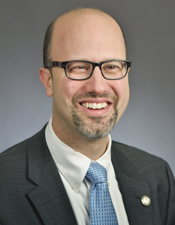 Rep. Dave Pinto
The House voted 119-8 Friday to approve SSHF41, as amended, which would adjust the reimbursement rate to be set at the 25th percentile based on the 2018 child care provider rate survey administered by the Department of Human Services.
Under current law, the state's reimbursement rate for providers is set at the 25th percentile based on the 2011 survey.
"We think about child care as being kind of about parents working and them being able to get jobs … that's absolutely critical," said Rep. Dave Pinto (DFL-St. Paul), the bill sponsor. "This is (also about) early development and learning. The first year, the first couple years, are the most critical time for learning in life."
It was passed 66-1 later in the evening by the Senate and sent to the governor. Sen. Michelle Benson (R-Ham Lake) is the Senate sponsor.
The change would bring the state into federal compliance, avoiding financial penalties, and free up federal funds available for the program that must be spent within three years.
Increased costs during fiscal years 2021 and 2022 would be paid for through a surplus of federal Child Care Development Block Grant funds.
The adopted amendment would remove any need for state funding and reflected a compromise with the Senate, Pinto said.
"Going forward in the next session, next year, I hope that we can continue doing some good work," said Rep. Mary Franson (R-Alexandria).