It's a common argument from those skeptical about the move toward renewable sources of electricity: What about the people who work at the power plants that will be retired in the transition? What will happen to those communities when one of their largest employers is closed down? And, if you plan to retrain workers in new technologies, isn't that expensive?
To address those questions, Rep. Jamie Long (DFL-Mpls) is floating an idea that's been successful in other states: Securitization. He's currently crafting a bill that would make it possible for the state to do it, but led a discussion of the issue at an informational hearing of the House Climate and Energy Finance and Policy Committee Tuesday.
So what is securitization? Basically, it's kind of like refinancing your mortgage, except you're refinancing the debt on a retired fossil fuel-burning power plant. Bonds are sold that have a lower interest rate than the utility's capital cost, so utility customers save money on their electric bill and the company moves a "stranded asset" off its books.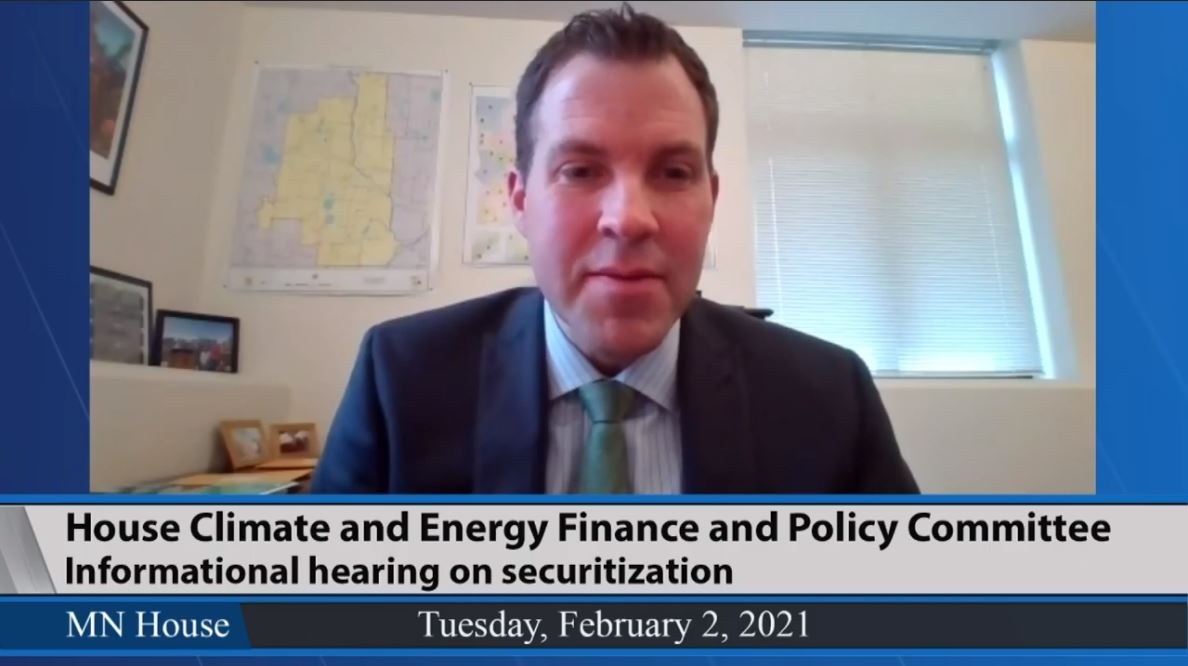 Rep. Jamie Long pictured during Tuesday's remote informational hearing on securitization of retired power plants. Screenshot
A portion of the savings could go toward assistance for workers and communities displaced by plant closures.
"We're facing a stranded asset challenge," Long said, "as coal is now more expensive and utilities are moving away from it."
Harriet Moyer Aptekar of Crest Policy Consulting said four states – Colorado, Montana, New Mexico and North Carolina – passed securitization legislation in 2019, while four more are considering bills this year, including Minnesota.
Michigan and Wisconsin already had programs in place for securitization, and Michael Byrne, chief executive officer of the Michigan Public Services Commission, said that it "has saved hundreds of millions of dollars for ratepayers" since his state's law went into effect in 2000.
"We've had something on the books since 2004," said Tom Content, executive director of the Wisconsin Citizens Utility Board. "Last year, we saw the first use of this for a plant that was shut down. … Over the next 15 years, $89 million in savings is expected for ratepayers."
Thor Underdahl, manager of government affairs for Minnesota Power, pointed out that President Joe Biden signed an executive order last Wednesday directing federal agencies to focus help and investment on towns that face job losses due to the shuttering of power plants.
Rep. Robert Bierman (DFL-Apple Valley) asked if there had been instances elsewhere in which the state was left on the hook for costs when things didn't work out as planned.
"The state is not responsible for these bonds," Aptekar said. "There is no requirement that the state, county or municipality guarantee the payment. … One utility that issued the bonds did go bankrupt, but that had no impact on the payment of the bonds."
Rep. Chris Swedzinski (R-Ghent) asked how much lower rates could potentially be under this plan. Content said that Wisconsin ratepayers were seeing a savings of "45 cents a month at the outset."
Rick Evans, director of regional governmental affairs for Xcel Energy, said that the utility's remaining four coal plants in the state are scheduled for closure in the next 10 years.
"We have customers in five states," he said. "Unless each state passes identical language, this may be difficult to impose. The creation of a bond instrument will have an effect on the debt ratio of our company and our borrowing."