The bottom line in the omnibus public safety and criminal justice reform finance bill is a $2.7 billion appropriation for the 2022-23 biennium that would largely be used to fund the Department of Public Safety and Department of Corrections, and would be a $137.4 million increase from the current biennium.
Noting bill discussion began the day after a former Minneapolis police officer was found guilty of murdering George Floyd, Rep. Carlos Mariani (DFL-St. Paul), the House sponsor, challenged members to "acknowledge this moment we are in."
Mariani, who sponsors HF1078/SF970* with Sen. Warren Limmer (R-Maple Grove), said police reforms in the bill are needed to dismantle the systemic racism that has existed in the criminal justice system for centuries, but have not been openly acknowledged and discussed until recently.
"At its core, this bill is about building trust among all of us," Mariani added in a statement. "By advancing greater police accountability, funding to make reforms possible, and centering equity and the voices of those who've experienced crimes, House DFLers are delivering guidance for a public safety system that reinforces strong and healthy community life for all Minnesotans."
"This bill makes systemic changes to reduce bias inherent in our current systems," added Rep. Jamie Becker-Finn (DFL-Roseville).
By a 70-63 vote early Thursday, the bill was passed, as amended, and returned it to the Senate where that body's version was passed 44-23 April 15. A conference committee is expected to work out the differences.
"This bill lets criminals go free, hides information from the public, and makes it harder to recruit and train new peace officers," Rep. Brian Johnson (R-Cambridge) said in a statement. "While this bill does have some good points, the majority of this bill is hostile to law enforcement and counter to public safety. This is the wrong way to go for Minnesota."
Police reform and accountability provisions
The deaths of Floyd, Daunte Wright, Philando Castile and others during police encounters have put the spotlight on law enforcement reform and accountability, said Mariani.
One provision would limit peace officers' authority to stop or detain drivers solely for petty misdemeanor motor vehicle equipment violations, such as having expired license tabs or a broken turn signal.
Rep. Cedrick Frazier (DFL-New Hope) said this would reduce the number of police interactions that can lead to deadly encounters such as the one that escalated and led to Wright's death 10 days earlier.
These prohibitions would not apply to commercial vehicles, nor would they prevent a police officer from stopping a vehicle operating under clearly dangerous conditions, such as without any functioning headlights or tail lamps.
Rep. John Petersburg (R-Waseca) unsuccessfully offered an amendment that would have deleted that provision because he said it asks police officers to "look the other way" when seeing vehicle violations, which would decrease public safety.
It was among the nine amendments that were rejected. Twelve more — 11 offered by Republicans — were ruled out of order, including amendments related to use of deadly force in self-defense, right to carry and use of dangerous weapon or deadly force resulting in great bodily harm against a peace officer.
"This is not intellectually honest," said Rep. Steve Drazkowski (R-Mazeppa).
Search warrants, code of conduct and body cameras
No-knock search warrants would be limited to cases involving first-degree murder, hostage taking, kidnapping, terrorism and human trafficking.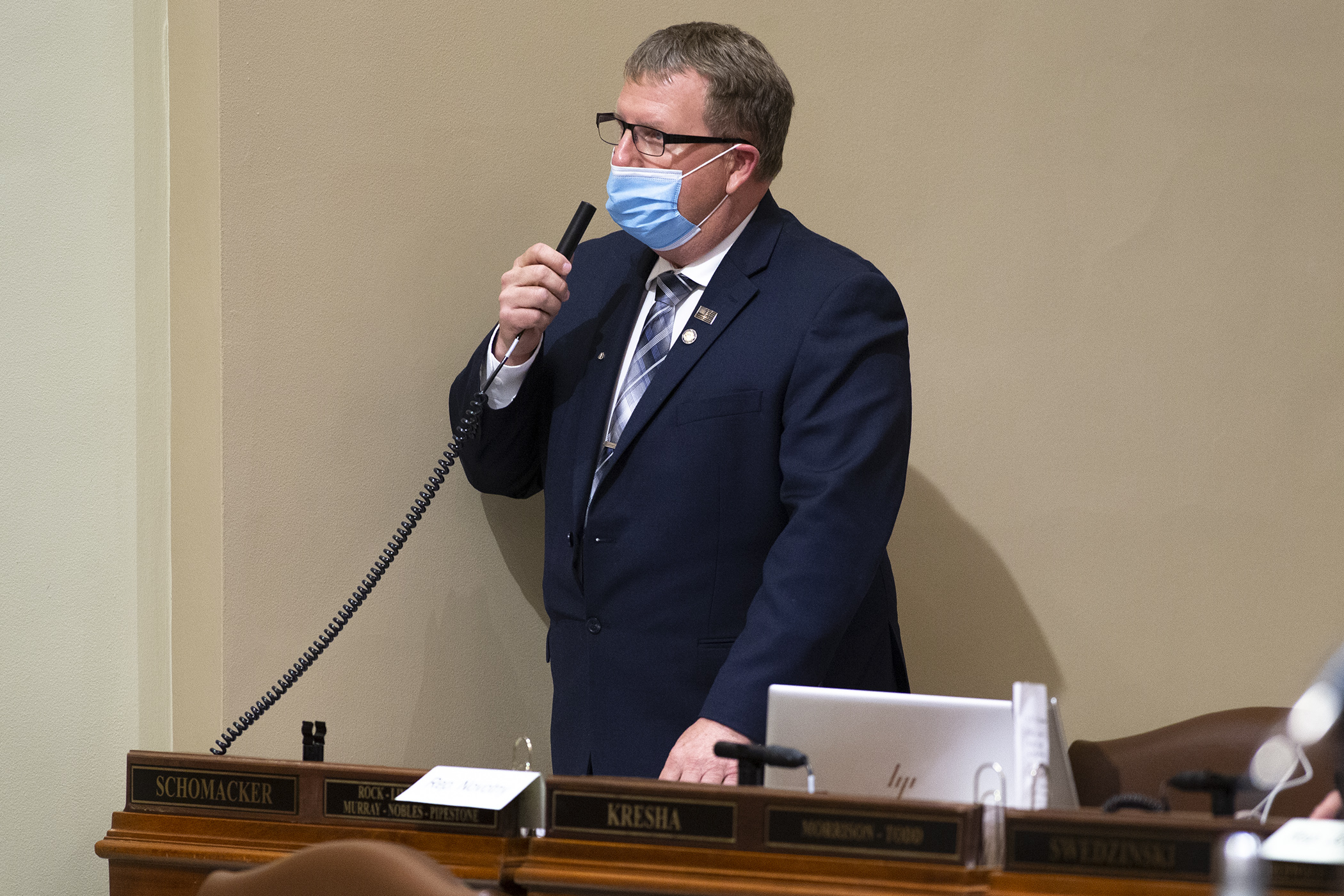 Rep. Paul Novotny speaks to his amendment to SF970 during debate on the House Floor. Photo by Paul Battaglia
"We know that no-knock warrants disproportionately are used in Black and brown neighborhoods and often have devastating results," said Rep. Athena Hollins (DFL-St. Paul).
She said the provision would ensure that no-knock warrants are used sparingly and only when absolutely necessary, which would help protect both the police and the subjects of warrants.
The Peace Officer Standards and Training Board would be required to modify the peace officer code of conduct to prohibit peace officers from affiliating with, supporting, or advocating for white supremacist groups, causes, or ideologies or participation in, or active promotion of, an international or domestic extremist group.
The bill would require law enforcement agencies to release body camera recordings of deadly force incidents to the deceased's family and representatives within 48 hours of the incident.
What's funded by the bill?
The bill would fund the Department of Public Safety, the Department of Corrections, Minnesota courts, civil legal services, the Guardian ad Litem Board, Tax Court, Uniform Laws Commission, Board on Judicial Standards, Board of Public Defense and Human Rights Department.
For the 2022-23 biennium, the bill would appropriate:
$1.3 billion for the Department of Corrections;
$448.9 million for the Department of Public Safety; and
$823.8 million for state courts.
[MORE: View the detailed spreadsheet]
Of the $11.4 million proposed for the Department of Human Rights, $695,000 would be new funding to reduce the backlog in investigation cases at the department, an issue identified by the Office of the Legislative Auditor in a 2020 report.
The Disaster Assistance Contingency Account would get $30 million in fiscal year 2021. The Legislature created the account in 2014 to provide immediate disaster response funding without further legislative action.
Prior to its creation, the Legislature would need to convene every time a disaster was declared, often in a special session, to appropriate money toward response efforts. The account currently has $4 million in it.
Other policy provisions
Notable public safety and judiciary policy provisions include proposals that would:
change Minnesota's forfeiture system to significantly limit what money and other property can be seized by police when investigating crimes;
permit courts to reduce, waive, or offer community service in lieu of the $75 state surcharge on traffic tickets in cases of financial hardship and require the court to consider ability to pay before imposing a sentence that includes fines, fees or surcharges;
require county attorneys to collect and report data to the attorney general's office regarding the use of jailhouse witnesses and the nature of any cooperation agreements offered to them;
permit the Department of Corrections to place pregnant and postpartum female inmates in community-based programs;
prohibit health plans providing coverage for anatomical gifts and organ transplants from denying eligibility or coverage for a covered person's disability, or penalizing or dropping their coverage because of the person's disability;
provide emergency paid sick leave for essential workers unable to work or telecommute due to COVID-19;
create a Hometown Heroes Assistance Program to provide financial assistance to firefighters who are diagnosed with cancer or heart disease;
eliminate the existing statutes of limitations that apply to sex trafficking and first- through fourth-degree criminal sexual conduct offenses, which would allow criminal charges for those offenses to be brought any time after commission of the offense;
require family law judges to appoint legal representation for all financially eligible low-income parents, guardians, and custodians who desire counsel prior to the first hearing and at all stages of a child protection proceeding;
modify the definition of "mentally incapacitated" for purposes of the criminal sexual conduct statutes, allowing a person to be prosecuted for assaulting a person who was intoxicated through voluntary consumption to the point where they could not give reasoned consent;
require state prison and local jail inmates to be housed only in publicly owned and operated facilities;
mandate policy reforms and strengthen standards to improve safety for inmates and staff in state, county and local correctional facilities;
eliminate the civil statute of limitations in cases involving an alleged sexual assault by a police officer or an alleged act by a police officer that results in a wrongful death;
require a person whose driver's license was revoked for a second DWI in 10 years or third lifetime DWI to get an ignition interlock device installed in order to get back on the road;
prohibit the use of restraints on children appearing in court unless the court finds there are no less restrictive alternatives available and the use is necessary to prevent physical harm to the child or another person, or to prevent the child from fleeing;
increase the maximum sentence of imprisonment for a person who commits sex trafficking in the first degree from 20 years to 25 years, and increase the maximum sentence of imprisonment for a person who commits sex trafficking in the first degree when any of four aggravating factors are present from 25 years to 30 years; and
establish the Minnesota Rehabilitation and Reinvestment Act to reduce the length of incarceration for offenders who demonstrate their rehabilitation.