The omnibus health and human services bill, a multi-billion package funding health care, human services programs and early childhood education, was passed by the House late Monday.
Sponsored by Rep. Tina Liebling (DFL-Rochester), HF2128, as amended, was passed 70-62 after about 11 hours of debate. It now heads to the Senate, where Sen. Michelle Benson (R-Ham Lake) is the sponsor.
DFLers say the bill would invest in children and families to reduce disparities, improve dental care for Minnesotans on public programs, reduce prescription drug costs, expand postpartum coverage, bolster telehealth and prohibit price gouging.
"The pandemic highlighted the challenges faced by many Minnesotans," said Rep. Jennifer Schultz (DFL-Duluth). "This bill not only addresses some of those challenges. It strengthens our state."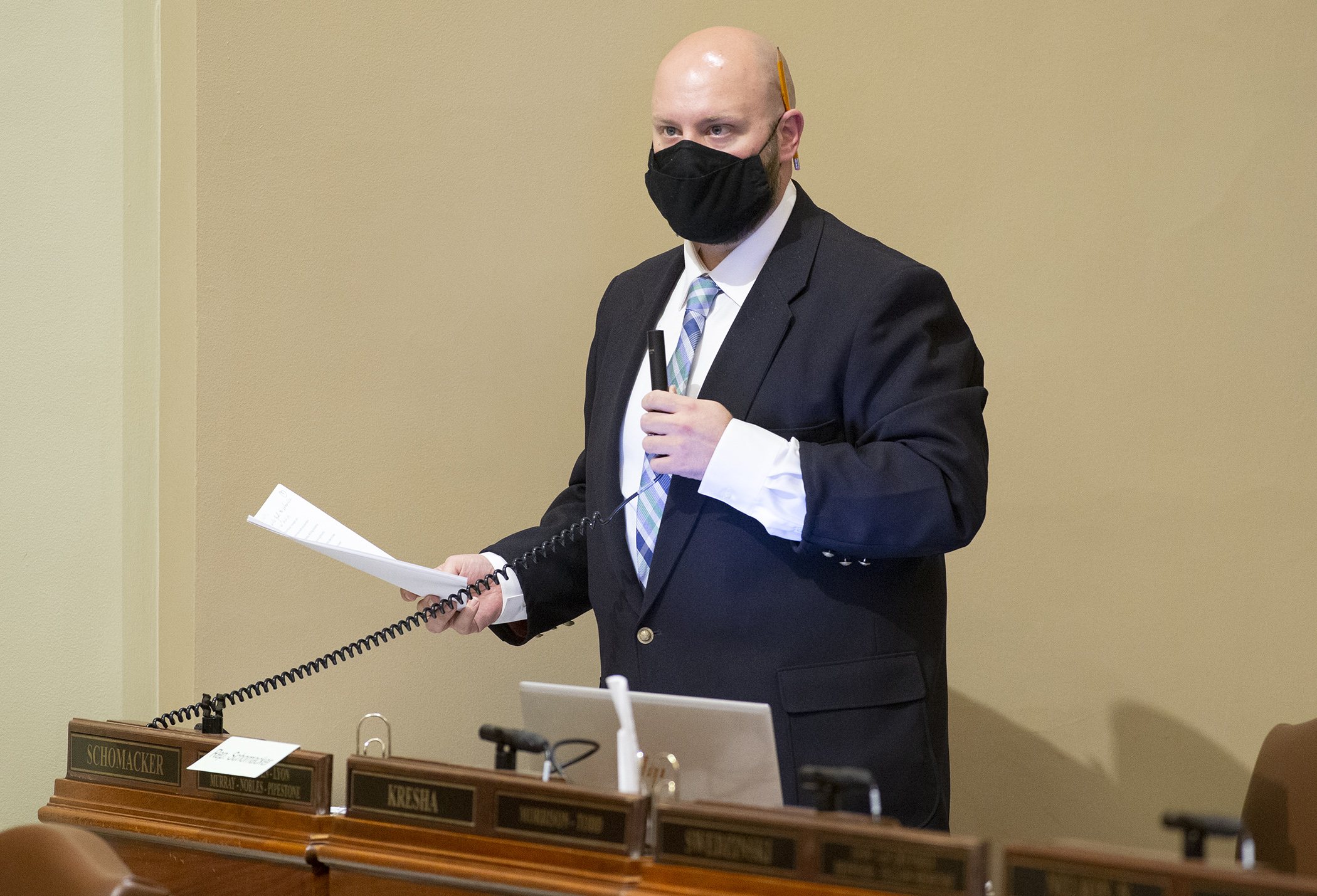 Rep. Joe Schomacker speaks on his proposed amendment to the omnibus health and human services bill during floor debate April 26. Photo by Paul Battaglia
Republicans say the bill expands government-run health care and adds burdensome mandates.
"Our citizens — fellow Minnesotans — deserve better than we've got here," said Rep. Duane Quam (R-Byron). "I hope this bill returns [from conference committee] better than it is now."
The bill would appropriate $16.7 billion from the General Fund next biennium, spending $346.5 million above current base funding.
[MORE: View the spreadsheet and General Fund summary]
Proposed new spending includes:
$6.34 million to expand Medical Assistance postpartum coverage from 60 days to 12 months;
$6 million to reimburse counties for a portion of the costs of treatment in children's residential facilities;
$2.6 million to address and better understand disparities in maternal and infant morbidity and mortality;
$2.1 million for adult periodontal non-surgical treatment;
$1.61 million to expand grants for integrated care for high-risk pregnant women;
$866,000 to provide Medical Assistance coverage for enhanced asthma care services;
$725,000 to allow Medical Assistance to cover weight loss medication;
$558,000 for an initiative to support healthy development of babies during pregnancy and postpartum; and
$200,000 for a skin lightening products public awareness and education grant program.
Proposed policy changes in the bill include:
prohibiting drug manufacturers from imposing excessive price increases on generic or off-patent drugs;
removing barriers to kinship placements that disproportionately impact people of color and bring foster home licensing standards more in line with current adoption standards and federal policy;
requiring hospitals with obstetric care and birth centers to provide continuing education on anti-racism and implicit bias;
changing who may obtain a certified birth or death record; and
providing an exception to the hospital construction moratorium for mental health or substance use disorder beds.
Successful amendments
Successfully offered amendments include those that would:
allow the Department of Health to conduct a review of measures to prevent and control the spread of COVID-19. The measure, offered by Rep. Mike Freiberg (DFL-Golden Valley), amended a proposal by Rep. Mary Franson (R-Alexandria) to require an audit of all COVID-19-attributed deaths;
direct the bipartisan Legislative Audit Commission to consider as a topic for evaluation by the Office of the Legislative Auditor discharges of patients from hospitals to nursing homes during the pandemic. The measure, offered by Rep. Rick Hansen (DFL-South St. Paul), amended a Franson proposal to require an examination of the subject;
allocate $3 million for personal care assistance program integrity changes; and
direct the Department of Health to develop procedures and services to increase the availability of midwife and doula services to groups with significant disparities in maternal and infant mortality, and allocate $1 million to the efforts.
Unsuccessful amendments
Among the amendments rejected were those that would have:
barred the Department of Human Services from administering nonemergency transportation programs and dental services directly to recipients of Medical Assistance and MinnesotaCare. The department would also have been barred from contracting with a third party to administer prescription drug benefits for recipients of Medical Assistance;
increased the base rate for nonemergency medical transportation services in remote portions of Minnesota;
struck down the provision barring hospital owners from closing or selling without first offering to sell to the city, county, town or hospital district in which it is located;
struck down the provision barring Regions Hospital in St. Paul from participating in a Department of Revenue program in which tax refunds are garnished in exchange for adding 45 licensed beds;
expanded the proposed hospital-construction moratorium exemption to allow hospitals exclusively treating patients under age 21 for mental illness or substance-use disorders to add new beds. DFLers worry expanding the exemption to hospitals without emergency departments would allow facilities to avoid less profitable patients;
required federal child care and development funds to go to private providers;
required counties to add a disclaimer in mandatory notifications to families and providers receiving child care assistance that rates are dependent on the availability of federal funds;
required retainer payments to home and community-based service providers; and
increased operating payments by 5% for intermediate care facilities for persons with developmental disabilities.