Spending per pupil would rise, pre-kindergarten offerings wouldn't shrink, and training opportunities for teachers and staff would increase under the omnibus E-12 education finance bill.
Sponsored by Rep. Jim Davnie (DFL-Mpls), SSHF2*/SSSF23 was approved 105-20 Saturday and is on its way to the Senate, where Sen. Roger Chamberlain (R-Lino Lakes) is the sponsor.
The results of negotiations, that started with a $620 million difference in spending between the omnibus House and Senate education finance bills, would increase the general education basic formula by 2.45% for fiscal year 2022 and 2% for fiscal year 2023. That would account for $462 million of the bill's $554.2 million in new biennial spending.
The bill would also invest in maintaining the state's 4,000 voluntary pre-kindergarten seats, at a cost of $45.9 million. Funding would also increase for special education, English language learning, and programs to encourage the recruitment and retention of teachers of color and Indigenous teachers.
The state's teachers and staff would also receive more training in suicide prevention, non-exclusionary discipline and early literacy.
"Every child in Minnesota deserves a world-class education," Davnie said. "The bill includes a historic investment in recruiting and retaining teachers of color, so the teachers at the front of our classroom look more like the increasingly diverse students in our classrooms."
Rep. Hodan Hassan (DFL-Mpls) spoke of those training programs, as well as the non-exclusionary discipline provisions.
"It's no secret that Minnesota leads the nation in the opportunity gap," she said. "Students of color and Indigenous students make up 35% of our state's student population, while only 5.6% of our teachers are people of color or Indigenous. … Black students are eight times more likely to be suspended or expelled and Indigenous students 10 times more likely than their white counterparts. … This bill is about creating positive experiences for all of our students."
[More: View more details about the bill and a spreadsheet]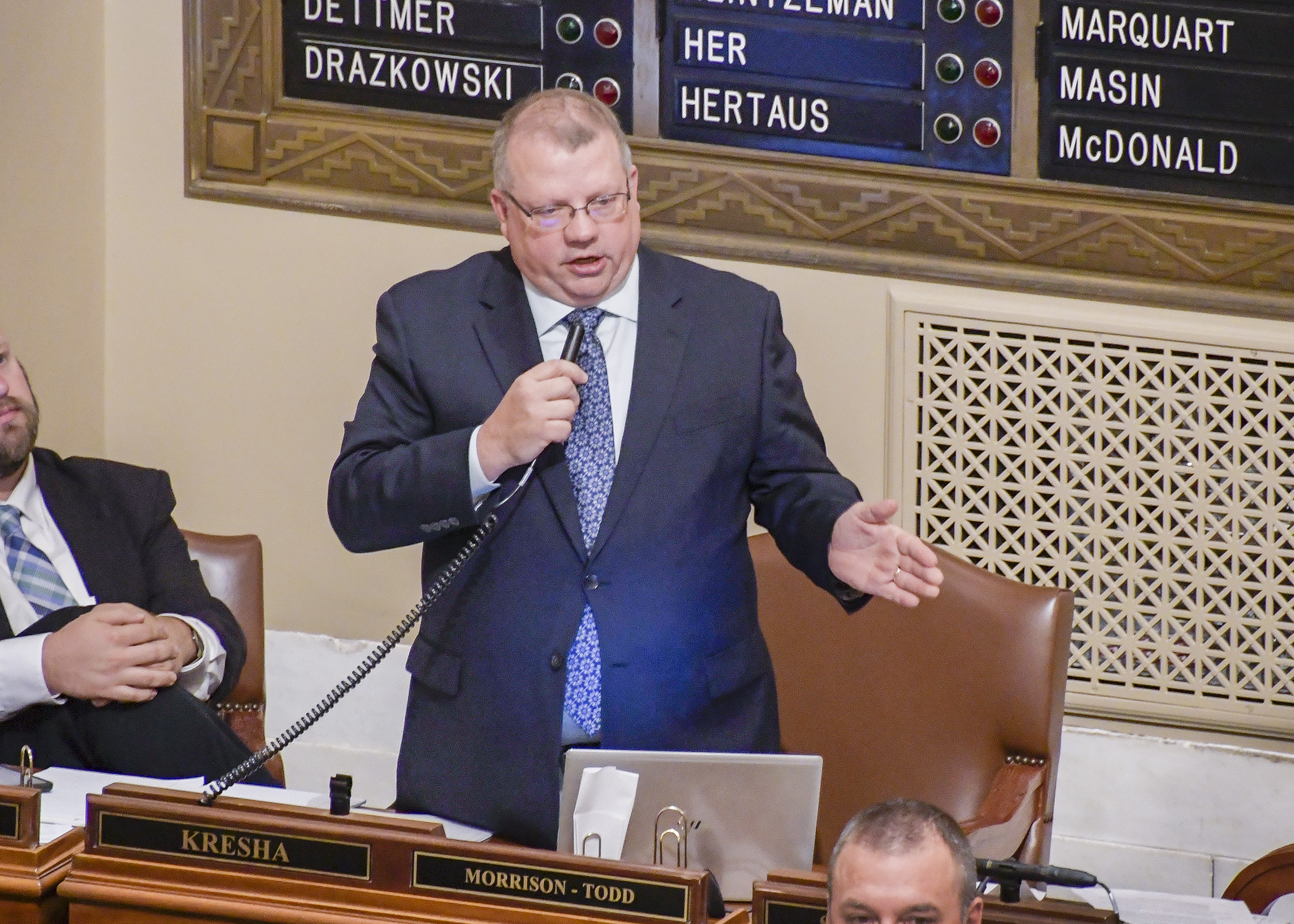 Rep. Ron Kresha offers an amendment to the omnibus education finance bill on the House Floor Saturday. Photo by Andrew VonBank
A Senate provision that would have provided money to families who choose to leave public schools for eligible private schools did not make the final agreement.
Motions to re-refer the bill to its committees of origin did not prevail.
"It is the right thing to go back and debate the truth," said Rep. Ron Kresha (R-Little Falls). "The truth can handle hard conversations."
Kresha thanked the Senate for the work it had done in negotiations to make the bill better and said he would vote for it.
"The bill that left the House Floor, while large in total dollars, also was large in mandates and total bureaucracy," he said. "This bill goes more to the students."  
But he also blamed Gov. Tim Walz for "setting the schools back" with his executive orders and said the bill did not include education reforms to help close the achievement gap.
"We are going to have quit putting status quo budget bills forward; we're going to have to put bills [forward] that are strong in education reform," Kresha said.
Proposed amendments
None of the 15 offered amendments were adopted. Among the proposals were:
increasing curriculum review responsibilities for parents and school boards;
encouraging law enforcement and military careers;
funding "alternative teacher preparation grants";
giving local school boards more say in student discipline and having in-person classes during a state emergency;
shifting appropriations to specific programs in southern Minnesota;
creating formulas and funding for "equitable distribution aid" and "disparity aid";
redirecting money toward school safety grants; and
requiring safeguards on digital and online database resources.