(Story updated 2:05 p.m.)
Fueled by "extraordinary growth" in income, consumer spending and corporate profits, Minnesota is predicted to have a $7.7 billion budget surplus for the fiscal 2022-23 biennium.
That news was shared Tuesday by Minnesota Management and Budget as part of its November 2021 Budget and Economic Forecast.
The second of two annual economic estimates the state uses to inform its budgeting and policy decisions, November's forecast continued the upbeat outlook predicted in the February 2021 Budget and Economic Forecast which called for a $1.6 billion surplus.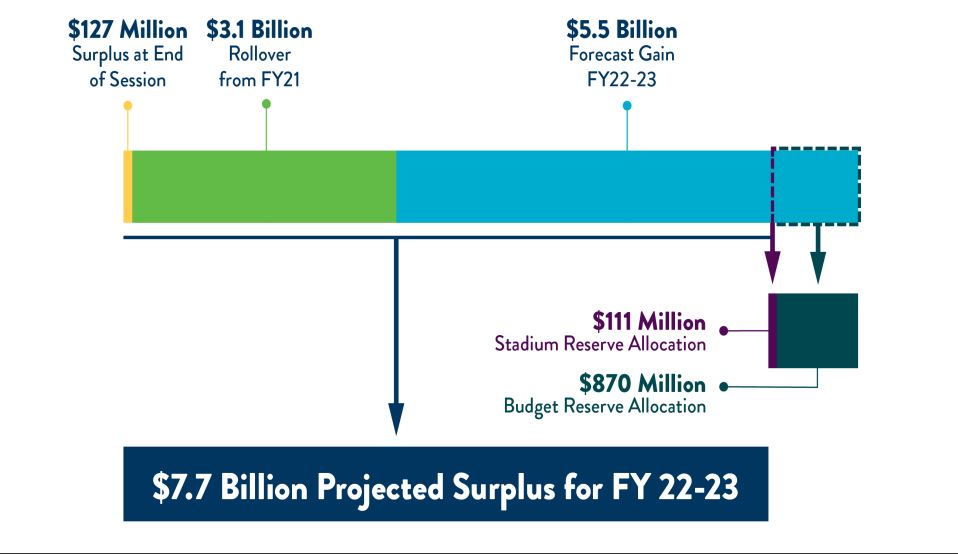 Minnesota Management and Budget's newest forecast projects the state to have a $7.7 billion surplus. Graphic courtesy Minnesota Management and Budget
"It's good news for Minnesotans today … it's crystal clear, our economy is strong and it is growing," Gov. Tim Walz said during a press briefing held by state officials.
[WATCH >> Gov. Walz responds to latest budget forecast]
He called the projected surplus a "remarkable opportunity" to improve the economic circumstances of all Minnesotans. Walz said he is focused on lowering costs for people "on the things that impact their lives," along with making investments in the middle class and working families, and lending a hand to those who are struggling.
House Majority Leader Ryan Winkler (DFL-Golden Valley) echoed the governor's comments and voiced support for efforts to pass paid sick leave for all, higher wages for essential workers and improved education and health care across the state. He said the House would not cut taxes for "big corporations and rich individuals" at the expense of those less fortunate.
"When we help workers, families and small businesses thrive, they grow our economy," Winkler said in a statement.
House Minority Leader Kurt Daudt (R-Crown) also said the latest forecast provides opportunities for lawmakers to take action.
"While government is flush with cash, Minnesotans are still struggling with inflation at 30-year highs, gas prices up 50% or more, and sticker shock on their energy bills," Daudt said in a statement. "This record-setting surplus gives us a real opportunity to help make Minnesotans' lives more affordable and prevent Gov. Walz and Democrats from raising taxes on struggling businesses later this month."
Businesses across the state are set to face a December tax increase in order to replenish the Unemployment Insurance Trust Fund, which finances unemployment payments to workers. The fund is running a billion dollar deficit and the state has borrowed money from the federal government so assistance to the unemployed could continue.
The estimated $7.7 billion surplus will be a central focus when the Legislature convenes for its next regular session on Jan. 31, 2022. MMB officials said it includes a $3.1 billion rollover from fiscal year 2021; $127 million that remained unspent at the end of the 2021 legislative session; and $5.5 billion that is forecast to be gained from now until the current fiscal biennium ends in June 2023.
However, statutes require some of the surplus be allocated to replenish certain state accounts, including $870 million for the state's budget reserve and $111 million for the U.S. Bank Stadium Reserve fund. Those funds are also factored into the $7.7 billion total.
The forecast does not include money from the American Rescue Plan Act recently signed by President Joe Biden that will provide $1.9 trillion in stimulus for states meant to help fuel the economic recovery and provide aid to public health programs.
Minnesota is due to receive billions of dollars under the act, but MMB Commissioner Jim Schowalter said the November forecast focused on the state's own budget and spending. He said the surplus "resets" the budget as the economy learns to adapt to the pandemic.
"The $7.7 billion bottom line in today's forecast is out of the ordinary, even in these extraordinary times," he said. "The state's fiscal position is strong and we have opportunity to take actions unimaginable last year."
Schowalter said a substantial portion of the surplus is not speculative and that about "$3.1 billion" is already "money in the bank."
Economic outlook
IHS Markit, the state's economic consultant, said several important economic variables such as employment and inflation-adjusted consumer spending have shown stronger-than-predicted growth this year. The firm believes the economy will continue to grow in 2022 as more people go back to work, supply-chain issues are resolved and progress in fighting the pandemic continues.
IHS cited the supply-chain improvements and workforce increases as factors that it expects will help slow inflation by late next year.
Minnesota's unemployment rate is 3.5%, which is 1.1% below the national rate and 14th lowest in the country. But the labor force has also fallen by 84,000 since the start of the pandemic due to retirements and those opting not to participate. This is predicted to help drive strong wage growth in the next few years and IHS predicts the employment rate to return to pre-pandemic levels by the middle of next year.
State Economist Laura Kalambokidis cautioned that the forecast's predictions were made under the assumption the COVID-19 virus will continue to recede and said the November forecast was completed before the emergence of the omicron variant.
"The U.S. outlook remains uncertain, of course," she said, "and depends on the path of the pandemic and of the responses of households, businesses and governments to the changing public health landscape."