Employees could receive increased safety and performance assessment in large warehouses as one company is under fire for its labor practices.
Sponsored by Rep. Emma Greenman (DFL-Mpls), HF2774 would establish worker safety requirements for warehouse distribution centers. It would apply to employers with 100 or more employees at one warehouse location or 1,000 or more employees at one or more warehouses.
The bill, as amended, was approved on an 8-5 party-line vote Tuesday by the House Labor, Industry, Veterans and Military Affairs Finance and Policy Committee and referred to the House Judiciary Finance and Civil Law Committee. There is no Senate companion.
Employers would be required to provide written notification of any work quota placed on employees at the time of hire or within 30 days of enactment and at least two days before the quota would take effect. The written notification must include how the quota would be measured.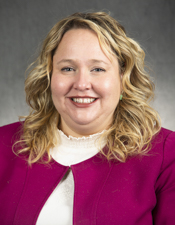 Rep. Emma Greenman
Employees would also have access to their work speed data.
Additionally, employers could not create work quotas that interfere with compliance of required meal, restroom break, prayer periods or any other consideration of Occupational Safety and Health Administration workplace safety standards.
The Department of Labor and Industry would be required to investigate violations if OSHA data shows a 30% higher than a year's average incidence rate for nonfatal occupational injuries and illness. Monthly safety meetings would be required until incidence rates fall below 30% than the average for two years.
"All Minnesotans deserve to be safe and respected at work, no matter where they work, who they work for, or what their background is," Greenman said. "But that's not the experience that some Minnesota workers, warehouse workers and the warehouse workers at Amazon have right now. Minnesota workers are reporting that they are being forced at grueling paces under intense electronic surveillance and the threat of discipline."
Alleged actions by Amazon are the impetus for the bill, with several former and current employees testifying to the working conditions and injuries sustained in the line of work.
According to the National Employment Law Project, workers in Amazon's six Minnesota warehouses are injured at double the rate of non-Amazon warehouse workers in the state. Greenman said the annual turnover rate at Amazon warehouses is 70%.
Republicans expressed concern that the bill is focused on Amazon and there are current laws protect the workers who testified on Tuesday.
"We do have clear laws on the books now that protect workers' rights," said Rep. Joe McDonald (R-Delano).