Eric Sawatzke was loading up turkeys from his farm in Barrett when he received word there weren't enough processors for his load. Sawatzke had to stop loading and send workers home.
Sawatzke, also an agriculture instructor for the West Central Area School District, knows firsthand the importance, and lack of, quality meat processors in the state. Lawmakers could support both of Sawatzke's career choices with HF4057, sponsored by Rep. Paul Anderson (R-Starbuck).
The bill would appropriate $1 million to the Department of Agriculture for education grants to secondary schools with career and technical education programs that provide instruction on meat cutting and butchery. Schools would receive up to $100,000, 10% of which could go to training faculty.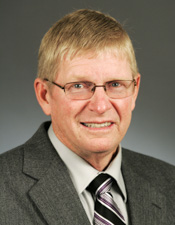 Rep. Paul Anderson
The bill was laid over Wednesday by the House Agriculture Finance and Policy Committee for possible inclusion in a supplemental finance bill.
"This bill will provide a foundational support needed to feed the meat-processing shortage, workforce shortage," Sawatzke said. "This committee has heard plenty of testimony in the past and even today about the once unnoticed shortage of meat processors that quickly became evident in everyone's eyes during the early stage of COVID."
The one-time appropriation would fund grants that would cover the costs of equipment required for a meat-cutting program, facility renovations to accommodate meat cutting, and training faculty.
The department would receive applications for the grants, priority for which would be given to applicants who are working in coordination with meat-cutting and butchery programs at Minnesota State colleges and universities and local industry partners.
"We've had a lot of discussion in the committee this year about local meat processing and getting more people involved and learning the trade of processing meat," Anderson said. "This bill does the same thing, but it focuses on secondary schools in the career and tech education portion of their school, which is a growing aspect in our high schools across Minnesota."
The bill's companion, SF3481, is sponsored by Sen. Torrey Westrom (R-Elbow Lake), and awaits action by the Senate Agriculture and Rural Development Finance and Policy Committee.