Minnesota is helping provide hope for people dealing with ALS, a debilitating neurological disorder that has no cure.
Following tearful testimony by a Republican representative in support of a bill sponsored by her Independent Senate colleague the House passed HF3603/SF3372*, as amended, 121-9. It now returns to the Senate for concurrence.
The bill is sponsored by Rep. Dave Lislegard (DFL-Aurora) and Sen. David Tomassoni (I-Chisholm), who was diagnosed last year with amyotrophic lateral sclerosis or ALS, commonly called Lou Gehrig's disease.
It would appropriate $20 million to promote research related to prevention, treatment, causes, and hopefully an eventual cure. It also would appropriate $5 million for families caring for people living with ALS and to provide home medical respite care. The one-time appropriation for both purposes would be available through June 30, 2026.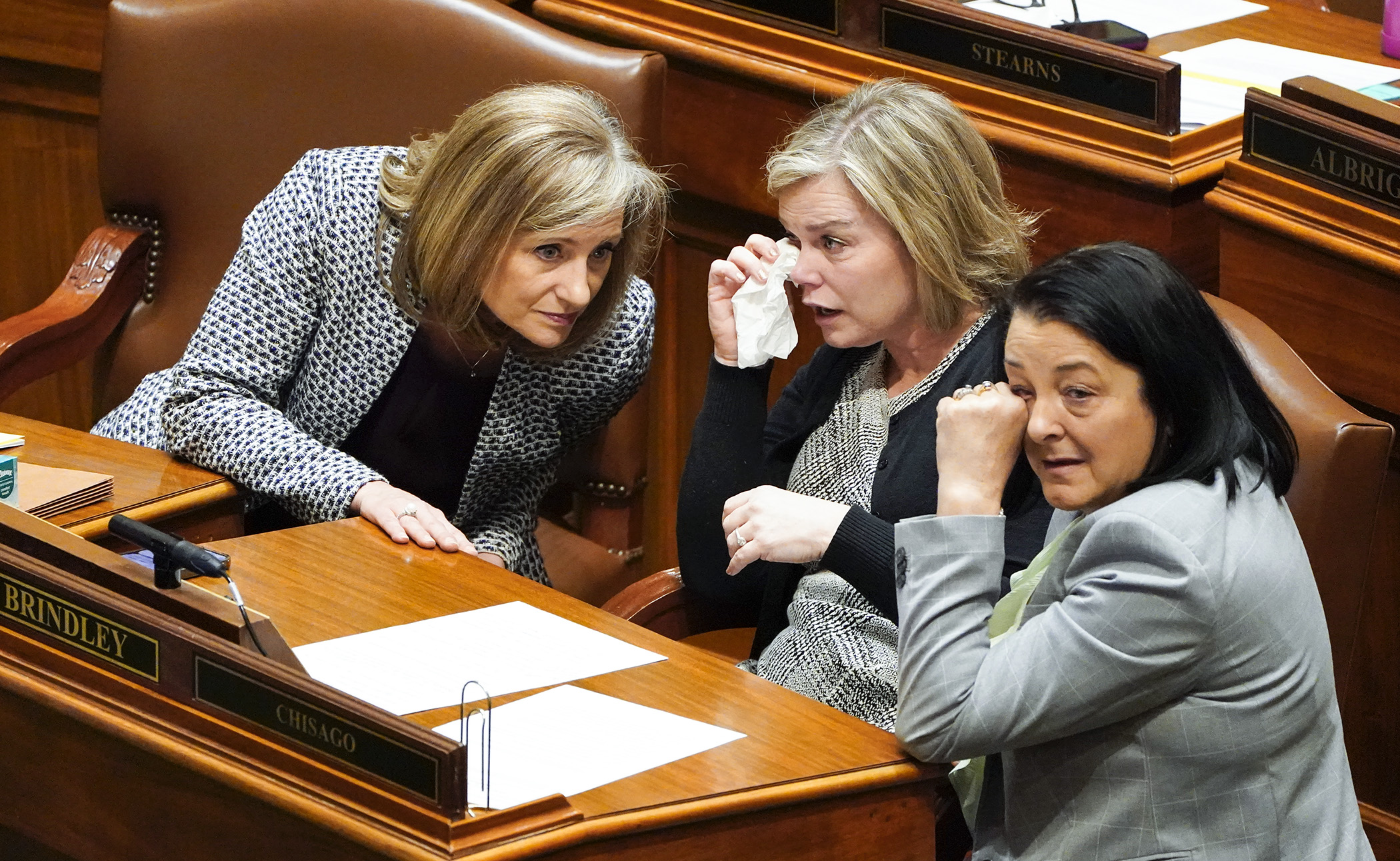 Reps. Kristin Robbins, from left, Anne Neu Brindley and Tama Theis talk after Neu Brindley delivered an emotional speech March 24 about her late-husband's battle with ALS during floor debate on HF3603. (Photo by Paul Battaglia)
ALS is progressive neurological disease that affects the nerve cells responsible for controlling voluntary muscle movement. People gradually lose their ability to talk, walk and breathe. Rep. Anne Neu Brindley (R-North Branch) said best treatments extend one's life three to six months.
"It is said that you need to see it, feel it, touch it to be able to understand it. And unfortunately some have to live through it," said Lislegard. ALS can turn the lives of those diagnosed with it and their families upside down, draining them of any hope.
Neu Brindley knows that too well.
She fought back tears telling of her first husband's fight with the disease, and having to tell her children what would happen as he died a little every day as muscles weakened. Scratching an itch can be impossible for those with ALS. It's a fast track for disability, she said.
But when Tomassoni found about his own onset of ALS, he became a champion for others, Lislegard said, adding Tomassoni knows well he will not benefit from his push for ALS research funding.
On average, about 450 people in Minnesota live with ALS. Every week two people are diagnosed with it and two people die from it, Lislegard said. Funding ALS research would go a long way to improving the quality of life with better treatment options.
The disease also touches the lives of family members caring for their loved one. Medicare doesn't cover homecare support, Neu Brindley said, while successfully amending the bill to include home medical respite care to family caregiver support programs.
As she ended her testimony, Neu Brindley reminded her colleagues — in a breaking voice and with tears in her eyes — "You are casting a vote for hope today."