Before beginning its dig into supplemental funding bills for many areas of state government, the House Ways and Means Committee adopted a budget resolution Tuesday for proposed expenditure changes to 2022-23 biennial spending.
The $7.36 billion increase was approved on a party-line vote.
"When the pandemic started, I'm not sure anybody would have predicted that we'd be looking at a budget surplus so large, like the one Minnesota is enjoying today. But thanks to the incredible effort of our workforce and the investments we made as a Legislature, we stabilized our public health and our economy. We have come through the storm," said Rep. Rena Moran (DFL-St. Paul), the committee chair, who said equity is a fundamental resolution principle.
"We now have an historic opportunity to catch up and keep up with the needs of Minnesotans. Whether that be through improved funding for our schools, increased services for our most vulnerable citizens, larger investments in preserving our natural resources and infrastructure, our targeted tax relief for families and businesses who are still recovering from the pandemic. The 2022 budget resolution is the road map we would use to tackle all of those things."
Among the large-ticket items, the plan calls for nearly $1.65 billion in tax aids and credits, almost $1.16 billion in new education spending, $1 billion for frontline worker pay, and $700 million for health and human services.
It also includes $200 million for debt service on a capital investment bill. That is enough for a $2.05 billion bonding proposal with $180 million in cash spending.
[MORE: View the spreadsheet]
Rep. Dave Pinto (DFL-St. Paul) said legislators have heard about many areas the resolution addresses, including child care, job creation and workforce housing. "This is a terrific resolution that recognizes in each of these areas there is a huge need."
Across the aisle, the view is much different.
"This is spending gone crazy. This is $7.4 billion above our original base of $52 billion. It's spending on steroids," said Rep. Marion O'Neill (R-Maple Lake).
The state has a projected $9.25 billion surplus for the biennium that ends June 30, 2023. However, concerns were raised that inflation is included only on the revenue side, the forecast was put together before the Russian invasion of Ukraine, and a possible upcoming recession.
The resolution would leave nearly $1.89 billion on the bottom line; however, spending in future years is not included.
Rep. John Petersburg (R-Waseca) urged caution, noting some of the surplus is a result of spending federal stimulus money individual Minnesotans received. "Is it wise to spend all the money today and then next year we're having to deal with a deficit? I'm not sure that's very wise. I think that's actually shortsighted because then we're going to end up with cuts from the very things we want to promote."
"All these things are onetime spending that you're going to be blasting through, and you haven't dealt with what we're looking at of 8.5% inflation, you haven't begun calculating that into the spending," added Rep. Jim Nash (R-Waconia).
Frontline worker pay/Unemployment Insurance Trust Fund
An amendment unsuccessfully offered by Rep. Pat Garofalo (R-Farmington) that would, in part, "reverse a tax increase on business" went down almost along party lines. Rep. Gene Pelowski Jr. (DFL-Winona) was the lone member to cross the aisle.
It would also delete the prohibition on using an estimated $1 billion in unused federal American Rescue Plan dollars for supplemental spending. Without an agreement by June 15 on spending those dollars, Gov. Tim Walz gets to decide how to spend them without legislative oversight.
"The Legislature's job is to allocate funds," Garofalo said.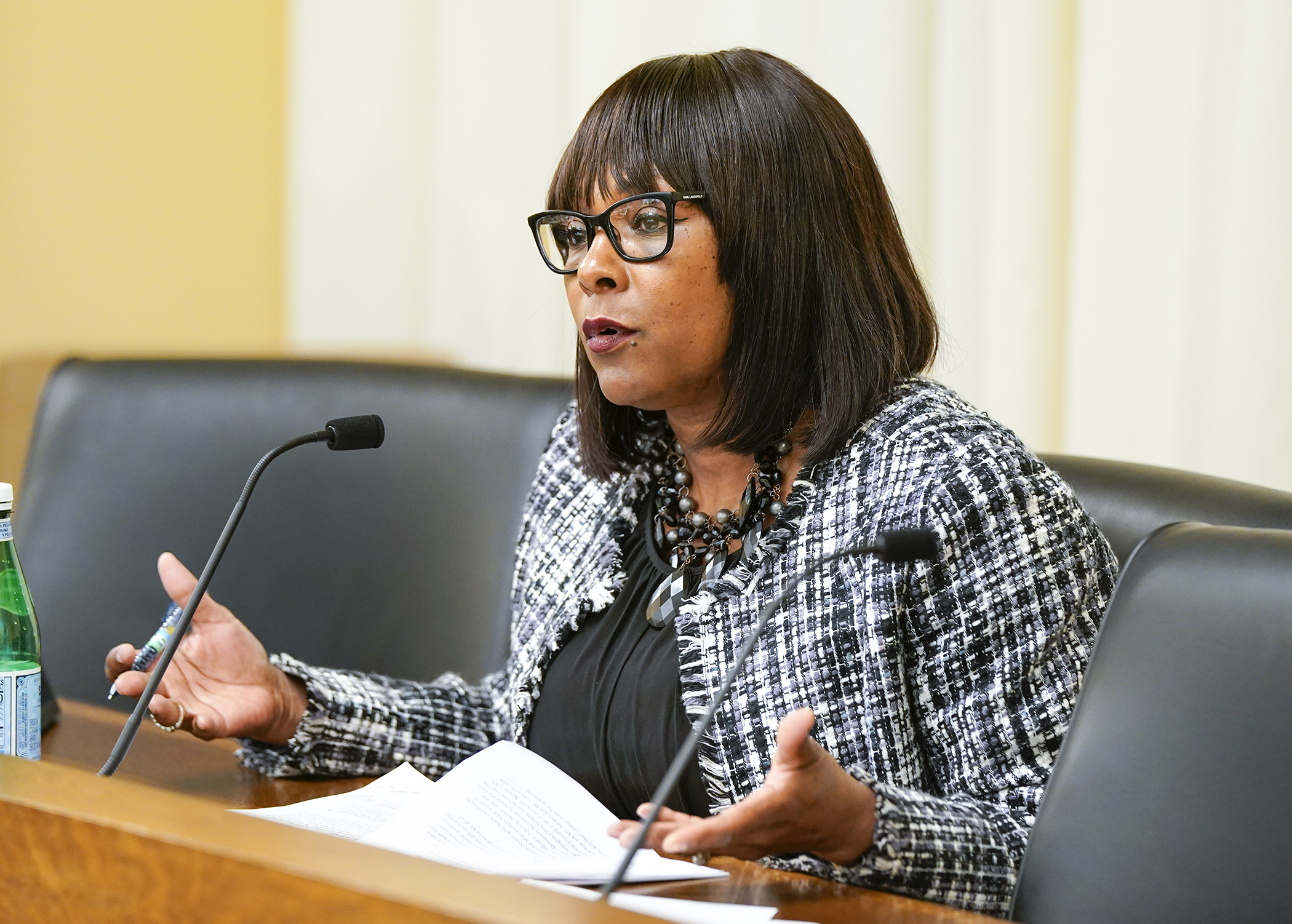 Rep. Rena Moran, chair of the House Ways and Means Committee, comments April 19 during her presentation of the House budget resolution. Photo by Paul Battaglia
Minnesota's Unemployment Insurance Trust Fund had $1.7 billion in reserves when the COVID-19 pandemic began, but a government-ordered shutdown of many industries led to a gigantic increase in jobless claims and a draining of the trust fund. The state ultimately had to borrow from the federal government to meet its unemployment funding needs.
In February, the Republican-led Senate passed a bill 55-11 to refill the unemployment insurance trust fund with more than $1 billion of the state surplus and pay back more than $1 billion the state owes to the federal government for unemployment benefits.
Without that refill, taxes on business began to increase March 15 to make up the shortfall, although DFL leaders have said action taken by April 30 would fix that.
"(This) resolution would use our House Rules to prohibit us from fixing the problem," Garofalo said. "At a time when we have an over $9 billion surplus, the budget resolution we'll be voting on would prohibit you from reversing a tax increase that you let go into effect."
The House DFL wants repayment of the loan and refilling the unemployment trust fund tied to $1 billion in frontline worker pay. The Legislature agreed to $250 million for that last year, but a bipartisan commission was unable to reach agreement on how many workers should receive a bonus payment and the amount of each payment. DFLers want to up bonus size and make more people eligible; Republicans want to limit the pool of eligible workers, largely to health care providers.
"You're including a billion dollars for the frontline workers in this state, but you're not including anything to refill the UI trust fund," said Rep. Peggy Scott (R-Andover). "For this to be a moral document, it sure is one sided."
"We can amend the budget resolution, which is not uncommon under both parties. … That opportunity will be available if broader negotiations are successful," Moran said.
The House Workforce and Business Development Finance and Policy Committee approved a plan along party lines Feb. 9 that would repay a $1.2 billion debt to return the unemployment insurance trust fund to zero, using about $1.15 billion from American Rescue Plan funds and the rest from the state's General Fund. It awaits action by the House Ways and Means Committee.
"We will definitely take care of businesses, but we will also take care of the frontline workers, those who put their lives at risk, those who came out to help us when we were in need," said Rep. Mohamud Noor (DFL-Mpls), who sponsors HF1035.