Trying to address the lack of affordable housing, lack of broadband internet and to improve agriculture practices, the House passed a sweeping package of supplemental appropriations and policies late Monday.
Sponsored by Rep. Mike Sundin (DFL-Esko), HF4366, as amended, serves as the omnibus agriculture, broadband and housing supplemental finance and policy bill. Passed 70-62, the bill heads to the Senate where its version, SF4019, is sponsored by Sen. Torrey Westrom (R-Elbow Lake). A conference committee will likely be needed to work out bill differences.
The House bill would appropriate $25 million to the Office of Broadband Development for the Border-to-Border Broadband program. It would also increase the maximum amount for a project from $5 million to $10 million and increase the grant from 50% of the cost to 75%.
The agriculture and housing portions are more comprehensive.
The bill contains a $53 million increase in the current biennium for the Department of Agriculture and $3.4 million for the Agriculture Utilization Research Institute for a number of programs, and also includes provisions such as prohibiting the sale and use of plastic-coated pesticides and fertilizers and neonicotinoid-treated seeds for food, feed, oil or ethanol production.
[MORE: View the spreadsheet]
Proposed agriculture appropriations in fiscal year 2023, unless noted, include:
$24.25 million for soil health and research aiming to help farmers protect the soil, water and environment while improving crop production, including $15.5 million for the Forever Green Initiative;
$7.6 million in agriculture innovation, including $3 million to the Agriculture Utilization Research Institute for facilities and labs;
$6.4 million to support new and emerging farmers, including $3 million in down payment assistance grants;
$5.2 million to address livestock processing shortages;
$4.5 million in the current year to the Agriculture Department for emergency response and preparedness for disease outbreak, including the current issue with Avian Influenza; and
$4.3 million to address food access and hunger relief, including $3 million to Second Harvest Heartland.
"I'm proud to present the supplemental ag budget contained in this bill," Sundin said. "It is an historic investment in ag-related spending on top of the comprehensive bill passed last year. In deciding how to use our $60 million working target, we made a conscious effort to look forward and invest in opportunities that a changing world presents."
The housing bill would appropriate $230 million in fiscal year 2023 and establish a $185 million base in the next biennium toward several programs. It would also include authorizing $400 million in housing infrastructure bonds and expand eligibility requirements.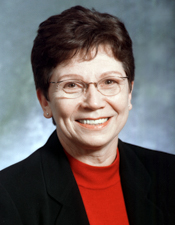 Rep. Alice Hausman
[MORE: View the spreadsheet]
"We knew that our housing investments have to be along the entire housing continuum," said Rep. Alice Hausman (DFL-Falcon Heights), who sponsored the omnibus housing bill that was previously incorporated into the larger bill.
Hausman said the House Housing Finance and Policy Committee, which she chairs, established four goals with its bill: building more homes that Minnesotans can afford, wanting to reduce cost for renters and create more homeowners, to save the affordable homes already available and creating services that provide pathways to more stable housing.
The additional fiscal year 2023 housing appropriations include:
$100 million in community stabilization through naturally occurring affordable housing;
$50 million for first generation homebuyers assistance, including a pilot down payment assistance program;
$20 million for the Minnesota Housing challenge program, which aims to provide affordable permanent rental housing;
$14 million for family homelessness prevention;
$10 million to the Housing Trust Fund for rental assistance;
$10 million for the Homework Starts with Home program;
$7 million to local housing trust funds;
$5.19 million for a manufactured home cooperative program;
$5 million in flexible financing for capital costs;
$5 million to strengthen the supportive housing model;
$2 million for a pilot program to increase lead testing in residential units;
$1 million for homeownership education and training;
$425,000 for stable housing mediation grants; and
$383,000 for enforcement of income discrimination.
The bill also includes several landlord tenant provisions, including changes that would:
ban discrimination of tenants or homebuyers who receive public assistance;
expand certain eviction expungements;
address certain fees applied by landlords;
address tenancy at will and a landlord's ability to terminate a tenancy at will;
require landlords to maintain a temperature of at least 68 degrees in cold weather months;
add certain tenant privacy rights;
allow lease termination if a tenant moves into a medical care facility;
prohibit eviction if a tenant has a pending rental assistance application with a federal or state agency, local unit of government or nonprofit organization;
require a 14-day pre-eviction notice in cases of nonpayment or financial obligation;
make eviction filings non-public until judgement; and
make emergency repair fees fair for tenants, require emergency repairs to begin immediately and allow tenants to petition a court for emergency relief if they are without heat, electricity, running water, hot water or sanitary facilities.
"We have a housing shortage," said Rep. Tama Theis (R-St. Cloud). "This bill does not address that. With a 183% increase in spending on housing, it does nothing to address the rising prices of homes and the low inventory across Minnesota."
Amendments offered and not adopted would have:
prohibited municipalities from approving building permits, subdivision development or planned unit development based on the use of specific materials, design or aesthetic conditions;
repealed the rent stabilization in the City of St. Paul that was approved by voters on Nov. 2, 2021;
diverted a portion of the agriculture appropriation to focus on infrastructure for E15 gasoline; and
modified the agriculture appropriations, deleted the provision regarding the prohibition of plastic-coated fertilizer and pesticides, and increased assistance to meat and poultry processors.
"We're talking about possible situations where around the world there could be food shortages, and we're also talking about taking away tools that farmers use in a responsible way to raise a crop to feed ourselves, our nation and help feed the world," said Rep. Paul Anderson (R-Starbuck), who unsuccessfully offered two of the amendments.