At a press conference last Monday announcing a framework to finish out the legislative session, Gov. Tim Walz and legislative leaders were asked a number of times for more details rather than just grand total numbers.
The outline split the budget surplus into thirds: $4 billion for tax breaks, $4 billion for new spending, and $4 billion left on the bottom line in case the economy worsens.
Lacking specific on things like taxes, health care and education, Walz told the media it is their role to be skeptical, but he was "pretty confident" things would come together.
Um.
After another week of DFL and Republican members blaming the other side for the lack of success, the state's top elected official said just before 1 a.m. he's open to calling a special session — something he previously pledged not to do — in hopes of reaching agreement on myriad supplemental funding bills that also contain key policy across the spectrum.
"We're 90-95% of the way there, we're sitting on the proverbial 1-yard line. Just punch it in. Just get it done."
Walz plans to meet with legislative leaders Monday morning, where presumably a timeline will be discussed. "The sooner the better makes the most sense," he said.
[MORE: History of special sessions]
"The Minnesota House is ready to come back and get the work done," House Speaker Melissa Hortman (DFL-Brooklyn Park) said after members left the House Chamber late Sunday, the last day bills could be passed in the regular session. She would like a special session this week. "We hope our Senate GOP colleagues will in the morning agree that we need to come back and finish the work for the people of Minnesota."
House Floor Session – part 4 5/22/22
"Minnesotans expect us to show up and get the job done. We have had a tendency in recent years to have a final agreement toward the close of session, come back in a special session and finalize that work," said House Majority Leader Ryan Winkler (DFL-Golden Valley). "We still have an opportunity to do that."
"We are not interested in a special session," Senate Majority Leader Jeremy Miller (R-Winona) said mid-afternoon Sunday. He reiterated that post-session.
Also while it was still daylight, Senate Minority Leader Melisa Lopez Franzen (DFL-Edina) said she does not want a special session called unless there is pre-approved agreement. "We're not going to come here as we've done in the past and just wait and see if there's another agreement. That is a waste of our time and taxpayer dollars."
"I think it's good for everybody to go home and sleep on this for seven months and we'll come back and do what's right for Minnesotans," House Minority Leader Kurt Daudt (R-Crown) said shortly after midnight.
Behind-the-scenes omnibus bill deal-making between the governor, legislative leaders and committee chairs mostly proved futile.
Health and Human Services? Denied. Public Safety? No deal. E-12 Education got an incomplete. Transportation crashed. Environment and Natural Resources? You get the drift.
Hortman said agreements on education, transportation, housing and public safety/judiciary are "very," "pretty," or "reasonably" close, while health and human services is the furthest from a deal.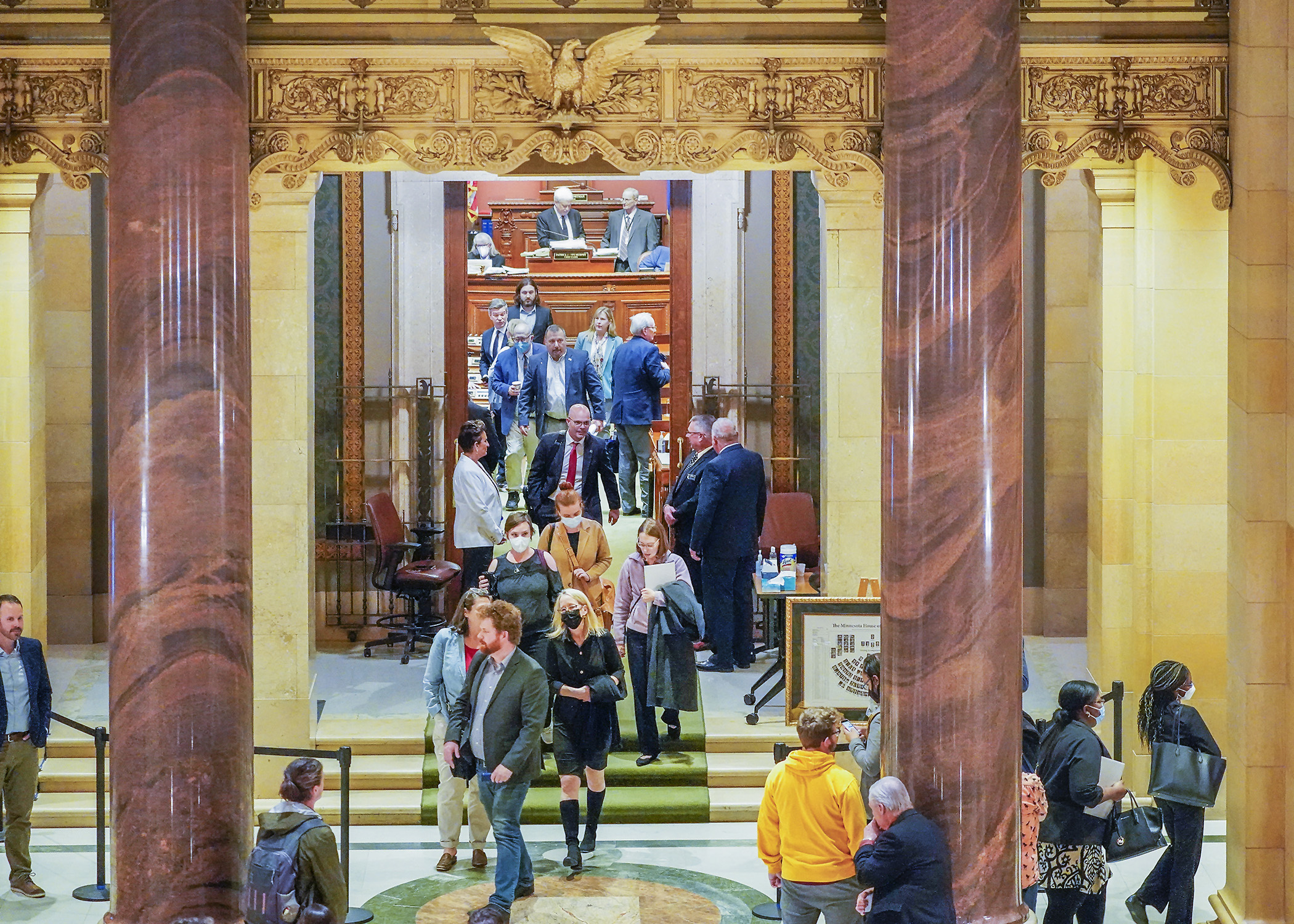 Members exit the House Chamber following a midnight adjournment May 23. (Photo by Andrew VonBank)
Both bodies passed a $92.7 million mental health package Sunday that includes funding for school-linked mental health grants, provides a loan forgiveness program for mental health professionals and would establish a way to assess the "mental competency" of a defendant to stand trial and integrates competency restoration into the existing mental health system.
The Senate also approved the conference committee report on the omnibus agriculture/broadband that the House passed Saturday, but tabled omnibus bills for higher education and a jobs, energy and commerce package until other spending and tax provisions come through from the House. However, Hortman said Friday the tax bill, which must originate in the House, would not be brought forward until all other bills were complete.
"A divided Legislature means that we have to compromise," Walz said during his April 24 State of the State address.
That largely did not happen in the regular session.
"I think what you saw on display this session is differing values where Minnesotans are suffering from the highest inflation, the highest gas prices in decades," Daudt said. "Unfortunately, Democrats couldn't separate themselves from the thirst for additional spending at a time we have the largest surplus in state history. … Nothing really got accomplished in this session because Democrats couldn't fund police, they couldn't give tax relief back to Minnesotans who need it so desperately."
Daudt said bills passed by the House accounted for $21 of increased spending for every dollar of tax relief.
Because a two-year biennial budget was passed last year, state operations are funded until June 30, 2023, meaning nothing had to financially be done this session.
The omnibus tax bill could be the poster child for what could have been. A $4 billion "agreement" that was celebrated as done deal Saturday failed to have all the minute details worked out. So, for now, Minnesotans will continue to have state income tax taken from their Social Security benefits and tax relief will not be headed toward renters and homeowners.
Sen. David Tomassoni says farewell to the Minnesota Senate 5/22/22
Even a capital investment bill, traditionally the focus of an even-year session, never materialized.
It'd be hard to argue the highlight of Sunday's House and Senate sessions was Sen. David Tomassoni (I-Chisholm), who was diagnosed with ALS last year, making a rare chamber appearance to deliver a moving farewell speech.
Both bodies plan to convene Monday to hear parting words from the dozens of members who are not seeking re-election to their seat.
For the others, Election Day is Nov. 8.
What got done in 2022?
The omnibus liquor bill was signed into law Sunday night. Other highlights include:
$2.7 billion to fully replenish the unemployment insurance trust fund;
providing $500 million for distribution to workers at a greater risk of contracting COVID while on the job;
a plan to distribute the $300 million Minnesota is expected to receive from the national opioid settlement;
$20 million in ALS research funding and $5 million for families caring for people living with ALS and to provide home medical respite care;
$18.4 million in drought relief for farmers; and
an omnibus veterans and military affairs law that includes $52.35 million in supplemental funding to the Department of Veterans Affairs in fiscal year 2023 for a variety of programs.