If you want to lose weight, most doctors would recommend that you start by adopting a healthier diet. Similarly, if you want to slow down the effects of climate change, most scientists would say you'd better cut back on those greenhouse gas emissions.
That prescription would be given to Minnesota's electric utilities under a bill approved by the House Climate and Energy Finance and Policy Committee Wednesday that would mandate an eventually carbon-free diet.
By a 10-6 party-line vote, the committee approved HF7, which would require that the state's utilities use entirely carbon-free sources for electricity production by 2040. Sponsored by House Majority Leader Jamie Long (DFL-Mpls), the bill, as amended, is headed to the House Floor.
"Minnesota doesn't have any fossil fuels," Long said. "So we send $13 billion out of state each year to buy energy. That's 4% of our state GDP that could create jobs right here in Minnesota. We should spend that here to create wind and solar instead, and make the 140 tons of steel in each wind turbine with Minnesota taconite.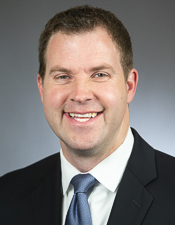 House Majority Leader Jamie Long
"Our state's three largest utilities have all committed to 100% clean energy," he said. "The utilities have said that, while climate is important to their customers, the real driver is cost. Wind is the cheapest form of electricity, and solar is cheaper than any new fossil fuel plants. … Zero-carbon sources, as of last year, account for over half of the state's electricity."
To understand the directives outlined in the bill, it's best to understand the distinction between "renewable" and "carbon-free."
Renewable energy sources for electricity production are, basically, wind and solar, while carbon-free sources would add hydroelectric, hydrogen and biomass to the mix, according to the bill's definitions.
Separate mandates for the two categories are in the proposal. Electric utilities doing business in Minnesota would need to increase the proportion of a utility's retail electric sales that are generated from renewable energy to 55% by 2035.
But the phrase more commonly bandied about in Wednesday's discussions was "100% by 2040." That would be the new carbon-free resource standard for all of the state's electric utilities. Each utility would need to have 80% of its electricity generation be carbon-free by 2030, increasing by steps to 100% by 2040.
Long said 21 other states have already established a 100% clean-energy standard or goal.
House Climate and Energy Finance and Policy Committee 1/18/23
Other elements of the bill would streamline the siting and routing process for solar energy generating systems, clarify in state law what qualifies as a renewable energy source (using municipal solid waste is out), and specify under what circumstances the Public Utilities Commission can allow the modification or delay of new renewable, carbon-free or solar standards. Long said that this would provide some "off-ramps" if clean energy technologies prove too unreliable or expensive.
In addition to lifting the cap on the generating capacity of hydroelectric facilities in order for them to be called "carbon-free," the bill would encourage giving preference for building new generating facilities in communities where fossil fuel generating facilities have been or are scheduled to be retired. It would also require the state's prevailing wage be paid to workers constructing or repowering large generating facilities.
While Rep. Spencer Igo (R-Grand Rapids) complimented Long on his mention of the taconite used in wind turbines, he expressed concern there are no plans for the state's copper-nickel resources to play into the transition to clean energy.
"The third-largest deposits in the known world exist only 200 miles north of here," he said. "We're going to have to build out this green technology on a scale that's immense. So we're going to need to take these materials from places around the world where there are no labor or environmental standards."
Rep. Pat Garofalo (R-Farmington) echoed Igo's concerns, saying that a copper-nickel mine proposed for Tamarack, Minn. – but still awaiting approvals – would have its ore shipped by train to North Dakota for processing.
The 29 testifiers on the bill were largely in favor of it, although some representatives of small cooperative utilities said that meeting its mandates would be challenging.
Garofalo unsuccessfully offered an amendment that would have allowed the governing bodies of each cooperative electric association to modify or delay the clean energy standard. It was defeated along party lines.