— UPDATED AT 11:13 p.m.
The sun shone brightly on the snow-covered Capitol grounds on Thursday. And, long after day gave way to evening, the House voted for the sun to do a lot more for Minnesota over the next 17 years.
After more than seven hours of debate, the House passed HF7, as amended, by a 70-60 vote along party lines. It would require utilities doing business in the state to use entirely carbon-free sources for electricity production by 2040. And that means pushing the accelerator on the use of solar and wind energy within the state.
Sponsored by House Majority Leader Jamie Long (DFL-Mpls), the bill would have Minnesota join 21 other states that have established a 100% clean energy standard or goal.
"Minnesota is one of the top states in the country in seeing change to our climate," he said. "Some have asked us what one state alone can do. Collectively, states can make a big difference.
House debates carbon-free energy requirement bill 1/26/23
"The bill before us today would put us on track to achieve the net-zero greenhouse gas emissions by 2050 that the world's leading scientists are telling us are required. And it would unlock even bigger emission reductions in the transportation and industrial sectors."
In addition to establishing the carbon-free standard by 2040, the bill would streamline the siting and routing process for solar energy generating systems, clarify in state law what qualifies as a renewable energy source, and specify under what circumstances the Public Utilities Commission can allow the modification or delay of new renewable, carbon-free or solar standards. Long said that this would provide some "off-ramps" if clean energy technologies prove too unreliable or expensive.
In addition to lifting the cap on the generating capacity of hydroelectric facilities in order for them to be called "carbon-free," the bill would encourage giving preference for building new generating facilities in communities where fossil-fuel generating facilities have been or are scheduled to be retired. It would also require the state's prevailing wage be paid to workers constructing or repowering large generating facilities.
Republicans repeatedly characterized it as a "blackout bill" that would force the state to use expensive and unreliable energy sources. Long responded that solar and wind power are actually cheaper than fossil-fuel-based electricity sources and are not the reason for the California power outages cited by some members.
In addition to an author's amendment that passed by a voice vote, more than two-dozen Republican amendments were unsuccessfully offered. Among the topics that provoked the most debate were those that would allow the boards of electric cooperatives to modify the bill's directives or make their participation optional.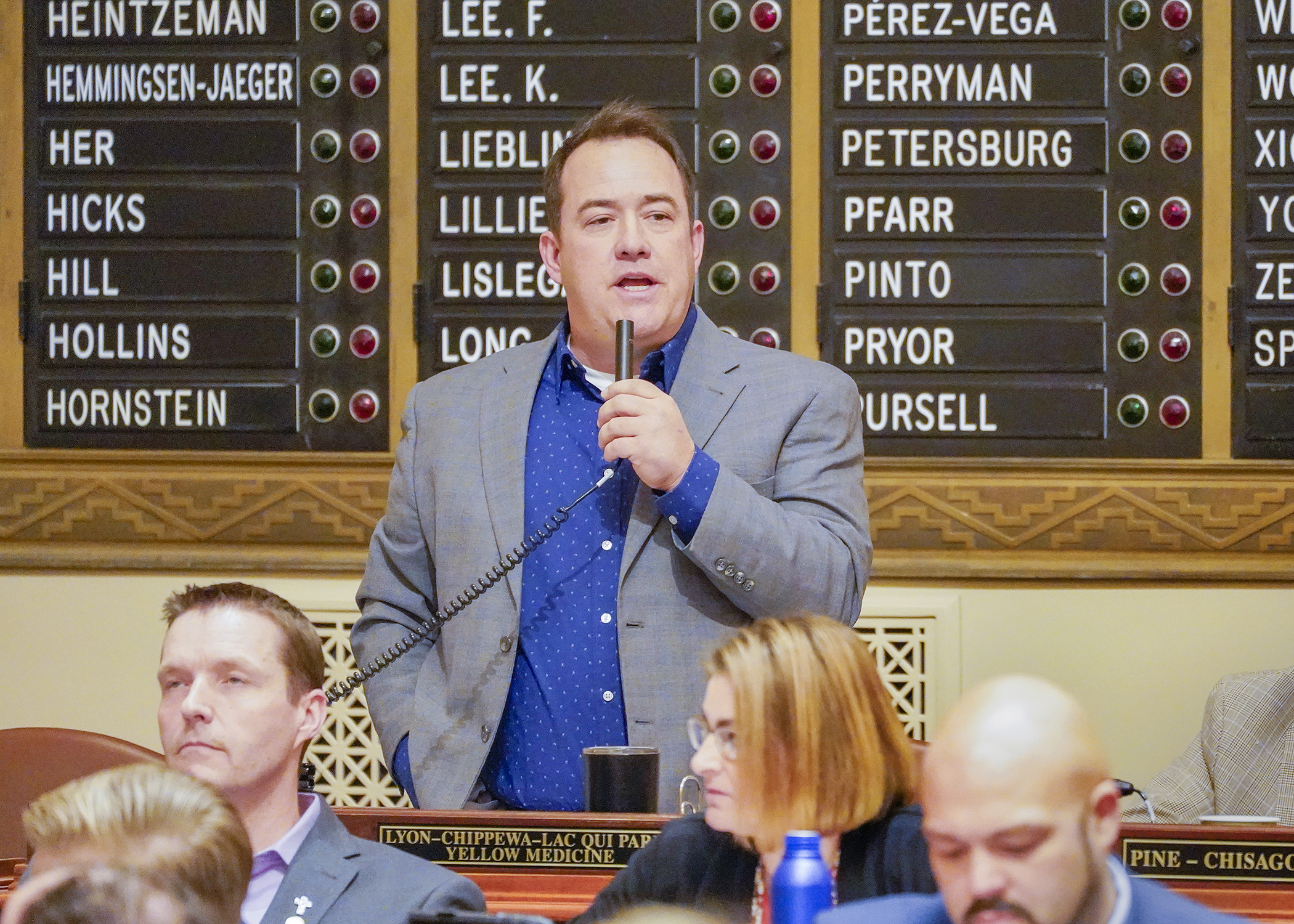 Rep. Chris Swedzinski unsuccessfully offers an amendment to HF7 during floor debate Jan. 26. (Photo by Andrew VonBank)
The amendment that inspired the most enthusiasm from House Republicans concerned a relatively new energy storage technology involving molten sodium and small modular nuclear reactors. The proposed amendment called for lifting the state's moratorium on new nuclear power plants. It was defeated.
Some of the debate was colored by Thursday's Department of the Interior ruling that a mining moratorium in Northeast Minnesota would be revived and implemented for the next 20 years. Some Republicans said that, by mining the materials needed for solar energy elsewhere, slave and child labor would be involved.
"You're actually making the problem worse, because you're creating demand for a product we can't produce," said Rep. Kurt Daudt (R-Crown).
But Rep. Patty Acomb (DFL-Minnetonka) said the bill's changes are necessary to slow climate change.
"When we hear scientists say what will happen if we don't pass policies like this, and if we don't cut our carbon emissions, our state bird, the loon, will not be able to survive in Minnesota," she said. "Our state tree, the red pine, won't grow in Minnesota. Our treasured fish, the walleye, won't be able to live in the lakes. Minnesota will become Kansas, which is a fine, wonderful place. But it's not Minnesota."
In 2007, the state established its previous standard of 25% of the state's energy being from renewable sources by 2025. It achieved that goal in 2017.