Rep. Leigh Finke (DFL-St. Paul) wants to protect transgender people, their families, and medical practitioners from legal repercussions for traveling to Minnesota to receive gender-affirming care.
Such health care encompasses a range of social and medical interventions to affirm someone's internal gender identity, including puberty blockers, cross-sex hormones, permanent hair removal, voice therapy, and surgical interventions.
"This need is desperate in my community. This is not a hypothetical scenario," Finke said. "There are gender-diverse people in Minnesota right now receiving gender-affirming care. More are fleeing their home states asking where they should turn."
Finke sponsors HF146, which aims to establish Minnesota as a "Trans Refuge" state by preventing out-of-state laws from interfering in the practice of gender-affirming health care here.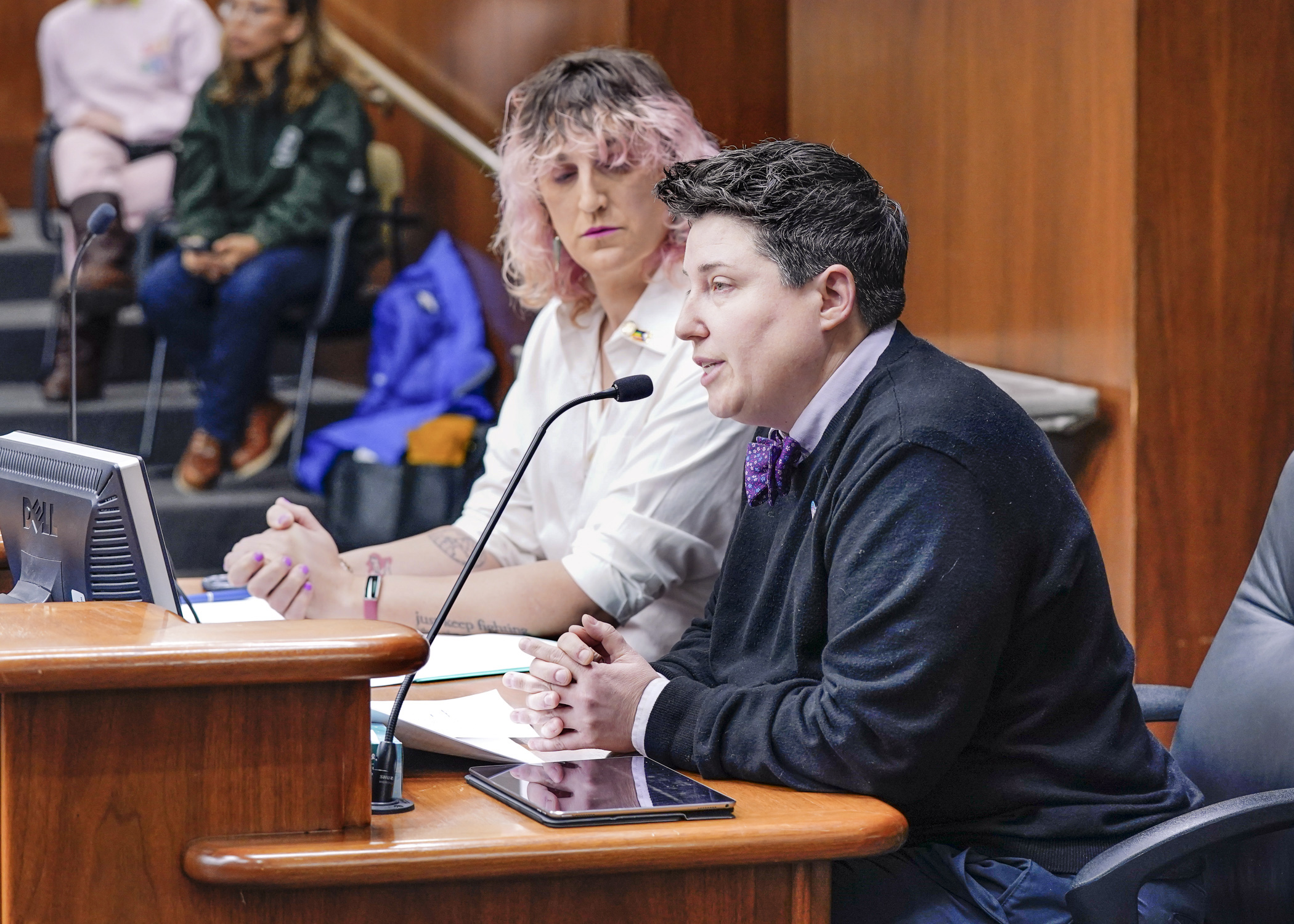 Dr. Angela Kade Goepferd, medical director of Children's Minnesota Gender Health Program, testifies before the House Judiciary Finance and Civil Law Committee Jan. 31 in support of HF146, sponsored by Rep. Leigh Finke, left. (Photo by Catherine Davis)
The House Judiciary Finance and Civil Law Committee amended the bill Tuesday and laid it over for future consideration.
Specifically, the bill would prohibit the enforcement of a court order for removal of a child or enforcement of another state's law being applied in a pending child protection action in Minnesota, when the law of another state allows the child to be removed from the parent or guardian for receiving medically necessary health care or mental health care that respects the gender-identity of the patient.
Finke said anti-trans laws enacted or being proposed in other states create a culture of fear in children and their parents, and in adults, leading some to move to another state to get gender-affirming health care.
Nearly 250 bills in 32 states are under consideration that would single out trans people for discriminatory treatment of their privacy, their family relationships, and their rights to access public accommodations and health care, said Christa Moseng, chair of MNclusive.
"Gender-affirming care is health care," said Dr. Angela Kade Goepferd, medical director of the gender health program at Children's Minnesota. "It is specialized health care provided by teams with training and expertise and evidence-based care just like any other pediatric specialty that we provide for kids at Children's Minnesota."
She said every major medical society in the country — including the American Academy of Pediatrics, the American Psychological Association, the Centers for Disease Control, and the Society for Adolescent Health and Medicine — support gender-affirming care.
Studies show that for young people who identify as transgender, gender-affirming care can decrease emotional distress, has positive effects on overall well-being, and reduces thoughts of suicide, according to Goepferd.