(Updated 2:14 p.m.)
Normally, $100 million would be considered quite a chunk of change. But, in the context of Minnesota's projected budget surplus, it seems the proverbial drop in the bucket.
Minnesota Management and Budget officials revealed the February budget forecast Monday, and the numbers aren't that different from what was projected in November. Then, it was $17.6 billion. Now, it's expected to be in the area of $17.5 billion for the next biennium, which begins July 1, 2023.
If it weren't for a new state law that requires inflation to be accounted for in both sides of budget projections, the surplus would be even larger, for inflation is expected to remove $1.4 billion from the state's bottom line.
"This is amazingly close to what we predicted in our last forecast," said Jim Schowalter, the commissioner of Minnesota Management and Budget. "In December, I suggested that the ups and downs of the state budget were starting to get a little less extreme. I'm happy to say that this forecast confirms that expectation. The economy is stable and the budget outlook is very good."
A lot of the optimism seems to stem from a rosier national outlook. State Economist Laura Kalambokidis attributed much of the good news to improvement in the U.S. economic outlook, with lower inflation and a milder recession than previously expected.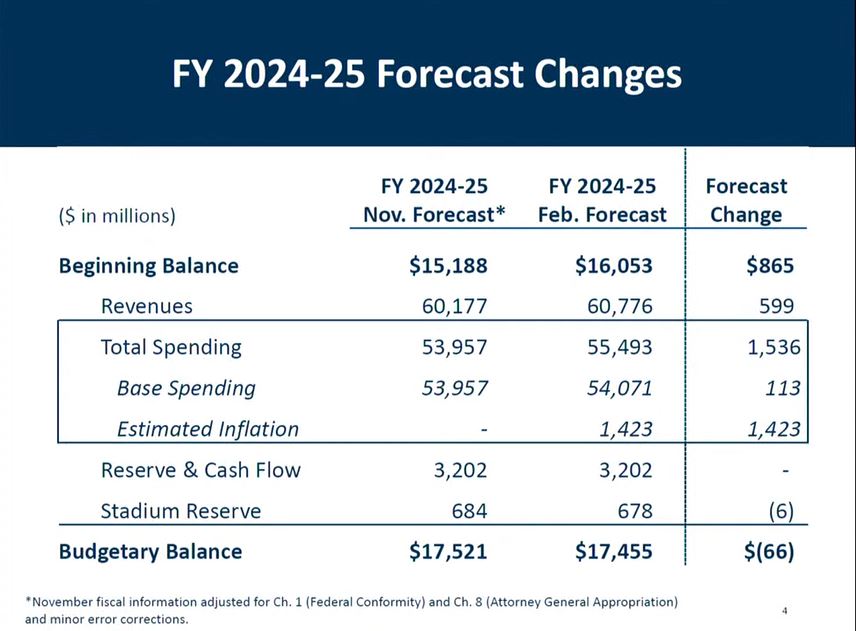 (Graphic courtesy Minnesota Management and Budget)
The state's chief macroeconomic consultant is a firm called IHS, and it expects real gross domestic product growth in the U.S. to average 1.8% annually from 2024 through 2027, a slight rise from the 1.7% average annual rate projected in the November forecast.
"IHS expects a mild recession," Kalambokidis said. "A recovery is expected to begin in the third quarter of this year."
She added that IHS expects inflation to slow this year while the Federal Reserve institutes two more interest rate increases to go with the seven last year and the one so far in 2023.
Taking things down to a statewide level, most of the projected surplus is left over from the current biennium. But revenues from income and corporate franchise taxes are up over previous estimates. Looking further down the road, revenues are forecast to exceed state spending through fiscal year 2027.
Of the projected $17.5 billion surplus, $12.5 billion could be characterized as "one-time money," while $5 billion is part of the state's structural balance, i.e. money available for recurring budget outlays.
But Kalambokidis warned of possible changes that could alter the state economy's path. Inflation could rise more than expected, perhaps inspiring the Federal Reserve to raise interest rates even further. There could be changes in federal monetary policy, as well as volatility in corporate profits and capital gains. And the debt ceiling impasse in Congress could cause a much deeper recession if the U.S. defaults on its financial obligations.
"We'll have to be careful," Schowalter said. "But, looking forward, we still see a rough parity between our revenue growth and our spending growth. It's a great position for the state to be in."
"This is good news for Minnesotans," said Gov. Tim Walz. "Having a highly educated workforce has allowed us to create an economy that allowed us to weather some of the most challenging times in our nation's history over the last three years."
The governor pointed to annual job growth in the state as being one of the most important facets of the forecast.
House Speaker Melissa Hortman (DFL-Brooklyn Park) spoke to how she sees her caucus responding to the forecast.
"House DFLers remain focused on the issues Minnesotans across the state value and care about: investing in public education, making health care more affordable, and building an economy that works better for everyone," she said in a statement. "Minnesota is a great state, but it can be even better, and our state's prosperity can and should reach more people."
In her statement on the forecast, House Minority Leader Lisa Demuth (R-Cold Spring) pointed to its inclusion of inflation.
"While inflation hasn't hurt government tax revenue, it has significantly hurt Minnesotans' buying power," she said. "It's time to get serious about giving the surplus back to the taxpayers so they can afford their lives in the face of historic inflation driving up the cost of basic necessities."