The core of the Clean Slate Act is forgiveness and redemption, or in legal terms, expungement.
It would establish an automatic expungement process for certain non-violent offenses, removing the current requirement that expungements be reviewed and approved by a prosecutor and go through a court process.
"The Clean Slate Act has a really simple premise, which is that we should give those who have paid their debt to society an opportunity for redemption," said House Majority Leader Jamie Long (DFL-Mpls).
Long sponsors HF2023, which would automate expungements – removing the record of a person's conviction – for certain offenses already qualifying for expungements under the current petition process.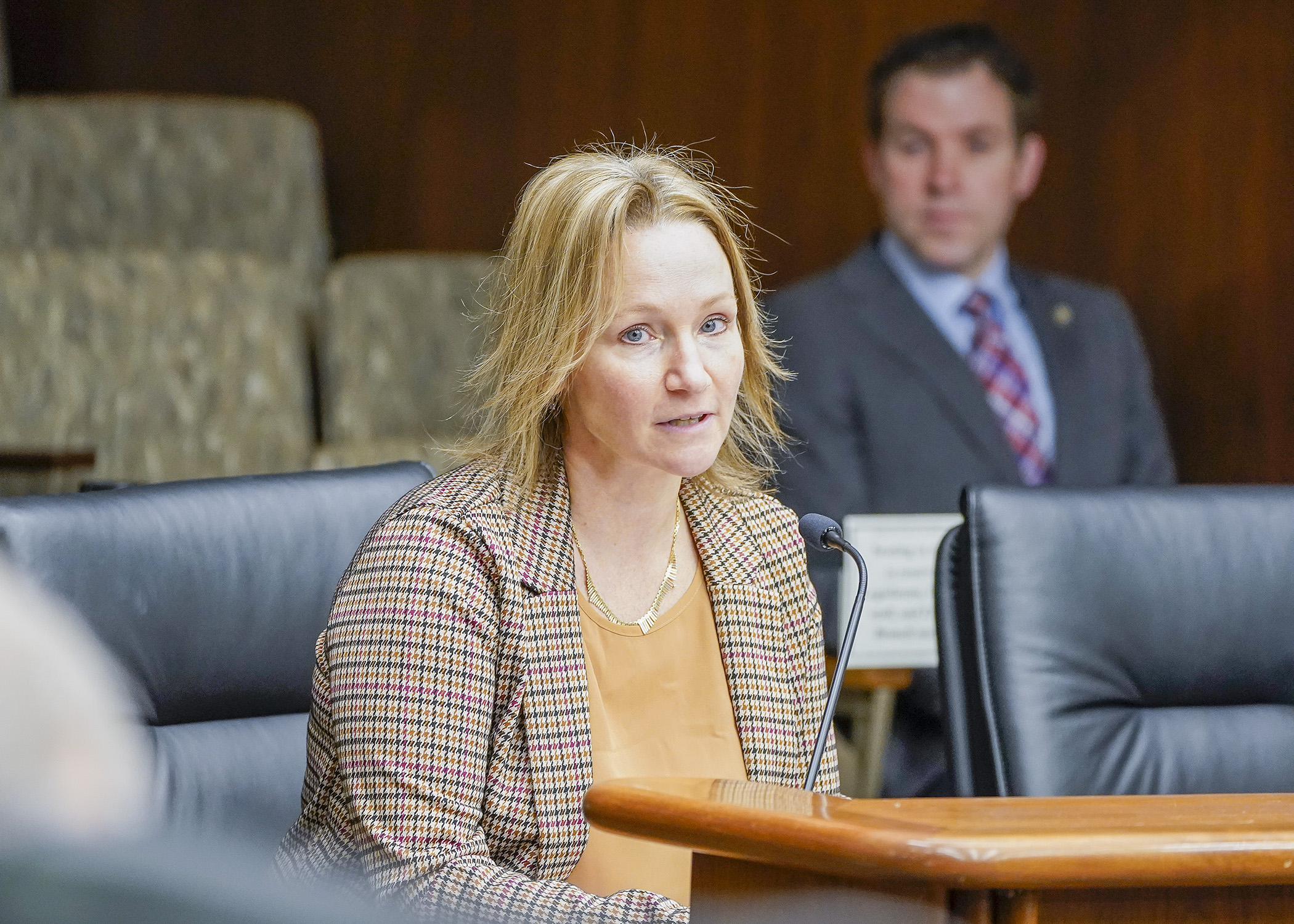 Gina Evans, secretary of the board of directors for Minnesota Second Chance Coalition, testifies March 7 before the House Judiciary Finance and Civil Law Committee in support of HF2023. (Photo by Andrew VonBank)
The House Judiciary Finance and Civil Law Committee approved the bill, as amended, Tuesday and sent it to the House Public Safety Finance and Policy Committee
Removing the current petition-based process would save courts time and money at a time when they are already overburdened with active caseloads, Long said.
The burden on those eligible for expungement is also significant because the court process is cumbersome, confusing, and very time consuming for the average person, said Chas Anderson, representing the Justice Action Network.
She cited a University of Minnesota study showing only about 5% of Minnesotans eligible for expungement went through the petition process to obtain an expungement.
One in four Minnesotans have some type of criminal record, and 90% of employers conduct background checks, Long said, meaning "tens of thousands of Minnesotans" face unnecessary hurdles in finding jobs, housing, and educational opportunities.
The bill would make a person eligible for automatic expungement relief if the underlying offense is a:
petty misdemeanor other than a traffic or parking violation;
misdemeanor or gross misdemeanor not involving assault, domestic violence offenses, and DWI; or
felony eligible for expungement through the petition process.
Individuals would be eligible if they have not been charged or convicted of a new offense in Minnesota during an applicable waiting period of 2-5 years depending on the offense.
Long said the bill includes important employer and public safety measures.
An expunged record of conviction could still be viewed and accessed by law enforcement agencies and opened as part of a Department of Human Services criminal background check required for certain occupations, jobs, and licenses.