Omnibus bills setting budgets for state courts and the Department of Public Safety — now combined into one bill — would have a very wide reach, ranging from creating a new crime of retail theft to establishing the Office of Missing and Murdered Black Women and Girls.
However, Tuesday and Wednesday's nearly 11 hours of floor debate included two gun-control measures: universal background checks for handgun sales, and a "red-flag" provision that'd allow family members and others to petition a court to have firearms removed from a person found to pose a significant danger to themselves or others.
Sponsored by Rep. Kelly Moller (DFL-Shoreview), the amended HF2890/SF2909* contains language from HF1580, the omnibus judiciary finance bill, and HF2890, the Moller-sponsored omnibus public safety finance and policy bill.
The House passed the bill, as amended, 69-60 late Wednesday afternoon.
Initially passed 34-33 by the Senate April 14 along party lines, a conference committee is expected to iron out the differences. Sen. Ron Latz (DFL-St. Louis Park) is the Senate sponsor.
MN House debate begins on the omnibus judiciary and public safety bill - part 1 4/25/23
[MORE: Read about the omnibus judiciary and public safety bills in the House]
"As a constitutional branch of government, it is critical that we properly fund the Judiciary, and ensure Minnesotans are treated fairly and justly," House Speaker Melissa Hortman (DFL-Brooklyn Park) said in a statement. "Our budget addresses inequities in our justice system and helps Minnesotans receive legal help when they need it most. Minnesota's criminal and civil legal systems need to work effectively and fairly for victims, the accused, and civil litigants."
Guns
With gun supporters and opponents again watching from outside the chamber, the issue was a flashpoint for discussions.
DFLers say universal background checks and red flag laws would better keep firearms out of the hands of people who should not have them, while Republicans argue the proposed changes would, in the words of Rep. Paul Novotny (R-Elk River) create "strict and impractical hurdles" for Minnesotans simply wanting to exercise the Second Amendment rights.
At a Tuesday news conference, Novotny, a retired peace officer, added the red-flag provision "violates due process," and would do nothing to address the alleged safety risk posed by the individual. "If someone is a legitimate threat to themselves or others, simply seizing the firearms will not prevent the individual from bringing harm to themselves or others through other means."
"These are commonsense measures that our constituents for years have been telling us that they want," countered Moller at a separate press conference.
[MORE: Watch the DFL, Republican news conferences]
"These provisions are supported by majorities of gun owners, supported by law enforcement, and that's because we know that they keep Minnesotans safe," said House Majority Leader Jamie Long (DFL-Mpls).
The Senate bill does not contain the two gun-control provisions in the House bill. Moller said she'll fight hard to get those provisions in the conference committee report.
Three unsuccessfully offered Republican amendments would have:
deleted the universal background check provision;
made it a felony, instead of a gross misdemeanor, if a person makes a false accusation to a court in order to obtain an extreme risk protection order; and
require anyone subject to an extreme risk protection order to also be placed in an emergency 72-hour psychiatric hold.
Judiciary funding
Rep. Jamie Becker-Finn (DFL-Roseville) touted the long-overdue significant funding increases the bill would send to the state's judicial branch: judges, court staffers, public defenders, and Civil Legal Services lawyers.
The Minnesota Constitution requires public defenders and civil legal aid lawyers be provided to all state residents upon request. But the state is failing to meet those obligations due to chronic underfunding, said Becker-Finn.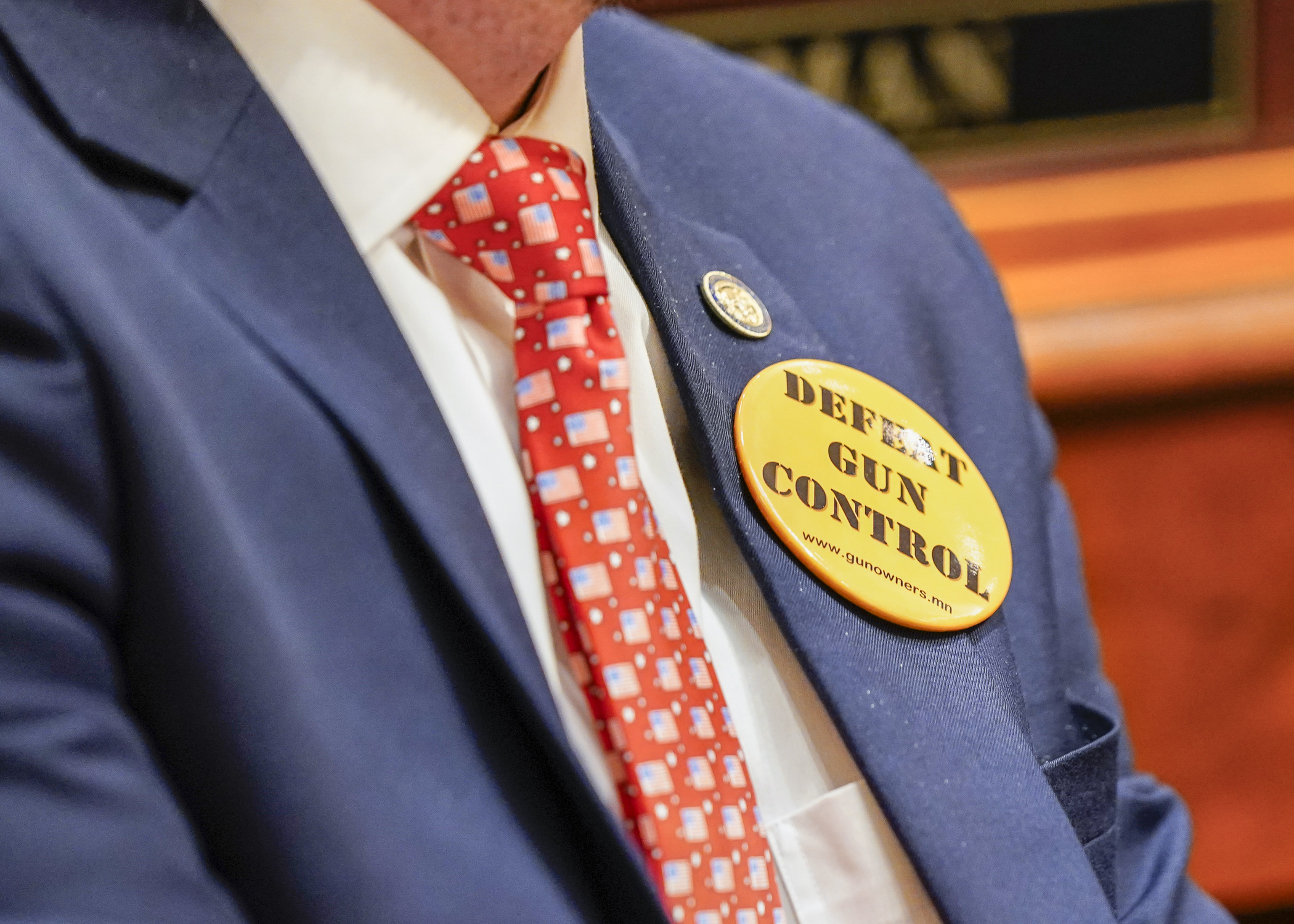 Rep. Isaac Schultz wears an anti-gun control button during debate on the omnibus judiciary and public safety finance and policy bill April 26. (Photo by Catherine Davis)
To that end, the bill would appropriate $95.7 million to hire 100 more public defenders, who represent those accused of criminal offenses. Current public defenders would see a pay increase.
A proposed $37.2 million appropriation would be used to hire more Civil Legal Services lawyers, who represent low-income clients in civil cases, and give them pay raises, too. Becker-Finn said current staffing levels mean about half of the people seeking legal help can get it.
"At some point, everyone needs the help of an attorney, and we want to make sure that if you don't have access to wealth, you still get access to an attorney when you need it," Becker-Finn said at a Tuesday  press conference.
The people sitting on the bench and the clerks working alongside them would get salary increases, too: Supreme Court, Court of Appeals, and District Court judges would get 4.4% raises, and $8.8 million would be allocated in the biennium to boost clerk's base pay.
[MORE: Download the judiciary and public safety spreadsheet]
A policy-only omnibus judiciary bill, HF447, sponsored by Becker-Finn, was also expected to pass Wednesday and go to the Senate.
Public safety funding
"This is a transformational bill for public safety that positively impacts the safety of every Minnesotan across the state," Moller said. "Our bill provides substantial investments for victims of crime. We have substantial investments for law enforcement."
The two biggest state agencies to be funded are the Department of Corrections at $1.58 billion and the Department of Public Safety at $574.7 million.
Public safety policy provisions
Some of the policy provisions in the bill, some of which also have funding requests, include those to: