It's getting harder and harder to find child care in Greater Minnesota, and that's not only affecting youngsters and parents – it's also having ripple effects across the rural economy.
That was the message at Wednesday's meeting of the House Subcommittee on Childcare Access and Affordability, chaired by Rep. Mary Franson (R-Alexandria).
It's a topic that Franson, a child care industry veteran herself, has been working to make more visible at the Legislature. Last year she chaired a House Select Committee on Affordable Child Care, and during the interim she co-chaired, with Sen. Melissa Wiklund (DFL-Bloomington), the Legislative Task Force on Access to Affordable Child Care, which was authorized by law in May 2016.
The task force published its report to the Legislature this week. Its main recommendations are to:
fix regulatory and other relationships between the Department of Human Services and child care providers that are causing them to leave the industry;
address reforms, funding and policies in order to make child care more affordable for low- and middle-income families; and
encourage community and business partnerships to address local child care needs.
Two testifiers offered in-depth insights into Greater Minnesota's child care crisis.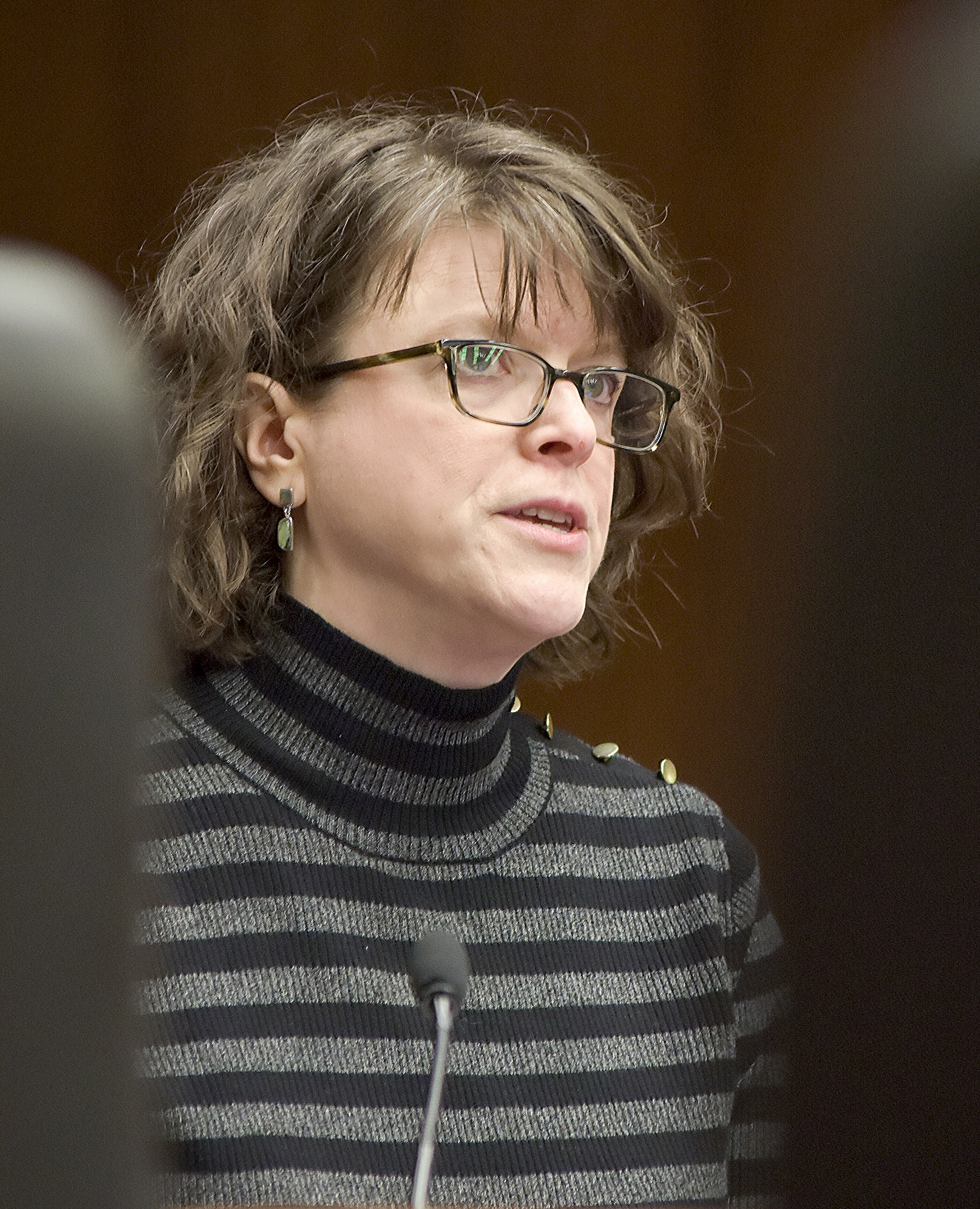 Marnie Werner, research director for the Center for Rural Policy and Development, presents "A quiet crisis: Minnesota's child care shortage" during the Jan. 18 meeting of the House Subcommittee on Childcare Access and Affordability. Photo by Andrew VonBank
Marnie Werner, research director at the Center for Rural Policy and Development, a nonpartisan, nonprofit, Mankato-based public-policy research organization, said metropolitan and rural regions have seen different dynamics at play as family-based child care declined in both areas.
In the Twin Cities, she said, child care centers have been able to pick up the slack and then some. But difficult economic factors in Greater Minnesota have kept such centers from expanding capacity to meet the need. Fixed and upfront costs in rural areas are on par with urban centers, but families' incomes are lower and there isn't a critical population mass to keep spaces filled. In Greater Minnesota, she said, if a family can't pay the price the provider needs to charge and drops out, there may not be another family to step in who can afford those rates.
It's one of the dilemmas spelled out in Werner's September 2016 report, "A Quiet Crisis: Minnesota's Child Care Shortage."
Another problem Werner described: a lack of child care makes it more difficult for businesses in general to recruit and retain much-needed workers in rural communities. When employers succeed in finding a skilled worker, she said, "they feel they have scored." But if the recruit can't find child care in the area, he or she may be forced to decline the job offer.
That was echoed by Heidi Hagel Braid, regional director at First Children's Finance, a Minneapolis-based nonprofit community development financial institution that works in nine states. She cited worker tardiness as the most prevalent issue related to problems with child care.
"When child care is unstable for employees, businesses lose out," Hagel Braid told the subcommittee. Her organization started Greater Than MN, a community engagement project, in 2013 to address the challenges of rural child care.
Both testifiers, as well as the task force report, pointed to creative, community-based child care enterprises as a way out of Greater Minnesota's woes. One successful example, Werner said, is a child care center started by a local employer in Brandon, population 480.
Many cities have empty buildings or other underutilized facilities that are ripe for conversion to use for child care, said Rep. Duane Quam (R-Byron). He suggested that legislators might be able to loosen laws so a café or restaurant two doors down could serve as the commercial kitchen required for a child care center.
Hagel Braid agreed, but cautioned about a common trap that communities seeking to establish new child care businesses fall into. "Don't fixate on that vacant building downtown."
Observed Rep. Ron Kresha (R-Little Falls): "This is a community problem. We're not making widgets here."