A father of two, Rep. Dan Wolgamott (DFL-St. Cloud) is promoting a way to get youth off the couch and enjoy some fresh air away from electronic devices.
"It's really important we give kids the opportunity to go outside and recreate, to put the phones down, to put the video games down and go out and spend time outdoors with other people," he told the House State Government Finance Division Tuesday.
Wolgamott sponsors HF2490, which would establish a grant program and provide $8.25 million in bond proceeds to help communities develop skate parks. At least half the grants would go to Greater Minnesota communities. The bill would also provide $250,000 in Fiscal Year 2021 for the Minnesota Amateur Sports Commission "to contract with a qualified nonprofit organization to establish criteria to evaluate skate park proposals for receiving grants."
As amended, the bill was approved on a split-voice vote and sent to the House Ways and Means Committee.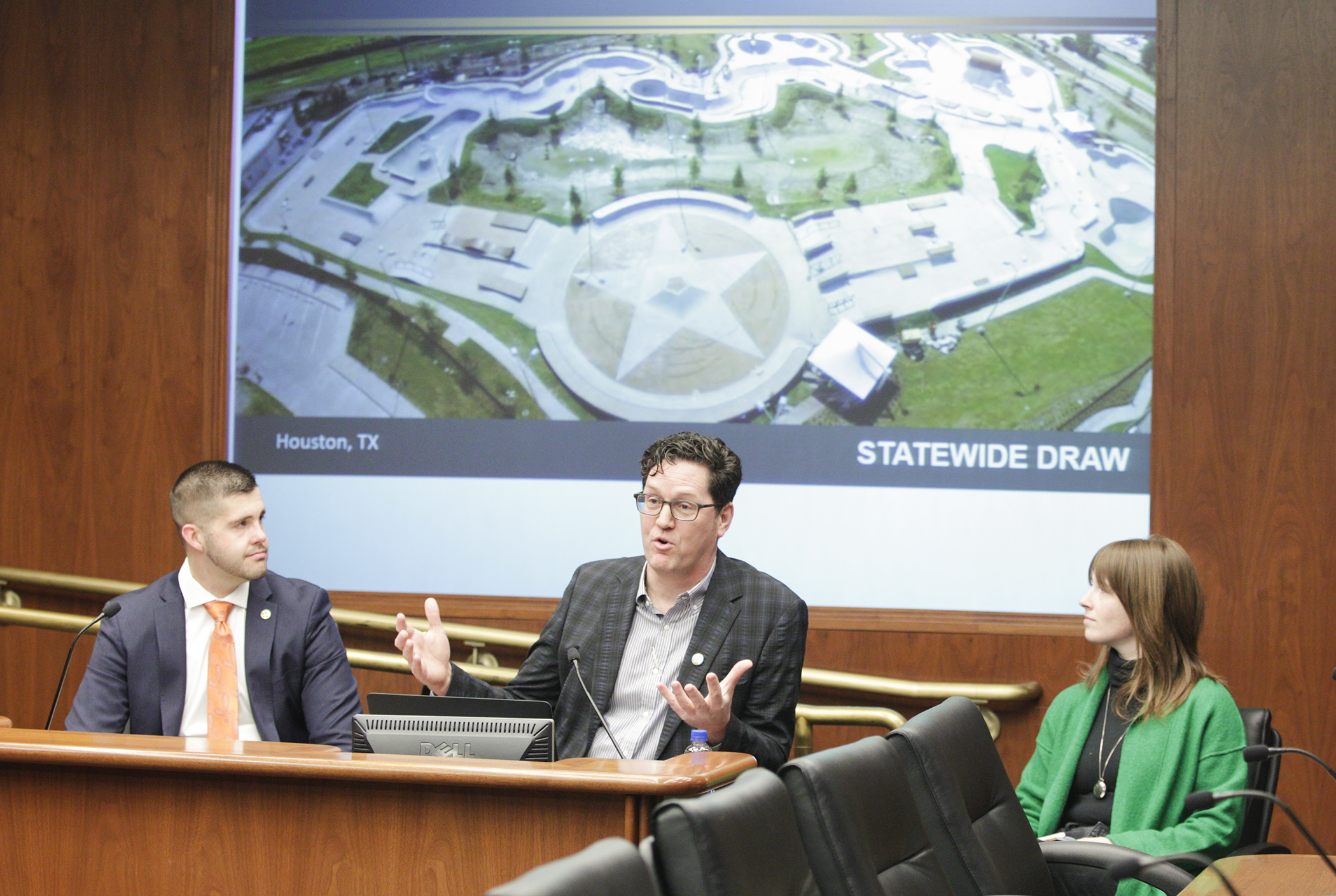 Paul Forsline, president of City of Skate, testifies Feb. 25 before the House State Government Finance Division on HF2490, sponsored by Rep. Dan Wolgamott, left, which would help fund skate parks across the state. Photo by Paul Battaglia
Paul Forsline is the president of City of Skate, which, according to its website is "a coalition … whose mission is to design and develop world class skate parks for our communities."
Skateboarding will make its Olympic debut at the upcoming summer games, which should increase skate park demand, and Forsline wants to see skate parks that can last for 20 or 30 years vs. a less costly version.
"We have this horrible cycle where towns will invest in skate parks that are cheaper and pre-fab and then they don't last," said Marsha Hovey, a City of Skate member. "Then you have parents and city leaders saying, 'Well, nobody uses that skate park so why would we invest in another.' … If we are investing in concrete skate parks that really are the center point we will have people travelling to our state to experience those skate parks."
Hovey took up skateboarding in her mid-20s, and was among those speaking of how everyone can participate. She noted female skaters are the fasting growing demographic in action sports.
"We are not just talking about your 13-year-old boy, we are talking about girls. We're talking about adult women, we're taking about boys, men, across generations, across cultures, across races and absolutely across genders." 
Finances don't matter, either, added Mark Rodriguez, owner of 3rd Lair SkatePark & SkateShop in Golden Valley.
"(This) allows them to feel included no matter what their ability is, what their limitations are, what their gender is, what their background is," he said. "If we have skate parks in communities, no matter what their economic circumstances are, they can be a part of this community."
The bill would require a local funding match, but some members still question if there is a fairness issue between activities and communities.
"The city I live in has been building a tremendous baseball program and doing it with their own funding. … We have to be careful not to discriminate and pick winners and losers. If we're going to do this we should do it holistically or we should not do it at all," said Rep. Bob Vogel (R-Elko New Market).
Sen. D. Scott Dibble (DFL-Mpls) sponsors the companion, SF1422, which awaits action by the Senate State Government Finance and Policy and Elections Committee.