Nearly three years ago, Teri Reger's 4-month-old grandson was rushed to the hospital and diagnosed as a "shaken infant." The following investigation determined he was hurt at day care.
Despite an initial suspension, that day care provider is still in business due to an appeal heard before an administrative law judge that the family was not informed of or invited to attend, Reger told the House Human Services Finance and Policy Committee Wednesday.
"A lot of the information that was given during that hearing was inaccurate," she said. "Had (the parents) been notified of this hearing, they would have attended and been able to provide information that may have affected the ruling."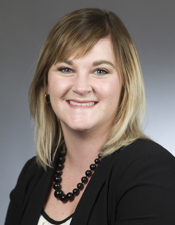 Rep. Erin Koegel
HF60, sponsored by Rep. Erin Koegel (DFL-Spring Lake Park), would require a maltreated child's parent, legal custodian, or guardian to be informed of such hearings, as well as their right to participate in person or through a written statement.
The bill was amended and held over for possible inclusion in an omnibus bill.
A companion, SF79, is sponsored by Sen. John Hoffman (DFL-Champlin) and awaits action by the Senate Human Services Reform Finance and Policy Committee.
"I'm so surprised we don't already do this," said Rep. Tina Liebling (DFL-Rochester).
Rep. Tony Albright (R-Prior Lake) expressed concern that the mode of notification specified in the bill – certified mail – was too narrow, and suggested other contact methods be included, such as phone and email.
Ari Didion, legislative coordinator for the Department of Human Services, said the exact language draws off existing language related to the protection of vulnerable adults, where a similar notification process regarding appeals is already in place.
She also noted that the original bill language included notifications for a broader range of hearings, but that it was amended to focus on contested case hearings appealing a licensing sanction or the denial of a license – which is the specific part of the process that the families of maltreated children would be able to participate in and contribute to.